United Kingdom Stuart MacRae and Louise Welsh, The Devil Inside: Soloists, Orchestra of Scottish Opera, Michael Rafferty (conductor), King's Theatre, Edinburgh, 30.1.2016. (SRT)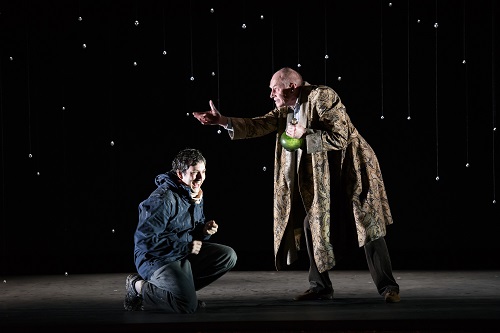 Cast:
James – Ben McAteer (bar)
Richard – Nicholas Sharratt (tenor)
Catherine – Rachel Kelly (sop)
Old Man/Vagrant – Steven Page (bar)
Production:
Director: Matthew Richardson
Designer: Samal Blak
Lighting: Ace McCarron
For a company that gives every impression of being on its financial uppers, Scottish Opera has a remarkably respectable record of commissioning new work.  Its Five:15 projects of several years ago were a hit both with critics and with audiences, and it was there that compoaser Stuart MacRae and librettist Louise Welsh first collaborated (on Remembrance Day in 2009).
Their newest piece is based on Robert Louis Stevenson's short story The Bottle Imp, and Welsh's re-imagining of the story is arguably the opera's finest selling point because the gripping tale keeps you hanging on for more (and incentivises you to hang on, even if contemporary opera isn't your natural bag).  Two young men, walking in the mountains, come across an old man who sells them a magical bottle with the power to grant your heart's desire.  The catch, however, is that you can only sell it on for less that you paid for it, and if you die in possession of the bottle then your soul goes to hell.  Welsh has modernised, Westernised and effectively streamlined Stevenson's tale so that four singing actors carry the whole evening without it ever seeming limited.  She also delves deeper into the unsettling psychological elements of the tale, and she tightens up on Stevenson's ending, making it more ambiguous and troubling than the original.
The evening, therefore, unfolds with ever increasing tension and this, together with the chamber-size instrumentation, put me in mind several times of Britten's Turn of the Screw.  MacRae's edgy score serves to underline the tension of the plot with spiky vocal lines and a jangling undercurrent of ever-changing orchestral texture.  The music of the first half struck me as fairly uniform in tone, with lots of nervous tension and not an awful lot else; but the more varied second half was more effective, from the jazz-influenced opening with muted trumpet and pizzicato bass, to the creepy invocations of the imp.
The sounds from the pit were often extraordinary, and MacRae's effects, particularly from the percussion, are frequently surprising.  Yet the most effective moments are, arguably, the simplest, such as his use of the harmonica to portray the imp itself, or the viola solo that suggests the growing love between James and Catherine.  The singing cast never put a foot wrong throughout.  Ben McAteer's bluff baritone made James a sympathetic hero, while Nicholas Sharratt, who was often required to scale the stratosphere, charted a compelling journey from youthful impetuosity to madness and obsession.  Steven Page, familiar as the company's Nick Shadow, plays a similar role as the old man who initiates the drama, and Rachel Kelly, who has the most lyrical music in the piece, is both an affecting stage presence and a technically excellent soprano.  Hats off, too, to Matthew Richardson's production which, with Samal Blak's designs, tells the story clearly and with the minimum economy of means.
The Devil Inside now goes on tour to England, Wales and Canada, and it's worth seeing if it's anywhere near you.  For full details click here.
Simon Thompson