United States Puccini, Turandot: Soloists, Chorus and Orchestra of the Metropolitan Opera / Paolo Carignani (conductor). Broadcast live to the Empire Cinema, Basildon, Essex from the Metropolitan Opera, New York, 30.1.2016. (JPr)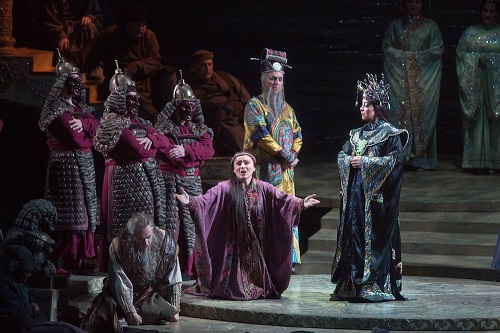 Cast:
Turandot: Nina Stemme
Liù: Anita Hartig
Calaf: Marco Berti
Timur: Alexander Tsymbalyuk
Emperor Altoum: Ronald Naldi
Ping: Dwayne Croft
Pang: Tony Stevenson
Pong: Eduardo Valdes
Production:
Director: Franco Zeffirelli
Set Designer: Franco Zeffirelli
Costume Designers: Anna Anni & Dada Saligeri
Lighting Designer: Gil Wechsler
Choreographer: Chiang Ching
Live in HD Director: Barbara Willis Sweete
Live in HD Host: Renée Fleming
When the Met's Turandot was last broadcast live in 2009 I wrote how Franco Zeffirelli, its director and designer, said in 1987 how 'A spectacle is a good investment, now the Met will have a good Turandot for the next 25 years.' He based it on his staging at Milan's La Scala of which he said, 'I have taken away a lot of the junk from that one – unnecessary tricks or slips of taste. The spectacle remains, but it is now more refined. It seems my destiny to come to New York with my ideas clear, in full maturity, with the problems worked out.' Zeffirelli explained the production's full-on Chinese setting as being in 'the time of fairy tales' and admitted to not letting historical authenticity cloud his imagination. He also said, 'The idea for it comes from my own fantasy. Puccini is grand spectacle, it is larger than life … and the Metropolitan Opera offers technical possibilities that no other house in the world does.' He went on to reveal how his Turandot owed much of its grandeur not to New York's stage machinery but to a special use of plastics for set-building developed in Mr Zeffirelli's home country: 'Four years ago we began experimenting with plastic techniques, we colour it with glass paint, glue, gold foil, mother-of-pearl. I used it in my film of La traviata to create a nightmarish image – walls that really aren't walls, a flimsy vision of reality.'
The result is that it is that this Turandot is very atmospheric and often at times resembles Chinese silk paintings. It is possible to become swept up (as I was at times) in the riot of colour underpinned by Puccini's sumptuous music which by turns is brutal, noble, poignant or passionate. However, it is conceivable that this performance needn't have happened in 2016 but could have been at any time since the opera's premiere at the Met in 1926. Opera as a 'museum piece' is not something that needs be discussed now.
After nearly 30 years – and now overseen by David Kneuss – it is impossible to know how much of Zeffirelli's concept has been diluted by its frequent revivals but choreographer Chiang Ching seemed content with what she was seeing. Speaking with unflappable Live in HD host Renée Fleming she also mentioned Zeffirelli's interest in Peking Opera that inspired the costumes and movement, as well as, her own imminent 70th birthday celebrations!
The kitsch 'grand spectacle' proved once again how it is extremely suitable to modern filming techniques and can make the cinema audience feel as if they are themselves on stage and in and amongst everything that is going on. Franco Zeffirelli's chinoiserie (assisted by costumes from Anna Anni and Dada Saligeri and lighting from Gil Wechsler) brought us muddy-coloured robes for the peasants and for the ruling castes, elaborate headpieces and what appeared to be hand-embroidered silks. He also puts on stage lots of bamboo, pagodas, an elaborately raked stage leading to a throne room of gold and silver, acrobats, colourful dances, moonlit nights, realistic looking severed heads on pikes, Chinese dogs and lions, as well as, a magnificent dragon: all showcasing a cast of thousands … well hundreds!
What it doesn't do is leave much room for drama and even with Barbara Willis Sweete's efficient close-up camera direction the principal singers tended to get lost in the melee, at least, until the stage clears in Act III after Liù's death leaving Calaf and Turandot alone. Neither Marco Berti nor Nina Stemme seemed overly involved with acting what was going on up to that point apart from the odd perfunctory gesticulation. It was only after Calaf forces a kiss on her that there appeared any real connection between the two of them. As I appreciated when I saw it before it is only here – and because of the Alfano completion – that the singers are able to display some genuine inner emotions and Stemme's 'ice princess' visibly melted through the heat of her burgeoning human passion. It is always clear how Puccini's difficulty in completing this work was due to him being unable to unleash the incandescent Wagnerian love duet that the libretto so clearly deserves at this point …and he obviously was considering when he annotated the score with 'poi Tristano' (now Tristan)!
Nina Stemme is described as the foremost Brünnhilde of our day (though I am yet to be convinced) but her voice – despite sounding a little mature at times – seemed ideal for Turandot and had ample reserves of power, secure and incisive tone, some Italianate warm colours, and fearless top notes. Because of a merry-go-round of tenors at the Met caused by a recent cancellation by Jonas Kaufmann, Marco Berti is very busy there and is also now singing Pagliacci. Truth be told for most of the performance he seemed as if he wanted to be somewhere else. Despite his Calaf – notoriously a killer role – being sung with an ease I have never witnessed before, only rarely did he appear to be dramatically engaged vocally or physically with his character and he too kept his best for the final scenes. Admittedly it was coming out through the cinema speakers but his perfunctory 'Nessun Dorma' sounded one of the worst I have heard and made me reminisce fondly about the inimitable Franco Bonisolli. Throughout his performance he basically just sang fortissimo and wasn't able to colour his voice sufficiently to express the beautiful poetry in Puccini's Italianate lines.
As often happens the most nuanced acting and singing came from Anna Hartig as Liù whose arias had exquisite colour, phrasing and gorgeous pianissimos. She was the perfect embodiment of a devoted slave girl and her death was heart-wrenching. However, the subtlety of her portrayal was at odds with what was going on around her. Alexander Tsymbalyuk as the aged and blind Timur had a glorious voice but he is a typical 'Russian bass' and this very dark sound didn't seem entirely right for Puccini. Unlike some directors Zeffirelli did not consider Ping, Pang and Pong's interventions as simply timewasting distractions and gave each their individual character. Dwayne Croft (Ping), Tony Stevenson (Pang) and Eduardo Valdes (Pong) clearly relished their vignettes. Also Ronald Naldi brought gravitas to his less-feeble-than-usual pronouncements as Emperor Altoum.
In the pit Paolo Carignani conducted the exceptional Met orchestra with a craftsmen's-like authority and sweeping dramatic fervour. It was very intense and gripping at times but – like much of the singing – a little devoid of light and shade. As before had I been in the house it might have been possible to find fault in the ensemble between soloists, supers (extras) and the enormous chorus but this is always impossible to judge properly from a live broadcast. When it all came together as in the final tableau with the golden glitter descending from the flies, this is the Turandot production that is improbable anywhere in 2016 apart from at the Met … but who knows for how much longer that will be possible?
Jim Pritchard 
For information about The Met: Live in HD for the remainder of this season visit http://www.metopera.org/Season/In-Cinemas/.