United Kingdom Murray Gold, Snow White: balletLORENT, Edinburgh Festival Theatre, 22.1.2016. (SRT)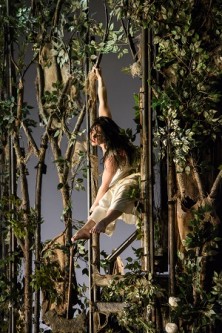 Cast:
Snow White – Natalie Trewinnard
Queen – Caroline Reece
Huntsman – Gavin Coward
Production:
Direction & Choreography: Liz Lorent
Scenario Writer: Carol Ann Duffy
Composer: Murray Gold
Set Designer: Phil Eddolls
Costume Designer: Libby Everall
In a week where scholars pointed out that most fairy tales are thousands of years older than we thought, it's interesting that, in her adaptation of Snow White for balletLORENT, Carol Ann Duffy claims to have gone back to the first published version of the story in making Snow White's nemesis her mother, not her stepmother.  That allows Duffy's version of the story, which is helpfully narrated over the top of the stage action, to show the initial tenderness between mother and daughter, and it was this section that contained some of the ballet's most beguiling dance, as Caroline Reece's Queen and Natalie Trewinnard's Snow White intertwined their bodies with liquid fluidity and convincing affection.  That does go on to make the queen's evil about-face a little less plausible, but then it is a fairy tale.  In what might amount to a PC Move, we have miners rather than dwarves (stunted through working underground, you understand) and Snow White is awoken by the huntsman who let her escape into the forest, rather than a handsome prince.
A key part of balletLORENT's work involves working with local children, and a dozen kids from an Edinburgh primary school were integrated skilfully into the show, for which much credit to the adult dancers with whom they were paired, grounding them in the story without seeming awkward.  That opening scene, where the children playing in the garden provoke the queen's desire for a daughter, necessarily relies on very simple choreography, with basic geometric body shapes and patterns for the crowd scenes.  For me, however, the rest of the dancing struggled to shake off that image of simplicity, and I was left feeling pretty nonplussed about the choreography as a whole, both for the soloists and the groups.  It was often attractive and occasionally striking, especially the scene where the dwarves – sorry, miners – arrive home to find Snow White's body rapped in a tight red ribbon.  But it was never stunning, and that meant that the evening was satisfying rather than thrilling.
Nor did I think much of Murray Gold's (pre-recorded) score, which resembled a fairly derivative film soundtrack, with set numbers (a chase, a music box waltz, cello-heavy death music) that ticked their scenic boxes but didn't amount to an awful lot more.  His wordless vocalises were downright cheesy, and the one at Snow White's death scene quickly outstayed its welcome.  With the combination of music and narrative, I was left thinking of Peter and the Wolf, but without Prokofiev's colouristic development.
The one place it did score was in its visual designs, with long flowing lines and stark, contrasting colours which tapped into the Gothic elements of the story, nowhere more so than when the Queen tucks into what she thinks is Snow White's heart, the red lines streaming down her white napkin.  I enjoyed the grungy miners, and the use of the wedding dress in the final scene gives the show a poetic exit point.  On the whole, though, I was left thinking that this show might best serve as an entry point for kids, who were lapping it up.  This adult was left a little cold.
Simon Thompson