Germany Britten – Peter Grimes: Deutsche Oper Berlin Orchestra and Chorus, Donald Runnicles (conductor), Deutsche Oper Berlin, 18.2.2016 (JMI)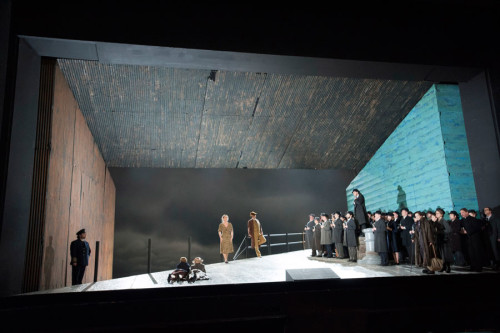 Co-production: English National Opera, Vlaamse Opera and Opera Oviedo
Direction: David Alden
Sets: Paul Steinberg
Costumes: Brigitte Reiffenstuel
Lighting: Adam Silverman
Cast:
Peter Grimes: Christopher Ventris
Ellen Orford: Judith Howarth
Balstrode: Peter Sidhom
Swallow: Noel Bouley
Bob Boles: Thomas Blondelle
Ned Keene: Simon Pauley
Auntie: Annika Schlicht
Nieces: Nicole Haslett and Alexandra Hutton
Mrs. Sedley: Dana Beth MillerPastor Adam: Clemens Biever
Hobson: Albert Pesendorfe
This David Alden production premiered at London's ENO in 2009, and was first seen at the Deutsche Oper in 2013. His staging suits the opera very nicely, placing the action at the time of the score's composition (the 1940s), narrating the story well, and creating a closed, oppressive atmosphere. The sets consist of mobile walls and a corrugated roof in dark colours; the most attractive is Act II's pier with the sea in the background and the church on the right. The costumes suit the staging, and the lighting is good. All the characters are clearly defined, with much attention paid to the secondary roles and the chorus.
Leading the way was the musical director of the company, Donald Runnicles. He's an excellent conductor, as he has shown on so many occasions, and this one was no exception. Under his baton was the remarkable Deutsche Oper Berlin orchestra and a splendid chorus led by William Spaulding. That said, I must add that Mr. Runnicles' conducting struggled with the memories I have of the miraculous conducting of this work by Antonio Pappano and Kazushi Ono. For my taste, Mr. Runnicles is one step below.
Peter Grimes was played by British tenor Christopher Ventris, who gave a remarkable interpretation of this tormented, violent character. His voice suits the role, and he overcame the difficulties of the score, even if there was some tightness at times.
All interpreters of Ellen Orford have to fight with my memory of the exceptional performances of British soprano Susan Chilcott. Here we had Judith Howarth, a sensitive interpreter but not an exceptional one. Her voice is somewhat reduced, although she sang with gusto.
Unfortunately, Markus Brück, one of the best baritones today, cancelled his performance of Captain Balstrode. His replacement was Peter Sidhom, who did well, but his voice lacks projection.
The secondary characters are very important in this opera, and they were nicely served in all cases. Baritone Noel Bouley was a good Swallow, there was a fine interpretation of Bob Boles by tenor Thomas Blondelle, and baritone Simon Pauley made a sound Ned Keene. I found the voice of Annika Schlicht as Auntie less interesting, but Dana Beth Miller was serviceable in the part of Mrs. Sedley. Tenor Clemens Bieber was an appropriate Pastor Adam, and Albert Pesendorfer as Hobson was sonorous and authoritative. Special mention should go to the splendid interpreters of the Nieces, Nicole Haslett and Alexandra Hutton.
José M. Irurzun