Spain Rossini, Otello: Liceu Orchestra and Chorus, Christopher Franklin (conductor), Gran Teatre del Liceu, Barcelona, 6.2.2016. (JMI)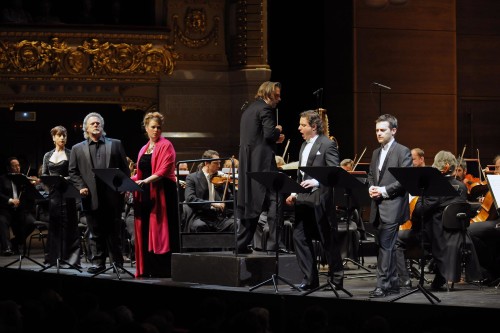 Rossini, Otello (Concert Version)
Cast:
Otello: Gregory Kunde
Desdemona: Jessica Pratt
Rodrigo: Dmitry Korchak
Iago: Yijie Shi
Elmiro: Mirco Palazzi
Emilia: Lidia Vinyes-Curtis
Dux: Josep Fadó
Lucio: Josep Luis Moreno
Gondolier: Beñat Egiarte
This year marks the 400th anniversary of William Shakespeare's death, and the Liceu has chosen to commemorate it by offering Otello in two versions, Verdi's opera and Rossini's. It's a very interesting initiative: Rossini's Otello is seldom performed, and even less often with an outstanding cast. If the Liceu performances of Verdi's opera left something to be desired, this concert version of the Rossini has been a real feast of bel canto.
Rossini composed the opera during his years in Naples, and it premiered in December 1816 (which makes this year its bicentenary). The truth is that this "other" Otello suffers greatly in comparison with Verdi's work, particularly from the dramatic point of view. The exemplary libretto by Boito is much better than that of  Francesco Berio di Salsa for the Rossini.
The musical direction was in the hands of Christopher Franklin, who offered a compelling reading of the opera. He's a conductor who is very familiar with Rossini, and he showed a great knowledge of this score. His reading was attentive to the orchestra and to the singers, whom he supported with great care. The orchestra performed well, as did the chorus.
It is not easy to assemble a cast for this work, but the Liceu successfully achieved it. To my taste, it is the best cast that has been offered in recent years in any of the opera's rare productions.
Otello was sung by Gregory Kunde, undoubtedly the great reference in the character. I was fortunate to see him at his debut in the role in Pesaro in August 2007, and his Otello is much more convincing today (although I must say that he enjoyed a big success at his debut). The vocal evolution of this great singer has  made him the true baritenor required for the character. He hasn't lost one iota of his flexibility and ease in the high notes, and is now much more convincing in the lower range. Gregory Kunde is in a sweet moment of his career, and we will miss him when he stops singing.
Jessica Pratt, a convincing Desdemona, sang with gusto and never evaded the vocal difficulties of the score. There's no question that she is one of the best Desdemonas today, but I missed some weight in the middle register. I am reminded that Isabella Colbran was the first Desdemona.
The part of Rodrigo is possibly the brightest in the opera, provided that there is an appropriate tenor for the character. In recent years it has been Juan Diego Florez who has triumphed in the role and set a high bar for his colleagues. Here we had tenor Dmitry Korchak, who was the big surprise of the concert. His performance was impeccable, with exceptional phrasing and expressiveness, and he successfully handled the top notes, especially in his aria in Act II. He is not as easy as Juan Diego Florez at the top of the range, but he was outstanding. I found him much improved in both volume and projection, and he has lost his nasal accent of a few years back.
There was also an excellent Iago by tenor Yijie Shi, whose vocal evolution is quite interesting. His voice has widened while maintaining flexibility, and he is superbly easy at the top. It's a pity that Iago in Rossini has not the importance that the role acquired later in Verdi.
Mirco Palazzi was quite good as Elmiro. Emilia was Lidia Vinyes Curtis, who sounded more soprano than mezzo soprano. Josep Fado was a sonorous and well-suited Dux.
Jose M. Irurzun