United Kingdom Various composers, Resolution 2016: Glitch, It Takes Two Too, Ideas in Motion, Salah El Brogy Company, Yukiko Masui, Pro-Motion, The Place, London, 19.02.2016. (J.O'D)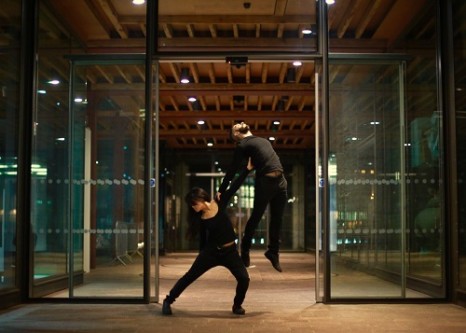 Glitch
Dancer, Performer & Choreographer: Salah El Brogy
Visual Artist:  Alice Anderson
Producer: Mars El Brogy
Lighting Design: Antony Hately
Photography: Jane Hobson
Dramaturg:    Donald Hutera
Music Arrangement: Salah El Brogy 
It Takes Two Too
Performers: Franco Conquest, KJL Mortimer, Yukiko Masui, Gareth Mole
Choreographers: Yukiko Masui and performers
Dramaturg:Arne Pohlmeier
Music: Places by Shlohmo, 0002 by Hecq 
Ideas in Motion
Performers:  Shawn Aimey, Harry Barnes, Brooke Milliner, Leigh Putman, Paul Samuels, Nicholas Stephen
Choreographer: Brooke Milliner
Music: Krawling by Linkin Park, Beep Street by Squarepusher
The Resolution 2016 festival for new dance ended on a positive note, last Friday, with three works that were engaging and well-pitched. After a piece last year that compared capitalism to cannibalism, Salah El Brogy toned things down in a searching solo on the theme of memory. Yukiko Masui questioned gender roles in a quartet for which both male and female dancers wore black polo necks and full-length, side-slit skirts of swirling grey. The six 'popping specialists' who make up Pro-Motion impressed and charmed the audience.
Salah El Brogy walks on to the stage at the beginning of Glitch, in black jacket, blue shorts and flip-flops, with a cardboard box balanced on one shoulder. From this he takes out some rolls of tape, a pair of headphones, several tangerines, a set of keys, body lotion, a smaller cardboard box, and one boot. After arranging these objects carefully in a line and stepping out of the flip-flops, El Brogy begins to dance.
To a soundtrack of voices and traffic that evokes a city in his native Egypt, he spirals and spins, falling backwards to the floor in breakdance moves that show surprising agility and speed. When music that might accompany belly-dancing begins to be heard, El Brogy smiles to himself. His arms are sinuous in the air. But throughout the piece he seems to be making an effort to remember, through his body, through the objects and through words, some lost sequence of meaningful movement.
The movement in Yukiko Masui's It Takes Two Too is of the ballroom dancing kind, at first. But if what the male and female dancer do is conventional to begin with, what they wear while doing it is not. Neither is the spotlit darkness that surrounds them. Soon it becomes impossible to say who is leading, who is following. Both the man and the woman arch their backs; the man is lifted by the woman.
The appearance of a second couple leads to a change of partners. Music of a faster pace ushers in a further change; the two women and the two men dance together. Their faces and hands, and occasionally an extended leg, catching the light, the dancers move with increasingly sweeping, athletic gestures. When partnering each other, the two men stretch back then swoop forward like alien creatures in CGI animation. (This was something also done by the men in Riccardo Buscarini's No Lander at The Place a few months ago.) At the climax of the piece the dancers stop being two couples to become four, identically dressed individuals, running in a circle.
One of the many good things about Pro-Motions Ideas in Motion is that the baseball caps, T-shirts, jeans and trainers worn by the men dancing it are of only three colours: white, black and red. Similar attention to detail is evident in what they do. But it is not only for the sharpness of their robot-like movement that they hold the attention. It is also for the different character shown by the expressive face of each one as they compete, co-operate, or send themselves up. People in the audience called out their admiration for certain moves. When this good-humoured piece had come to its sudden, unexpected end, someone near me summed it up in three words: 'That was fun'.
John O'Dwyer