United Kingdom Bellini, Norma: Soloists, Chorus and Orchestra of English National Opera / Stephen Lord (conductor). London Coliseum, London. 17.2.2016. (JPr)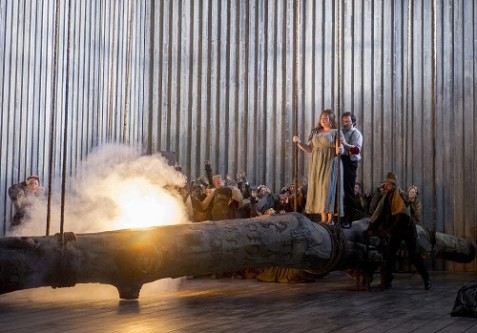 Bellini, Norma
Cast:
Norma: Marjorie Owens
Adalgisa: Jennifer Holloway
Pollione: Peter Auty
Oroveso: James Creswell
Clotilde: Valerie Reid
Flavio: Adrian Dwyer
Production:
Originally created by Opera North in a co-production with Die Theater Chemnitz
Director: Christopher Alden
Set Designer: Charles Edwards
Costume Designer: Sue Willmington
Lighting Designer: Adam Silverman
Translator: George Hall
Any criticism of English National Opera in these difficult times for them could be interpreted as kicking the organisation when they are down, but they are not helping themselves with a limited season which has included some strange choices which are not immediate crowd pleasers. Following the disappointing Lady Macbeth of Mtsensk, La bohème and The Force of Destiny, Norma is another slightly incoherent, dull and depressing production.
Don't get me wrong. I want ENO to survive as it has played a large part of my life for over 40 years; the chorus (and possibly the orchestra) are under threat of financial cutbacks but are the equal of those at Covent Garden and the singing is always of a solid standard. However, currently there is no real idea why ENO should continue to exist given all the other regional and touring opera companies. They sing in English of course but most of the audience are still reading the surtitles and unlike the earliest days there is no sense of a 'company' with the roster of singers who currently appear at the London Coliseum. That really could be an asset for the future of ENO if it was a showcase for young British artists: they currently seem to be giving experience to the wealth of (undoubtedly) young talented singers from America who might often appear with them once but possibly not again. For Norma the director and conductor were also from the US.
Christopher Alden's Norma was a known quantity having been originally created by Opera North in 2012. Someone must have liked it then to bring it to London but since I have never seen that production I cannot judge whether it might have been better. To be truthful, this was only my second Norma and it was actually the first time in ENO's 85-year-history that it has staged a Bellini opera. My first Norma? Well, that was in 1987 at Covent Garden with Margaret Price in the title role and it was conducted by Sir John Pritchard (no relation). The single set is a vast wooden barn but looked more like a shipping container which might have given it some contemporary reference – as they are being used at the Calais refugee camp – had the staging been more involving. Centrally we see a large tree trunk – part totem, part altar. It was hoisted up and down at times and brought back bad memories of Terry Hands's 1979 Parsifal at Covent Garden that looked much the same. The Personenregie involved a lot of over-familiar directorial tropes: characters who are referred to as approaching are nowhere to be seen, others hang around when they should have left the stage or are distanced when they should be singing together and many of them have the urge to be shown feeling the walls from time to time. Chairs seem only to be there to be thrown over and – as here with some (prayer?) shawls – things are often worn so they can be taken off, thrown down and be picked up again.
The original story involves the druidess Norma who is urged to signal the revolt   against occupying Roman forces in Gaul. The Roman proconsul, Pollione, has two children with Norma, but is no longer in love with her and the new object of his desire is Adalgisa, a priestess at the temple of Irminsul. In deep despair Norma considers killing her children before finally vowing to sacrifice herself. In an overly drawn out ending Pollione finally realises that he does still love her and there is a joint immolation. The director Christopher Alden and designers Charles Edwards (sets) and Sue Willmington (costumes) have updated the action (such as it is) to the late-1800s and the conflict between a pre-industrialised, pagan farming community (the Druids) and their wealthy, yet boorish and drunken Victorian landowners (Romans) to whom they seem to have to pay tithes. The large central tree trunk with Druidic runes has an irresistible draw for the characters who climb, sing or are burnt to death upon it. There is a lot of wielding of axes, priestesses are abused and Flavio (Pollione's friend) is debagged, bloodily beaten up and emasculated by the sickle of Clotilde (Norma's confidant). Norma and Pollione are finally 'reunited' with a kiss so unlikely that it was one of the risible moments like this I have seen on stage since Franco Bonisolli once appeared to be giving Gwyneth Jones mouth-to-mouth resuscitation at a similar moment in Turandot in the 1980s.
Richard Wagner conducted Norma in Riga in 1837 and considered the opera 'indisputably Bellini's most successful composition'. Many other famous composers have praised the work but – as performed at ENO – it is not easy to discern why. It indisputably has fine bel canto and dramatic moments; the latter anticipate the soon-to-be-composed verismo operas. Norma's most famous aria is the undeniably sublime 'Casta diva' ('Virgin Goddess') and the opera is full of similarly florid musical highlights. However, it has a thin plot which – unless you cannot take your eyes off the stage because you are dramatically engaged – cannot do anything, but seems to hang around too long. A major problem was having it sung in English (a new translation by George Hall): the cast seemed to have been given too many consonants and words than they could cope with. Conductor Stephen Lord's languid accompaniment seemed to be giving his singers time to sing rather than driving the music onward and creating some genuine excitement. This naturally might improve as the short run of performances continues.
Had the staging seemed more energised and alive it might all have worked better but it meandered from one virtually static tableaux to the next and was never very absorbing until a powerful climax near the end as the (Amish?) community seems to lose faith in itself and Norma's self-sacrifice follows. Marjorie Owens is a fine young dramatic soprano who probably will concentrate on Verdi and Wagner sooner rather than later. Though she sang this fiendish role with great commitment and stamina, her performance lacked passion and it did not matter what she was singing about – love, hate, revenge, death and destruction – her tone and demeanour varied little. Much better was Jennifer Holloway's Adalgisa who incidentally appeared very affectionate towards Norma during their Act II duet. She sang very assuredly though there was not enough of a vocal contrast in the two leading female roles. The valiant Peter Auty did his best in the underwritten and ungrateful role of Pollione, here not only pusillanimous but a drunk. There was little chemistry between him and Ms Owens's Norma, both were better singers than actors and looked uncomfortable having to clamber about on the tree trunk. James Creswell made an authoritative Oroveso and the smaller roles of Clotilde and Flavio were confidently portrayed by Valerie Reid and Adrian Dwyer.
The ENO Chorus didn't have a great deal to do but had their typically booming and powerful moments and – in the circumstances – thoroughly deserved being motioned forward by Christopher Alden for their own special curtain call.
Jim Pritchard
For information about future English National Opera performances visit www.eno.org.