Germany Offenbach, Les Contes d'Hoffmann: Berlin Komische Oper Orchestra and Chorus, Stefan Blunier (conductor), Komische Oper, Berlin, 17.2.2016. (JMI)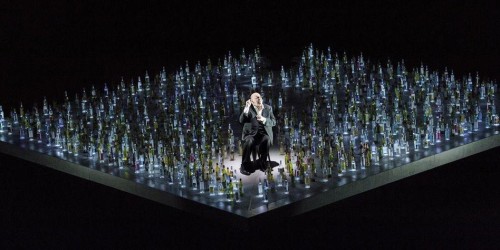 Offenbach, Les Contes d'Hoffmann
Production: Komische Oper Berlin
Direction: Barrie Kosky
Sets and Costumes: Katrin Lea Tag
Lighting: Diego Leetz
Cast:
Hoffmann I: Uwe Schönbeck (actor)
Hoffmann II: Dominik Köninger
Hoffmann III: Edgaras Montvidas
Olympia, Antonia, Giulietta, Stella: Sydney Mancasola
Devils: Alfred Walker
Muse: Alexandra Kadurina
Andres, Spalanzani, Pitichinaccio: Ivan Tursic
Cochenille, Crespel, Schlemil: Alexey Antonov
This controversial and ground-breaking production, which premiered last October, is also a pretentious one. It really should not be promoted as Les Contes d'Hoffmann, but rather as an opera based on that work. This assessment might be tempered by the fact that Offenbach's opera is unfinished, and there are almost as many versions as productions, with cuts and additions almost ad libitum. But Barrie Kosky goes even further. There are huge cuts (the aria of the diamond and the septet, both in the Venice act); the locations of some arias are changed (the aria of Nicklausse in the Epilogue moves to the Prologue, while Frantz's couplets become Pitichinaccio's); the Epilogue disappears, or rather the music itself, and is replaced by the duet "La ci darem la mano," sung by the Muse as Don Giovanni and a dying Hoffmann I as Zerlina.
The changes continue, and there are no fewer than three Hoffmanns on stage. The so-called Hoffmann I is an actor, reminding us in his German dialogues (texts by E.T.A Hoffmann) of his obsession with Stella and Don Giovanni. But there are two more Hoffmanns: Hoffmann II is a baritone in the Prologue and Act I (Olympia), while a tenor plays the character of Hoffmann III in the following two acts. As you can see, this is not exactly Les Contes d'Hoffmann but rather Barrie Kosky's opera, based on the Offenbach.
But leaving aside what I've said so far, the stage production itself is bright and imaginative. The stage is very simple and consists of a bare mobile platform. The costumes are attractive and fun, especially for the chorus. But where the show is most impressive is in the direction, particularly in the act of Olympia, where Kosky makes a real creation with the doll. It's true that one has to try hard not to get irritated by his "version," but the staging really is outstanding.
The musical direction was entrusted to Stefan Blunier, a frequent presence in this theatre, who was also the conductor at the premiere. I found his conducting well-paced and compelling, and he drew a fine performance from the orchestra. Perhaps his reading was more German than French, but it was quite effective. The chorus of the Komische Oper Berlin was excellent; its members are always wonderful actors.
We had two different singers as Hoffmann, baritone Dominik Köninger in the Prologue and Act I, and Lithuanian tenor Edgaras Montvidas in the remaining two acts. The former has an attractive lyrical voice, and he is a gifted performer. Obviously, he cut short all the top notes in the Kleinzac song as well as in the act of Olympia. Edgaras Montvidas is a light-lyric tenor with a voice that is not particularly appealing. He always gives the impression of being somewhat forced, which became a factor in Act III, where he had problems.
I understand that dramatically it's interesting to have a single soprano cover the characters of Olympia, Antonia, Giulietta and Stella, rather than three different sopranos, but vocally I have no doubts about my preference for the latter alternative. Here we had the American soprano Sydney Mancasola, a light soprano, with a compelling voice and presence, and good stage skills. She was at her best as Olympia, but was too light for Antonia and Giulietta. Moving beyond her suitability for the different characters, she is a soprano to follow with interest.
The four Devils were played by American bass-baritone Alfred Walker. He has a sonorous voice, but I missed intent and a sense of humor in his singing. Ukrainian mezzo soprano Alexandra Kadurina offered a wide and well-projected voice in the part of Nicklausse, and doubled as the Voice of Antonia's mother.
José M. Irurzun