Austria Salzburg Mozartwoche (3) – Mendelssohn: Dorothea Röschmann (soprano), Werner Güra, Dániel Aŕva (tenors), Matthias Winckhler, Marcell Attila Krovokay (basses), Arnold Schoenberg Chor (chorus master: Erwin Ortner), Vienna Philharmonic Orchestra, Pablo Heras-Casado (conductor). Grosses Festspielhaus, Salzburg 30.1.2016. (MB)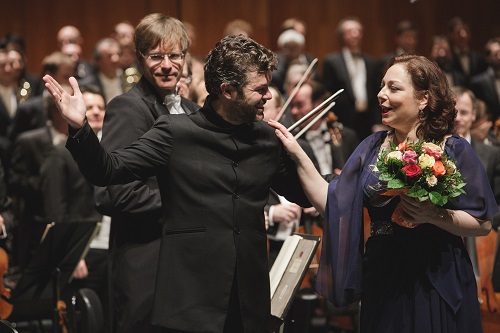 Das Märchen von der schönen Melusine: op.32: Overture
42nd Psalm: 'Wie der Hirsch schreit', op.42
Symphony no.3 in A minor, 'Scottish', op.56
Nikolaus Harnoncourt was to have conducted this concert. The recently-retired conductor has many admirers, indeed clearly inspires great affection and loyalty, but, although it would not have done me any harm to have heard him once 'in the flesh', I, being not so close to him æsthetically, was probably less distraught than many to be deprived of that particular opportunity. I looked forward, however, to hearing another conductor for the first time 'live', and was not disappointed. Pablo Heras-Casado, who has recently been recording Mendelssohn on period instruments – you see, I am not quite so narrow-minded as I might sometimes like to pretend – here performed the composer's music with a very different beast, the Vienna Philharmonic, also of course an orchestra with long-standing affection for Harnoncourt.
The Overture to Die schöne Melusine opened with delightfully bubbly woodwind, responded to by featherlight – yet grounded! – strings. Then came full orchestral vehemence, with a quite wondrous precision, not always the VPO's stock in trade, and so on, quicksilver changes of mood beautifully handled. This was the most alert playing from an orchestra which, especially recently, has not been without its slapdash moments. That, I think, must indicate that what can be a somewhat recalcitrant beast likes Heras-Casado, who certainly seemed to have the measure of this score.
Whether I should have liked Harnoncourt's way with Mendelssohn's setting of the forty-second Psalm, who knows? I certainly like – very much – his having programmed it. We almost never hear Mendelssohn's shorter choral works; indeed, although Elijah has the reputation of being a warhorse, I have only heard it once in the concert hall, under Kurt Masur. This was a performance in general as beautifully crafted as the work itself. (If you do not know it, please give it a try! Likewise the extraordinary Die erste Walpurgisnacht and a very fine Kyrie setting, both on a highly recommendable disc from Michel Corboz, who has also recorded Psalm 42 (review). For Harnoncourt fans amongst you, I feel bound to remark that he also recorded the former, although I have not heard that recording.) The opening chorus was often amiable – have I used up my store of Mendelssohn clichés yet? – without that being a term of mild abuse; its sterner moments told too. It sounded midway between Mozart and Brahms, which is probably just about where Mendelssohn tends to stand. The oboe solo was utterly ravishing, putting me in mind of a Bach obbligato. Dorothea Röschmann, who had the only real vocal solos in the work, proved imploring yet, as one would suspect, possessed of a thrillingly 'big' voice. Her aria with female chorus brought similarities not only with the inevitable Midsummer Night's Dream but also the Second Symphony. After that, the male-voice opening to the chorus, 'Was betrübst du dich, meine Seele', offered imposing contrast, without sounding merely grandiose. Röschmann's recitative, 'Mein Gott, betrübt ist meine Seele an mir', sounded veritably Elsa-like; following that, there was fine work from her and the male quartet (two from the Arnold Schönberg Chor). The choir provided an echt-Romantic choral sound, perfectly blended, in the final number, the orchestra producing playing of quite amazing clarity. It may have been the only time I have heard this work in the concert hall, but I doubt I should have had many, if any, opportunities to hear it performed better.
The Scottish Symphony – I do not think we are supposed to call it his 'Scotch' any more! – receives many more performances, of course, but perhaps not so many as one might expect. At least in my experience, its Italian brother seems to crop up far more often. The opening to the first movement was grave yet sweet of tone; indeed, the whole introduction sounded full of potentiality, not unlike Haydn in that respect. Heras-Casado imparted a fine sense of momentum; he clearly knew, and knew how to communicate, its contours. The Allegro un poco agitato soon developed a fine head of steam, as it were. As earlier, there was a fine sense of intimacy too; indeed, that was really one of the hallmarks of this performance, which seemed conceived very much in chamber-music style. There was certainly little that was Wagnerian about Heras-Casado's Mendelssohn; not that there is anything wrong with such an approach, which I remember well from Sir Colin Davis conducting this symphony, but there is rarely one 'correct' way. And, although Heras-Casado could drive quite hard, the second group yielded in lovely – yes, I must have used up my store by now – fashion, the development of its material seeming here of particular interest (subtleties brought out without underlining). There was brilliantly virtuosic playing to be heard in the scherzo; essentially, it sounded as a Mendelssohn scherzo should (whatever I might have said about there not being one way). Clarity of counterpoint was admirable; so, crucially, was its direction. The opening to the Adagio was infused with sweet Viennese longing, which, under Heras-Casado's wise leadership, did not neglect the particular twists that mark this music as Mendelssohn's, close though it rightly might have sounded at times to Schumann. The sterner, majestic passages were given their full due too, and, again, there was a fine sense of how the movement cohered as a whole. There followed as spirited and, in general, precise an account as one might hope for of the finale, tension maintained throughout. My only real cavil was a slightly hesitant moment or two at the turn to the minor, but after that, the music grew to a splendid final peroration.
Mark Berry