United Kingdom Donizetti,  L'elisir d'amore:  Orchestra and Soloists of Opera North,  Tobias Ringborg (conductor), Grand Theatre, Leeds, 17.2.2016. (JL)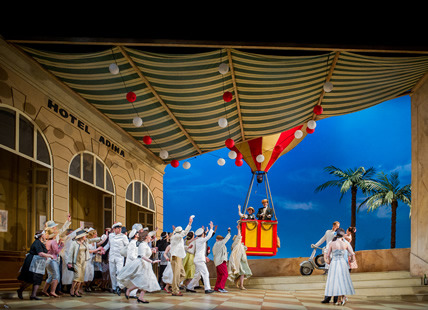 Donizetti,  L'elisir d'amore
Cast:
Adina:  Gabriela Iştoc
Nemorino:  Jung Soo Yun
Belcore:  Duncan Rock
Dr. Dulcamara:  Richard Burkhard
Giannetta:  Fflur Wyn
Production:
Conductor : Tobias Ringborg
Director : Daniel Slater
Set & Costume Designe:r Robert Innes Hopkins
Lighting Designer:  Simon Mills
Choreographer & Associate Director:  Tim Claydon
It was a cold, dark, wet and windy night in Leeds. Inside the Grand Theatre the curtain rose to reveal a  brilliantly sunny hotel terrace somewhere on the Italian Riviera. The sk was irrepressibly  blue. It was a metaphor for the relationship between Northern Europe  and Italy in the 1950s. Post war Britain was often a grey place with shortages, rationing and so on. Italy in comparison seemed sunny, exuberant, champagne-flowing and  sexy with symbols of style ranging from sunglasses to smart shoes and Vespa scooters.  In 1960 it was all summed up in one of the most famous movies of all time, Fellini's La Dolce Vita.
L'elisir d'amore's director, Daniel Slater, cites La Dolce Vita as an inspiration for his vision that transferred the setting from a C19th farm. It works superbly: the costumes are spot on and there is a wealth of  delightful detail, including the ubiquitous priest in the crowd and  a trumpeter playing on stage accompanied by a honky tonk piano.
At the start the main theme is waiter Nemorino's gawping at, and longing for the town beauty, Adina. Gabriela Iştoc  as the latter is dressed in a striking lilac, silken trouser suit, the final touch being  a pair of  tastefully green but dangerously vertiginous stilettos with which she negotiates the crowds, tables, chairs and  sloping set with confidence and  style. Nemorino's infatuation is understandable.
The dashing Captain Belcore arrives with his soldiers suitably sunglassed on scooters. The Vespas are ridden on to the tricky sloping set with a degree of circumspection that contrasts with Adina's  skill with the stilettos. No doubt the riders will gain confidence with further performances.
Perhaps Daniel Slater's finest inspiration is the arrival of the con man/salesman Dulcamara who descends from the sky blue in a hot air balloon. I've seen Dulcamara arrive in many ways from stage coach to Cadillac but never expected a hot air balloon.
With only four but equally important characters the opera cannot afford a weak link, neither on the singing nor acting front. Here there were none.
Nemorino is  South Korean Jung Soo Yun who, since winning important singing competitions five years ago, has been  burdened with the tag, "rising star".  This is on account of a fine, expressive tenor voice but he can act as well. The role demands the portrayal of an shy, naive young man trapped in his emotions who later, under the influence of drink, becomes loud and confident. Jung Soo Yun showed great operatic skill  in maintaining a strong singing presence while at the same time drunkenly bumping into the furniture and rolling on the floor. Donizetti had a special affinity with the tenor voice and the role is a fine manifestation of this, displaying through melodic line and simple harmonies a considerable range of mood. Towards the end, the aria Una furtiva lagrima, which  is the most well known in the opera, was sung by Jung Soo Yun alone on stage, starting at the rear and gradually moving to the front, delivering  a long drawn out ending  which he milked for all its worth but during which you could hear a pin drop in the auditorium.
Gabriela Iştoc was last seen at Opera North as Mimi in La Bohème to great praise. As well as her  attractive, stylish stage presence she has a soprano voice of crisp, bell like quality that coped  with the coloratura runs and high notes with ease. She could even do this while lying  provocatively backward on a table with a bunch of grapes suspended above her mouth. She is a class act.
Her macho pursuer, Captain Belcore (sergeant in the original) was Duncan Rock who serviced the role with a fine baritone voice. Judging by other performances that I have seen it is a difficult role to pull off.  For example Belcore can be portrayed  as a  pompous buffoon. Duncan Rock added  a degree of Italian male seductive stylishness to the part that  convinced.
"Dr." Dulcarama is one of opera's great comic characters. Here is a man who can sell anything to anybody but whoever plays him must persuade an audience that he can. Simply arriving by balloon got  Richard Burkhard off to a good start. He then dominated the stage with suitable strutting about aided by a powerful bass/baritone voice that has to cope with a deal of alarmingly rapid patter that he carried off with aplomb. He may not have been the largest of life Dulcamara's I have seen but that is no bad thing. Overdo the role and the whole performance can become dramatically unbalanced.
In the fifth and somewhat lesser role of  Giannetta  was the  delightfully voiced soprano, Fflur Wyn, who I last heard as an ethereally sounding Woodbird in Siegfried.
Joie de vivre and energy go hand in hand and here the chorus carried off  Tim Claydon's  imaginative choreography with the ultimate skill that makes meticulously planned moves look spontaneous and improvisatory.
Finally, conductor Tobias Ringborg ensured  the orchestra provided an  overall sense of drive throughout as well as holding the whole performance together with musical precision.
This performance revives a production first seen in 2000, the main difference being that it is now, mercifully, sung in Italian with surtitles rather than English.
Anyone in need of a dose of feel good factor should see this show.
John Leeman
At the Grand Theatre , Leeds, until 27th February then touring  to Newcastle, Nottingham and Salford. Later in the year to Houston, Texas. See www.operanorth.co.uk .