United Kingdom Rachmaninov, Mahler, Shostakovich: Roderick Williams (baritone), Hallé/Sir Mark Elder (conductor), Bridgewater Hall, Manchester, 11.2.2016. (MC)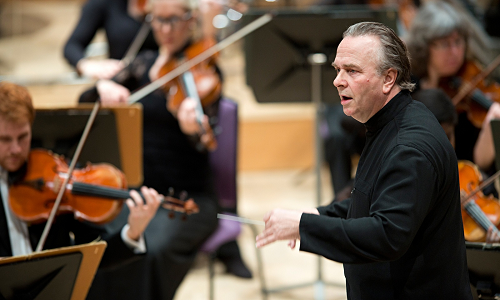 Rachmaninov: Isle of the Dead
Mahler: Kindertotenlieder
Shostakovich: Symphony No. 15
It's been several months since I reported from a Hallé concert but it soon became clear I was back in the company of an outstanding orchestra. Certainly the construction of the programme and innate quality of each work made this one of the standout concerts of the Hallé season. However, all three works are connected theme of death which undoubtedly reduced the general audience appeal.
Seeing a version of Arnold Böcklin's painting the Isle of the Dead (1883) in the collection of the Alte Nationalgalerie, Berlin, an artwork that was once in the possession of Adolf Hitler, fired my enthusiasm for Rachmaninov's symphonic poem of the same name. In the painting Böcklin depicts Charon the ferryman of Greek mythology with a rowing boat and coffin onboard seen crossing through dark waters entering the rocky islet. Playing magnificently, with a beautiful flow and resolute purpose, the Hallé created a compelling atmosphere perfectly depicting Böcklin's haunted scene.
Alma Mahler felt that her husband was tempting fate by setting Friedrich Rückert's texts Kindertotenlieder (Songs on the Death of Children) and some four years later their daughter Maria died from scarlet fever. Not surprisingly the inclusion of the Kindertotenlieder cycle on a concert programme is off-putting for some. Roderick Williams is a regular visitor to the Bridgewater Hall and for good reason owing to his smooth, expressive baritone and unerring assurance. Most affecting of all was the first poem of the cycle Nun will die Sonn' so hell aufgehn (Now the sun will rise as brightly) with its impressive opening of oboe and horn in counterpoint. A deeply sensitive interpreter, the degree of consolation that Williams was able to communicate throughout was overwhelming and he deserved every second of his applause.
After the interval Sir Mark took the microphone and gave some background to Shostakovich's Symphony No. 15 a work which he stated is rarely played and he was unable to recall when the Hallé last performed it. Last time I heard the work was at Berlin Musikfest 2013 with Donald Runnicles conducting the Orchester der Deutschen Oper Berlin and it was then I became convinced of its absolute quality considering it a twentieth-century masterpiece. Shostakovich wrote the four movement score in a burst of activity in 1971 during a time of his increasingly serious health problems when he would have known that his own death could occur at any time. There seems no doubt that Shostakovich was committed at this time to infusing his music with multiple layers of coded messages often political and the Symphony No. 15 appears to be a wonderful example of his enigmatic predilection. Whatever points are being conveyed in the writing, such as the repeated quotation from the William Tell overture to the 'fate' leitmotif from Wagner's Die Walküre and the 'grief' leitmotif from Tristan und Isolde the music has an authentic, gripping quality. Immaculately prepared under Sir Mark the Hallé demonstrated its prowess throughout this demanding work playing with a vice-like concentration that made me sit up. In a work that can easily seem like an untidy muddle in the wrong hands Sir Mark held his large forces together superbly with noticeably impressive command of tempi and dynamics. Best of all was the ebullient playing of the opening movement that brought to life the magical "toyshop" world that Shostakovich had created.
Michael Cookson
The concert was being recorded and will be broadcast on Monday 15th February 2016 on BBC Radio 3.