Switzerland Handel: Alcina, Soloists, Orchestre de la Suisse Romande, Cappella Mediterranea, Leonardo García Alarcón (conductor), Théâtre des Nations, Geneva, 21.02.2016 (AL)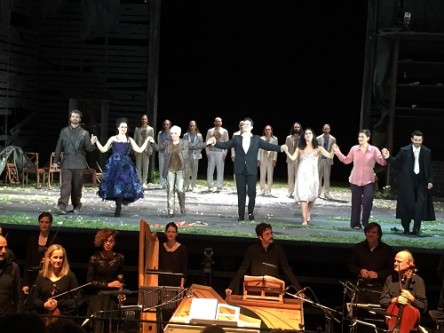 Cast:
Alcina: Nicole Cabell
Ruggiero: Monica Bacelli
Morgana: Siobhan Stagg
Bradamante: Kristina Hammarström
Oronte: Anicio Zorzi Giustiniani
Melisso: Michael Adams
Production:
Director: David Bösch
Sets: Falko Herold
Costumes: Bettina Walter
Lighting: Michael Bauer
In many cities, a production of Handel's Alcina could be considered a sure thing, which we all know does not exist in art. In Geneva, there was a lot at stake   ̶  and there was a lot that went right.
The venerable Geneva Grand Théâtre is closing for a couple of seasons for long overdue modernization. This production is the first to be held in the temporary Théâtre des Nations, a modular structure initially brought from Paris and used by the Comédie Française when they were faced with the same constraints.
The hall can host an audience of around 1,100, making it more suitable for intimate works than Wagnerian "monsters." The pit is very open, and it requires a certain discipline to adequately achieve balance with the singers, but the sound definitely has a welcome, more immediate presence than in the much wider Grand Théâtre. More importantly, there is a direct sense of communication with the singers which brings the audience closer to the action.
In the pit were players from the Swiss Romande Orchestra, complemented by the Cappella Mediteranea in the recitatives. So far, Geneva does not have a dedicated Baroque ensemble. The closest would be David Greilsammer's Geneva Camerata, which has played Lully and Rameau with genuine style and feel; but that group aims at a more versatile repertory, attempting to mix genres from Baroque to modern. Here the Swiss Romande players made one of their first attempts in this repertory, under the direction of a conductor who comes from the Baroque world. Valve horns were used, and vibrato was kept to a minimum. It was unusual to see familiar faces in such a different style, and there were moments when the sound was somewhat heavy, in particular from the basses. There were times too when the tempi were too quick, thus making textures unclear and preventing the music from deepening its characterization. But one has to acknowledge that this was a genuine artistic gamble by the musicians, who definitely deserve our encouragement.
The cast was profoundly satisfying. Monica Bacelli and Kristina Hammaström have style and expression. While Siobhan Stagg was not helped by the fast tempi in her "Tornami a vagheggiar," she cut a delightful figure on stage. In this work, where women have all the leading parts, the two men (Oberto's part was omitted) were strong. Best of all was the Alcina of Nicole Cabell. She is the real thing, a superb lyrical soprano whom opera houses must be rushing to sign. She phrases generously, was capable of a genuine dramatic presence in her "Ombre pallide," and was greatly moving in the final "Mi restano le lagrime."
The opera ended with this aria and not the usual chorus piece; think of Mahler ending Mozart's Don Giovanni after the Commendatore scene. Swiss-trained, German-born David Bösch's focus was more on the decline and despair of Alcina, unable to retain Ruggiero's love and in the end abandoned by all. This was a subtle and revelatory conception which did not care for wizardry and malice. Bösch found a very satisfactory balance between actions and music. The stage direction was strong and at one with the work, and there was subtle use of videos and lighting. This was neither an over-charged "director's theater" nor a brain-dead static production.
So all in all, it was an evening full of satisfaction  ̶  and more challenging than one might have expected. Geneva went off its usual path to explore a new hall with a new work and new talent. I personally look forward to hearing Nicole Cabell again, and to seeing future productions by David Bösch. I most certainly look forward to being back at the Théâtre des Nations.
Antoine Lévy-Leboyer