United Kingdom Mozart, Così fan tutte:  Orchestra and  Soloists of Opera North, Jac van Steen  (conductor),  Leeds Grand Theatre, Leeds,  3.02.2016. (JL)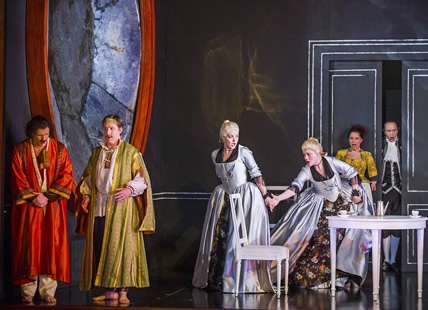 Cast
Fiordiligi: Máire Flavin
Dorabella: Helen Sherman
Ferrando: Nicholas Watts
Guglielmo: Gavan Ring
Despina: Ellie Laugharne
Don Alfonso: William Dazeley
Production
Conductor: Jac van Steen
Director: Tim Albery
Set & Costume Designer: Tobias Hoheisel
Lighting Designer: David Finn
"As good as it gets"  was a critic's judgment of a previous revival of this 2004  production. With the latest incarnation it is possible to see why such a comment was made. However, there are challenges for the audience.
Distinguished opera director Tim Albery has a serial habit of peppering his productions with visual symbols ranging from the obvious to impenetrably obscure. This revival opens with a plain front drop containing a large circular eye that turns out to be a lens that  Don Alphonso climbs a ladder to polish. When the main  set is revealed we realise (if we're lucky) that we are inside the box of a camera obscura, an early optical device that projected an image from  the outside world onto the wall of  an enclosed space  that could be anything in size from table top to room dimensions. Whether Tim Albery expects you to know that the image would be upside down and that itself has  symbolic significance I don't know. There is always a point where metaphor can be stretched to a point where it breaks down.
Così fan tutte has often been thought of as being about  a human experiment that takes place inside a bubble, isolated from the outside world. Don Alphonso sets the experiment in motion and in doing so is maybe projecting into the box through Albery's lens an uncomfortable, concentrated  image of  human behaviour. It's a scheme that recalls famous human experiments carried out in the USA  that proved that humans were capable of a degree of cruelty to their own kind that no one would like to admit.
William Dazely, who played Alphonso, was Opera North's recent Don Giovanni, which is fitting bearing in mind the opening sentence of a Peter Conrad article published in the programme: "The eldery, celibate Alphonso in Così fan tutte is a Don Giovanni who avoids the sexual fray and the libertine's exhaustion, contenting himself with a cruel supercilious knowledge".  Dazely sings with authority while often hovering backstage, wryly observing the progress of his experiment, suffering the frustration of many a scientist when things are going wrong then having the satisfaction of  witnessing  his hypothesis (that two women will be unfaithful)  finally proven.
The women start off dressed in identical, appropriate 18th century dresses and wigs, indistinguishable as if twins, suggesting the possibility of  their transferability later on.  Many productions emphasise the difference.  Later on though, when infidelity is in the air and the emotional temperature rises, they do start to dress in a separate more colourful way and the wigs give way to  real hair that tumbles down shoulders more informally. These girls are loosening up and finding their own sensual identities.
Máire Flavin as Fiordiligi and Helen Sherman as Dorabella  performed what was demanded of them  by the production, navigating convincingly through the incredulities of the plot and singing their way through it all magnificently.   In an opera that proceeds mostly as a succession of ensemble numbers, the singer of the role of Fiordiligi has the fortune, over the Dorabella, to have two substantial showpiece arias. But it's only good fortune if they can be pulled off.  Mozart wrote the role specifically for Adriana Ferrarese at the 1790 premier in Vienna. She was famous for the strength of her lower range and spectacular agility. This is demanding stuff and Máire Flavin superbly delivered what was required with great stage presence to boot. Technically secure, her trills at the end of the formidable rondo/aria, "Have pity, my love", were nuanced with both subtlety and panache. This is surely a singer who is going places.
The two male lovers were, as with their women, dressed  in silvery white formality from the start then later, stiffly in military uniforms. That is as themselves. When disguised they too loosen up and fall easily into the roles of seducers. Nicholas Watts as Ferrando had, as a formidable seducer's weapon, a clean,  lyrical tenor voice, his solo numbers a delight to the ear.  Gavan Ring lent a throaty baritone to the role of  Guglielmo, very convincing when in disguise as a macho, mustachioed predator.
Despina, the women's maid, becomes a vital tool in Alphonso's wicked plan. In the most truly comic role of the opera, soprano Ellie Laugharne charted her Pinteresque, table turning way from downtrodden servant to manipulator of her Mistresses with cheeky aplomb. This is much more than a bit part. Mozart wrote some vocally demanding passages that were carried off with a skill that matched Laugharne's acting ability and comic timing.
A particular feature of the production is the stage business. The participants are frequently flitting about, physically expressing the nature of their  engagement with others and of their own inner turmoil. No conventional stand-in-a-line and deliver ensembles here. It lends a constant energy to the proceedings but must have been putting considerable extra strain on the singers. Executed with virtuosity, I blench at the thought of how much rehearsal must have gone into it.
The performance notwithstanding, one must not forget the star of the show. Mozart provided music that turned a silly story into a timeless masterpiece. Conductor Jac van Steen ensured that that  the orchestral colours, which  are of a bigger range than in  any other work of the composer's, were brought out with cleanly played texture that never became obtrusive,  keeping the pace up yet maintaining crisp ensemble throughout.
And so to the happy ending of Da Ponte's libretto with the lovers  back to their original partners heading for blissful marriage blessed with multiple children.  Or do they? It is Mozart's music that has been telling  us that  the ending may not be as happy as it appears. In fact, is it the ending at all?
Tim Albery's  production goes  fair and  square for  ambiguity and confusion,   the four protagonists  lined up front of stage, outside the box and in the world this time,  turning this way and that, not sure which partner to go to.  Not exactly subtle, but it makes the point.
John Leeman
At the Grand Theatre, Leeds, until 26 February then touring  to Newcastle, Nottingham and Salford.
Box office: 0844-848 2700.