United StatesTerence Blanchard, Champion: Soloists, chorus and orchestra of Opera Parallèle, Nicole Paiement (conductor), co-presented by SFJAZZ, SFJAZZ Center, San Francisco. 19.2.2016 (HS)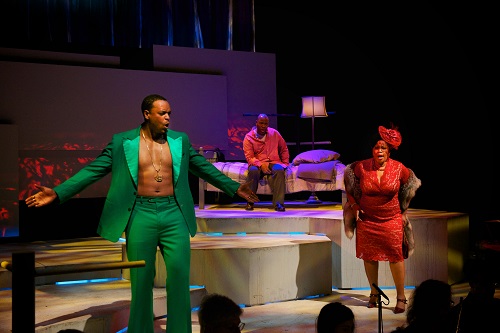 Libretto: Michael Christofer
Cast:
Emile Griffith: Arthur Woodley
Young Emile Griffith: Kenneth Kellogg
Little Emile Griffith: Moses Abrahamson
Emelda Griffith: Karen Slack
Howie Albert: Robert Orth
Kathy Hagan: Michelle Rice
Benny 'Kid' Paret: Victor Ryan Robertson
Luis Rodrigo Griffith: Andres Ramirez
Sadie Donastrog Griffith: Chabrelle Williams
Cousin Blanche: Aisha Campbell
Ring Announcer: Mark Hernandez
Man in a Bar: Bradley Kynard
Speed Bag Performer: Joe Orrach
Production:
Director: Brian Staufenbiel
Lighting: Matthew Antaky
It takes a while to get there but composer Terence Blanchard eventually lights the emotional fires he has been trying to stoke for more than two hours in Champion, his "opera in jazz." The piece received its west coast debut Friday in San Francisco, where Opera Parallèle, a Bay Area-based company that focuses on contemporary works, is presenting six performances through February 28 in partnership with SFJAZZ.
The 3-hour work, which debuted in 2013 at Opera Theatre of St. Louis, traces the poignant life of Emile Griffith, the boxer from St. Thomas in the U.S. Virgin Islands. Today he is remembered mainly for a fateful night in 1962 when, in a welterweight title match, a rainstorm of his punches felled Benny "Kid" Paret, who went into a coma and died 10 days later.
A six-time champion, Griffith struggled under the weight of this tragedy, multiplied by leading a bisexual life at a time when no athlete could admit to it. He lived his final years in a fog of dementia triggered by punches from 125 professional bouts.
That should have provided plenty of material for Blanchard, a celebrated trumpet soloist and jazz composer who created scores for the films Malcolm X, 25th Hour and When the Levees Broke: A Requiem in Four Acts. But as many composers have discovered, writing a memorable vocal line to carry the ball in an opera is a very different challenge from underscoring a scene in a movie—or creating good jazz.
"I kill a man and most people understand and forgive me," says an aged and addled Griffith in a climactic moment. "I love a man, and to so many people this is an unforgivable sin." This line, and the music associated with it, should have been the crux of this work. But the moment passes without rustling the music fabric.
The score does have innovative, enlivening elements when Blanchard lets his jazz soul come through. As the piece opens, with a shadowy boxer creating a catchy rhythm—a percussion solo—on the speed bag. Later boxing scenes get some of their pizzazz from the bag's return as a percussion instrument, played by Joe Orrach, a production choreographer and artist who has blended boxing and tap dance with music for other projects. Percussion also accompanies lively dance and song scene-setters for the chorus, which both introduces the young Griffith as he arrives in late-1950s New York, and celebrates him as he reaches the top of the boxing world.
A jazz trio enhances a 26-piece orchestra, conducted by Opera Parallèle's music director Nicole Paiement. The trio performs on its own, too, such as in a moving jazz ballad-cum-aria sung by soprano Chabrelle Williams, whose experience singing gospel pays dividends. Although the jazz elements occasionally work their way into the orchestral fabric, for the most part the orchestra shifts away from jazz into a sort of generic modern-opera style. For me this was an unfortunate choice, putting this composer into less-assured territory.
Too much of his vocal score relies on vanilla parlando. Great opera composers infuse their recitatives—these musical evocations of spoken words—with something that is uniquely their own. Blanchard has plenty of jazz flair, but little of it was in evidence. Too often the lyrics descend into cringe-worthy cliché. The running time (2 hours, 45 minutes) is not excessive, but the music falls short of fleshing out the libretto by Michael Cristofer (whose screenwriting credits include The Shadow Box and The Witches of Eastwick). As a result the piece does seem to go on too long.
And yet, Act II pulls things together to reach several emotional catharses, most effectively in the penultimate scene. The aging Griffith and his caretaker—his adopted son Luis—meet Paret's son for a sort of reconciliation. (This scene actually occurred in real life, and further, is the climax of the 2005 documentary on Griffith, Ring of Fire.)
Framing the storytelling are scenes of Griffith as an old man, sitting in bed, wondering vaguely what he is supposed to do next. Bass Arthur Woodley, who created the role in the original production and has sung Gershwin's Porgy to acclaim, was a rock-solid centerpiece. His phrasing, vocal prowess, and body control shaped a resonant performance—a physical portrayal of an aging man of power, now beyond his mental limitations.
Kenneth Kellogg, a 6-foot 5-inch bass baritone who has sung in starring roles at Washington Opera, does most of the heavy expositional lifting as the young Griffith. With appropriate panache, and a chiseled boxer's body, he makes a believable character, with a voice than can handle both the operatic and the jazz portions. Some of the most effective moments were duets with the older Griffith, as their memories overlap, incuding scenes in which the character wrestles with his sexuality.
As Emelda, Emile's estranged mother whom he tracks down in New York, mezzo soprano Karen Slack (who some may recall as the operatic diva in the film For Colored Girls) delivered enough attitude to portray a stickery character. She has sung Serena in Porgy and Bess in San Francisco and Washignton. (Denyce Graves originated the role in St. Louis.) Her duets with Williams created beautiful moments.
Veteran opera baritone Robert Orth lent a gently comic touch to the cigar-chomping Howie Albert, who convinces Griffith to give up hat-making and become a boxer. Tenor Victor Ryan Robertson, who originated the role of Paret in St. Louis, provided a worthy foil as both father and son in this go-round. And tenor Mark Hernandez, a regular in San Francisco Bay Area smaller opera companies, made in impression as a ring announcer who introduces scenes and eventually breaks into song.
The layered set suggests a boxing ring, with the bedroom upstage left. Action elsewhere takes place on terraces downstage, allowing for seamless transitions.
Champion takes on big themes. It occasionally scores a flurry of punches, an occasional knockdown, and even wins a few rounds. And even if it pulls its musical punches often enough to slow down the momentum, it's a worthy effort. One hopes this is not the talented Blanchard's last try at opera.
Harvey Steiman