United Kingdom Schubert and Tchaikovsky: Benedetti Elschenbroich Grynyuk Trio (Nicola Benedetti [violin], Leonard Elschenbroich [cello],  Alexei Grynyuk [piano]), St John's Smith Square, London, 16.2.2016. (JPr)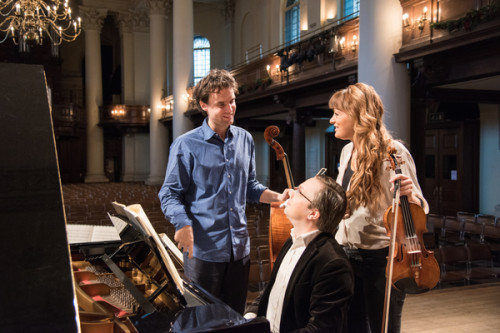 Schubert – Piano Trio in B flat, D.898
Tchaikovsky – Piano Trio in A minor, Op.50 
Tchaikovsky once wrote to his patron Nadezhda von Meck: 'I simply cannot endure the combination of piano with violin or cello. To my mind the timbre of these instruments will not blend … It is torture for me to have to listen to a string trio or a sonata of any kind for piano and strings.' In her interview with Nicola Benedetti in the programme Ariane Todes wrote how this seems 'to undermine the premise of tonight's concert of two of the best-loved piano trios in the repertoire.' To a degree Benedetti agrees with Tchaikovsky; she 'can see where he's coming from. Mozart, Beethoven and Schubert had written excellent piano trios before him, so it's not that no one had written masterfully for the form, but the balance of the three instruments can be tricky. The natural thing would be to give the cellist piano-bass-like material and to write melodic treble material for the violinist, but that would never suit the kinds of musicians who form trios, who generally want to do things in their own right.'
Indeed, when you put together three artists who each have impressive and extensive biographies as soloists, the end result of combining strong and charismatic personalities as an ensemble might – in the end – be less than the sum of the parts. However, this is not the case for the Benedetti Elschenbroich Grynyuk Trio. There are no affectations from star violinist Nicola Benedetti who seems to relish being one of this accomplished trio and actually her playing was somewhat understated and overshadowed at times by Leonard Elschenbroich's communicative cello and Alexei Grynyuk's brash pianism.
It was the first time – as far as I can recall – that I have heard two piano trios in the same concert. Schubert, whose Piano Trio in B flat we heard first, was no slouch at the piano and Tchaikovsky's Piano Trio in A minor which followed was dedicated 'To the memory of a great artist' – Nikolai Rubinstein, another very accomplished pianist. It is not a surprise that the strongest memories I will take away from this performance is of Grynyuk's virtuosity and more than ever in a piano trio the strings seemed subordinated to his piano.
Schubert's Piano Trio in B flat, D. 898 was begun in 1827 and completed in 1828 which was the last year of the composer's sadly short life. Right from the start of the Allegro moderato, the Benedetti Elschenbroich Grynyuk Trio (they could do with a snappier name) took a bold and self-assured direction with robust and full-bodied sound. In a smallish (sold-out and packed to the rafters) venue with not the warmest acoustic – at least to my ears – this was supremely confident, statement-making playing, superbly led by the energetic Grynyuk. It was all immensely satisfying. Benedetti had a very vibrant tone that captured the essence of this essentially optimistic and 'sunny' movement. Elschenbroich's lullaby melody solo which opened the graceful Andante un poco mosso (slow movement) was played with consummate artistry. The Scherzo was suitably charming and bright and then came the Rondo finale with Benedetti's violin taking the first melody. There followed a suitably turbulent middle section, full of melodic invention and it was all played with brio to the last note.
After the interval came Tchaikovsky's epic Piano Trio – his homage to his colleague Nikolai Rubinstein – which was apparently inspired by an 1873 picnic in the countryside when the two men encountered some Russian folk musicians. The epic scale of the composition is hardly folkloric and rather more operatic. For Benedetti a sense of grief is redolent in the work 'It was written in a period of longing and pain. I've performed it many times and more often than not I'm fighting back tears at the end. It feels like you've lived a life. It is such an outpouring, and you're left void of hope. There is lots of melodic material, and the second-movement variations are extremely bright, but the overwhelming feeling is that they are all memories of experiences in a different realm, which you'll never have again.' Indeed, those variations are considered some of Tchaikovsky's most inspired music. They can be taken to be a musical representation of all shades of Rubinstein's complex personality but the music may also have something deeper and more profound to say about the soul of Russia in the late nineteenth-century.
Grynyuk's potency at the piano anchored the music now in Tchaikovsky as in Schubert and again Benedetti and Elschenbroich proved wonderfully like-minded colleagues, playing with focused, well-polished tone. After the melancholy of that opening movement the variations were fully characterized with Elschenbroich's warm 'singing' tone the highlight because of its consistently beautiful sound. The demanding fugal eighth variation was effervescent and the following section had a reflective quality that was very affecting. The tenth variation was a suitably spirited mazurka bringing to the fore memories of the recent TV adaptation of War and Peace. With the finishing line in sight Benedetti, Elschenbroich and Grynyuk launched the finale with a great deal of braggadocio and immense vitality; the contrast of this with Tchaikovsky's funereal coda made the final few bars as deeply moving as Benedetti said they would be.
Jim Pritchard
For more about Southbank Centre events visit http://www.southbankcentre.co.uk/.