United Kingdom Everson, Miranda, Visi, Baltas: Ten Tors Orchestra / Simon Ible (conductor), The House, Plymouth University, Plymouth. 27.2. 2016. (PRB)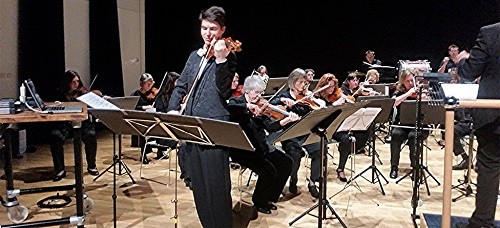 David Everson: Dreamscape
Eduardo Reck Miranda: Shockwaves
Federico Visi: Kinesliminia
Linas Baltas: Shadows
Peninsula Arts Contemporary Music Festival is an annual event promoted in partnership with Plymouth University's Interdisciplinary Centre for Computer Research (ICCMR), and is firmly establishing itself as an important platform in the UK for new music exploring ideas emerging from leading-edge research that is helping to pave the way for the music of the future.
This year's festival theme is 'Frontiers: Expanding musical imagination', which, according to the brochure, 'showcases extraordinary new technologies and approaches to composition and performance that are pushing the boundaries of music and promoting widening participation in the art of creating music'. As before, the whole programme is spread across a weekend, but the Gala Concert which features Ten Tors Orchestra – resident professional ensemble of Peninsula Arts, Plymouth University – is the festival's main musical focus.
Music, from whatever period and in any particular style, can be absolute, like Beethoven's Seventh Symphony, or programmatic, like Smetana's Vltava from his set of six tone poems, Má Vlast. Knowing the 'programme' of Smetana's work does not make a performance any more or less enjoyable or meaningful, than one of any separate movement from the Beethoven, or the four played as a whole. Adding a 'programme' or storyline to the Beethoven similarly doesn't necessarily affect the listener's appreciation, or does changing Smetana's description of the Vltava as 'two small streams eventually emerging triumphantly as the river widens in Prague' to something completely different, though equally plausible. The 'picture' is created in the mind of the listener, unlike a piece of descriptive painting which all can see.
Unlike classical music, performances of contemporary works often happen once only, which can often be down to reasons of logistics or venue. This can have an adverse effect on modern music which, due to its unfamiliar format, can prove too much to take in on one hearing alone. The composer might have provided comprehensive programme-notes, but reading them during a live performance is no easy matter where the houselights are dimmed to enhance the effect overall – a regular issue that besets not only a concert like this, but probably the majority of musical events in general, and to which I have alluded before (see below). Artists are chastised if they stand up and merely repeat what is written in the programme beforehand, but equally rebuked, through no fault of their own, if what they have carefully written cannot be read during the performance, as having the houselights on might be considered visually detrimental to the performance itself.
Eduardo Reck Miranda's Shockwaves confirmed this quite nicely. Conductor Simon Ible briefly outlined the work's rationale, before navigating Ten Tors Orchestra through this piece for violin, orchestra, percussion and synthesised sounds. Whether the fact that it had been enjoyed in the same venue less than a year ago, and that the players were now more familiar with it, the performance did have a greater sense of cohesion and meaning than before, again much enhanced by Pierre-Emmanuel Largeron's impressive contribution, especially in the violin cadenzas.
David Everson's Dreamscape, which opened the evening, proved the most immediately appealing work. Starting out with a haunting melody, given originally on electric piano, and which concluded the piece, this time with a conventional piano sound, the work was effectively scored, and evidenced a successful synthesis of live orchestra, pre-recorded samples, and synthesised sounds. As a piece of easy-listening, and in terms of meeting the programme Everson suggested – inspired both by Edgar Allan Poe's 'Dream-Land', and Saint-Saëns's 'Danse Macabre' – it was most successful. But in terms of being considered 'contemporary', apart from the additional, and hardly-intrusive electronic sounds, and the fact that it was written only recently, this was pure film music – no surprise, of course, considering that Everson, having graduated from Plymouth University, then did his Master's in Film and Television at Bristol University.
In order to appreciate the next piece, it would seem expedient to quote the composer's programme note first:
'Kineslimina [an errant bit of proof-reading, as the work is elsewhere referred to as 'Kinesliminia'] is a piece for viola, electric guitar and live electronics that explores the use of the musicians' instrumental gestures and movements as an expressive medium. Such gestures merge with the other musical features and become an integral part of the score. While playing their instruments, the musicians wear an armband fitted with motion sensors, which tracks their movements and sends the motion data to a computer. The computer then processes the movement data and sound, responding with a wide range of dynamics: from subtle timbral alterations that follow the movements of the bow during string changes to deeper resonances when more overt gestures are performed by the musicians.'
Federico Visi – who played electric guitar and live electronics, activated by a rather smart-looking foot-pedal array – goes on to say that the piece is in two movements – the first where he and fellow performer, violist Esther Coorevits, get progressively acquainted with each other's kinespheres – a notion created by Rudolf Laban to define 'the sphere around the body whose periphery can be reached by easily extended limbs without stepping away from that place which is the point of support when standing on one foot' – and a second where the boundaries are pushed even more, to the point where one player's movement impacts on the other performer's sound.
In reality, the two-movement format wasn't overly clear, even though it was apparent that there was a greater interaction as the piece unfolded. However, even with the viola and bow held in one hand, or the electric guitar supported by a shoulder strap, the potential for much meaningful hand-movement and, indeed, gestures, appeared limited. Had the players remained static and two trained dances moved in and around them, with the armbands on their person, rather than on the performers, more graceful and perhaps more visually meaningful gesture control might have obtained. And, it was always too easy still to recall Bernstein gesturing a full orchestra, sometimes with the tiniest movement of the eye – even if this didn't quite stretch to full timbral control, save where 'pizzicato' or 'arco' were implied.
We've all read CD sleeve-notes where the English translation has been provided by someone whose first language is German, or French, and while we always get the gist, there's usually a noticeable improvement when the translator is English. Guest composer Linas Baltas, from Lithuania, has been a welcome contributor to the Plymouth Contemporary Music scene for some time. His orchestral work, Shadows – which he dedicated to the victims of the Paris terror attack last November – closed this year's concert. Sonically there are many interesting moments and textures, a wide variety of musical ideas, rhythms and melodies, and the piece comes off well in performance. But the two paragraphs Baltas has produced for the programme, do, somewhat, run the risk of stating the obvious, although I'm sure this was never the intention. Fortunately, by concluding with 'Shadows is the musical reflection of events surrounding as [sic] all', the piece could really be taken to stand for whatever you feel – absolute music with a non-specific programme, so to speak.
Two final points: a special mention must go to the players of Ten Tors Orchestra – and their indefatigable leader, Mary Eade – for the skill and panache with which they despatched such often unfamiliar territory, and without the luxury of unlimited rehearsal time beforehand.
Secondly, The House has again shown itself the ideal on-campus venue for this Gala Concert. It is small enough to feel intimate, yet still accommodates a good-sized audience, the sound works well, and visibility is excellent. Obviously having all the technology in situ is an added bonus, even if, perhaps due to an oversight, the good-quality acoustic piano elsewhere in the building is apparently difficult to import, due to internal planning. For reviews of previous Contemporary Music Festival Gala Concerts at Plymouth University, please see 2013, 2014, and 2015 respectively.
Philip R Buttall