United Kingdom The Mighty Handful – Rimsky-Korsakov, Borodin, Musorgsky, Cui & Balakirev: Orchestra of the Royal Opera House/Sir Antonio Pappano (conductor). Royal Opera House, Covent Garden, London, 8.2.2016. (JPr)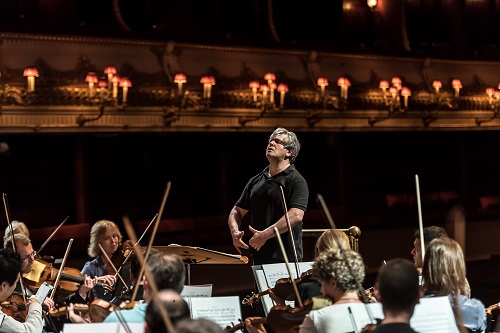 Rimsky-Korsakov: Prelude and 'Battle of Kerzhenets' from The Legend of the Invisible City of Kitezh and the Maiden Fevroniya; 'The Flight of the Bumblebee' from The Tale of Tsar Sultan
Borodin: Symphony no.2
Musorgsky: St John's Night on Bare Mountain (original version)
Cui: Prelude to Act III of William Ratcliff
Balakirev: Islamey (arr. Casella)
In his 'Welcome' in the programme Kasper Holten, Director of Opera, suggested that this rare excursion of the orchestra out of the depths of the Royal Opera House pit would let us hear music selected to stimulate the anticipation for the new production of Musorgsky's Boris Godunov to be conducted by Sir Antonio Pappano next month. 'The programme puts Musorgsky in context, as it presents pieces by him and the other four composers who – known as the "The Five" or "The Mighty Handful" – revolutionized and liberated Russian music by re-inventing an original Russian style, rather than merely copying Western music.'
I've not always been Pappano's biggest supporter, especially when he conducts Wagner at Covent Garden, but what has never been in doubt is his pre-eminence as a communicator and his ability to radiate his enthusiasm for classical music. He gave genial and informative introductions to both halves of a relatively short concert and I wish more conductors would follow his example. He explained how it was a celebration of unfamiliar repertoire as well as an opportunity for 'my army' – the orchestra – to leave the pit and be on the stage themselves. He reminded us how Rimsky-Korsakov's The Legend of the Invisible City of Kitezh and the Maiden Fevroniya has been described as 'the Russian Parsifal' and we would hear the forest murmurs and birdcalls from Wagner's Siegfried. As is often the case when some (other than me) identify Wagner in music I didn't hear it very much, at least as played the way it was. There was much orchestral detail which was – as throughout all the music we heard – expressive and evocative but it sounded more like Mahler's pastoral episodes. The orchestra seemed to relish being let off the leash for the following full-on account of the 'Battle of Kerzhenets' musical call-to-arms.
Pappano described the very familiar 'The Flight of the Bumblebee' as a 'divertissement' which he hoped would 'sting' us 'in the right places' and Borodin's Second Symphony as 'pantheistic' and – like all his chosen programme – indisputably 'Russian'. By saying that he was not stating the obvious but merely commenting on the fact that all the music had an instantly recognisable character that could not have originated from anywhere else. Like all of 'The Mighty Handful' Borodin had a 'day job'; he was a chemist and took a long time composing his symphonies. Pappano set a cracking pace in a work that sounds like musical highlights rather than a fully thought-through four-part symphony with epic pretensions. Together with his orchestra he luxuriated in the slow movement which sounded a little more Italian than I believe it should. Throughout there was a splendid ensemble sound and some marvellous solos, most notably from the harp at the start of that elegiac third movement. An idiomatically fierce attack drove the Finale onward, showcasing the valiant brass that brought everything to an exciting conclusion. During the symphony Pappano got so excited at times that he leapt with both feet off the podium and when he landed it occasionally added some unexpected percussion to the music!
Musorgsky's St John's Night on Bare Mountain was heard after the interval and we heard from Pappano how Rimsky-Korsakov tried to do the composer a favour by reorchestrating the music because it was considered rather (too) 'bold'. He said the piece has 'almost as many titles as versions' and what was played was Musorgsky's rarely played original. The works derives from a witches' Sabbath scene in Gogol's story of St John's Eve, and has its demonic, melodramatic roots in Berlioz's Symphonie Fantastique and Liszt's Totentanz. It sounded like an R-rated nightmarish bacchanal that the orchestra played with obvious relish.
Another rarity – among rarities – was the Act III Prelude from Cui's opera William Ratcliff based on a blood-soaked Scots-based drama by Heinrich Heine which was also used by Mascagni in the 1890s. Pappano said he would not bother to tell us the story of the opera and this was a good thing as it seems as convoluted as any I have ever read! The Prelude is lyrical and beautiful but Pappano and his orchestra did highlight the 'unrest' there is in the music which anticipates not only a love scene but also the tragic dénouement to the work.
Balakirev's Islamey ended the concert. The original is a piano work which according to Pappano is something all young pianists look at but many give up after a few bars – as he did himself – because it is 'a notorious finger-buster'! Of the available orchestral versions, he chose a 'phantasmagorical arrangement' by his compatriot, Alfredo Casella, and suggested we would not believe what we were hearing. Despite the surprising repose of the middle section it is basically just a kaleidoscopic mélange of musical imagery that threatened to fall apart at the seams at times but thanks to the whirling hands of Antonio Pappano's batonless direction never did. Exciting stuff indeed and a marvellous conclusion to this celebration of 'The Mighty Handful' and their mentor and ideologue, Vladimir Stasov, who made them more of a sextet than a quintet!
Jim Pritchard
For more about events at the Royal Opera House visit www.roh.org.uk.