Germany Wagner, Die Walküre: Soloists, Chorus and orchestra of Semperoper, Dresden, Christian Thielemann (conductor), Semperoper, Dresden, 23.2.2016. (JPr)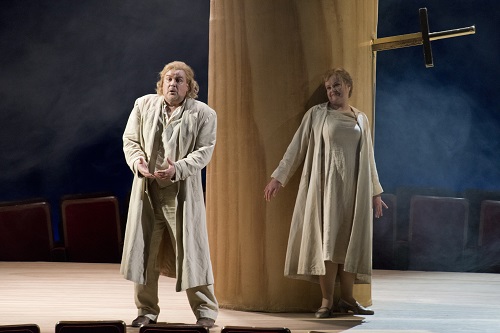 Wagner, Die Walküre
Cast:
Siegmund: Christopher Ventris
Hunding: Georg Zeppenfeld
Wotan: Markus Marquardt
Sieglinde: Petra Lang
Brünnhilde: Nina Stemme
Fricka: Christa Mayer
Helmwige: Christiane Kohl
Gerhilde: Sonja Mühleck
Ortlinde: Irmgard Vilsmaier
Waltraute: Christina Bock
Siegrune: Julia Rutigliano
Roßweiße: Simone Schröder
Grimgerde: Constance Heller
Schwertleite: Nadine Weissmann
Production:
Musical Director: Christian Thielemann
Staging: Willy Decker
Set Design: Wolfgang Gussmann
Costume Design: Wolfgang Gussmann & Frauke Schernau
With cooperation with the Teatro Real Madrid
There were only three performances of Die Walküre – that will have probably come and gone by the time you read this – but you really should have been there because of a rare combination of Wagnerian talent; Nina Stemme, Petra Lang and Christopher Ventris (replacing an indisposed Johan Botha) with Christian Thielemann returning – I understand – to conduct a Ring opera after a break of a few years.
Only letting this down slightly was Willy Decker's 2001 production that was probably innovative when first seen but looks distinctly 'old hat' now. There is a stage-within-a-stage and rows of plush red seats at the front. During the beating heart, stormy prelude to the opening act the god Wotan is seen with his set design ready to direct his humans. He is hoping to choreograph the action of his son, Siegmund, who can 'act' free of his father's will and win back the all-powerful ring which he had to give up in Das Rheingold. In Act I there is a huge tree trunk in which a sword is clearly seen which Siegmund is to use and Wotan's 'stage directions' brings him into the action to win it for himself and along the way save his twin sister, Sieglinde, from her abusive loveless marriage. As we know Wotan's troubles are only just beginning and matters will spiral out of his control. Act II is initially set in what looks like a theatrical model workshop where Wotan is designing his new world. Enter Wotan's embittered wife, Fricka, who begins to dismantle his scheme, pointing out that Siegmund is 'acting' in the way Wotan wants and is clearly not a free agent. Not only that but he had made love to a woman who is not only married to someone else but his own twin. Wotan acknowledges the error of his ways, Siegmund needs to die and he must abandon his master plan. He realizes he cannot escape the curse of the ring and he is powerless to prevent the twilight of the gods. In Act III the stage becomes filled with curved rows of those red chairs and the theatre has become the world.
In truth – as seems often the case other than at Bayreuth – this was more of an elaborate semi-staging than a full one. It was the acting abilities of the experienced cast which provided what drama there was. I could have done without the presence of chairs, models of buildings or statues that were really only there to be thrown about. Much better was the black curtain that separated us from Wotan's 'all the world's a stage' and seemed to represent the shroud over Wotan's vaunted ambition. This was never so clear as when having been browbeaten by his wife, it is Wotan's favourite daughter, Brünnhilde, who is discharged with the responsibility of carrying out his wishes and is enveloped in the drapes for a very eerie encounter with Siegmund and the Todesverkündigung. When Wotan bids farewell to Brünnhilde – after she has betrayed him and saved Sieglinde and her unborn son – she is shown sleeping at the rear of the stage on what looked like the moon and Wotan very slowly closes the curtain. This was not unexpected either, but was still a very sombre and poignant denouement.
In 1984 in his twilight years Reginald Goodall conducted Die Walküre in Cardiff and it was a revelation considering the famous expansiveness (or slowness) he was previously renowned for. It was viscerally exciting and emotionally gripping and although Christian Thielemann could never expunge the memory of Goodall's masterly conducting he ran him a close second. Those who may have in the past accused the music director of the Dresden Staatskapelle and the Bayreuth Festival for bombast or heaviness would have been amazed – as I was – by his brisk tempi (barely 3 hours and 45 minutes of music), clean orchestral sound, open, light textures, incisive attacks, clarity and conciseness of tone. The acoustics of the Semperoper has none of the warmth of Bayreuth and is like listening to Wagner at the drier Covent Garden but once I got used to that it became a performance that will live long in my memory. Remarkable especially because of the typical silkiness of the Staatskapelle's busy strings and the lustre of their resonant brass.
The stellar line-up of soloists could only give their best because of Thielemann's impeccable accompaniment. It was so sensitive to the dynamics of the score that it did not matter that the performance proceeded without surtitles. I suspect native German speakers were able to follow nearly every word of the libretto and the cast helped with their impeccable diction. Georg Zeppenfeld was a suitably dark and threatening Hunding. Christopher Ventris – who doesn't appear enough in Britain his home country – brought back memories of his wonderful compatriot, Alberto Remedios, as Siegmund. He sang with some attractive colours, lyrical beauty and refinement at times, notably, during the most sensitively phrased 'Winterstürme' I have heard since that great Liverpuddlian who has just celebrated his 81st birthday. He was equally effective in his retrained 'Wälse! Wälse!' outbursts and in the tender expression of his devotion to his twin sister in Act II. Sieglinde was another wonderful assumption from Petra Lang, one of the world's finest Wagnerian singers, she was a warm-spirited, very womanly Sieglinde, full of ecstasy in her growing love for Siegmund. Much of her singing had the familiar deep rich sound she is famed for and elsewhere it was youthful, ardent and gleaming, and the soft phrases were lovely indeed. Her highlight was the Act III dialogue with Brünnhilde which culminated in 'O hehrstes Wunder' and Ms Lang seemed to be just warming up as her part was over.
Christa Mayer's Fricka was absorbing and convincing in its dramatic detail; it was so musically inflected and intelligently coloured that her long, shrewish conversation with Wotan never seemed half as long as it sometimes can. Her husband Wotan was sung by Markus Marquardt a Semperoper regular but a singer new to me. He sang very much in the Sir John Tomlinson grizzled veteran mode: his resources sounded sorely tested at times and sometimes there was a lack of warmth and passion but he harnessed his voice well enough to give Brünnhilde a noble and emotionally compelling farewell. The eight red-haired Valkyries were rather a mixed bunch and I have heard better; however, their singing might have been affected by having to descend from the flies on huge two-dimensional spears.
Having just seen Nina Stemme sing Turandot (review) she was heard here as Brünnhilde. She sang with total dramatic identification with her character and tonal beauty. There are limitations to her voice and her 'Hojotohos' were more jovial and playful than wild and clarion bright but the poignant appeal of her 'War es so schmählich?' was undeniable and the summation of a redoubtable performance.
At the end the Dresdeners – and many drawn to the Semperoper because of the outstanding cast and conductor – deservedly applauded for well over ten minutes and had been left in the best way possible … wanting more! 
Jim Pritchard