Germany Rossini, Guillaume Tell: Soloists, Chorus and Orchestra of the Hamburg State Opera, Gabriele Ferro (conductor), Staatsoper Hamburg, Hamburg, 12.03.2016. (RP)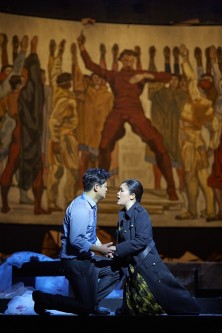 Rossini, Guillaume Tell
Cast:
Guillaume Tell: Sergei Leiferkus
Hedwige: Katja Pieweck
Jemmy: Christina Gansch
Mathilde: Guanqun Yu
Arnold: Yosep Kang
Meltchal: Kristinn Sigmundsson
Gessler: Vladimir Baykov
Fürst: Alexander Vinogradov
Ruodi: Nicola Amid
Leuthold: Bruno Vargas
Rodolphe: Jürgen Sacher
Production:
Director: Roger Vontobel
Set Design: Muriel Gerstner
Costumes: Klaus Bruns
Lighting Design: Gérard Cleven
Dramaturgy: Albrecht Puhlmann
Chorus Master: Eberhard Friedrich
The Hamburg State Opera last presented Gioachino Rossini's Guillaume Tell in 1980, in a concert version that featured Giuseppe Taddei as Wilhelm Tell, Teresa Zylis-Gara as Mathilde and Franco Bonisolli as Arnold. (The only staged performance in the company's history was in 1915 in honor of Kaiser Wilhelm II's 56th birthday.) A wave of nostalgia swept over me when I read the names in that starry cast from over a quarter century ago, but by the intermission it had evaporated. Anchored by veteran baritone Sergei Leiferkus, this cast did not invite comparison, it set standards of its own, as did the orchestra and chorus under the baton of Gabriele Ferro.
Leiferkus is in great shape, with no allowances necessary for the passage of time, and was the vocal and dramatic lynchpin of this cast. He will soon turn 70, but the voice is still taut, with ringing high notes and the low range securely in place. This was a serious, single-minded Tell, sporting a modern crossbow; defiant towards the oppressive Habsburg regime, and ever vigilant to the dangers presented by Gessler, the cruel Austrian overlord. One wondered whether he would shoot the apple off the head of his son Jemmy with that lethal looking weapon. In a rather disappointing denouement he was spared the task, as one of the choristers simply took the apple from Jemmy's head and ran it through with an arrow.
Mathilde, a Habsburg princess, is in love with Arnold, the son of Meltchal, a staunch foe of Habsburg rule. She may not burn with patriotism as do the Swiss, but she does have an innate sense of justness to her. Visually, Yu cut an elegant figure in her long, navy blue military coat with gold trim and matching hat; vocally, she was exquisite. Her big moment comes in her Act II aria, "Sombre forêt," in which she seeks solitude in the forest to ponder the consequences of her forbidden love. The aria demands a sense of repose from the singer, and formidable bel canto technique to execute its demanding fioratura. Yu's voice has a dark hue to it, but also a lightness that permits her to execute Rossini's vocal filigree with silvery finesse. And it has power, as demonstrated in her Act III aria, "Vous ne l'obtiendrez pas," where she defiantly prevents Gessler from executing Jemmy, and in the ensemble that followed.
Arnold is the one male character who faces a conflict: he must choose between the woman he loves and his patriotic duty. The murder of his father seals his fate, but he also gets the girl, as Mathilde, appalled by Gessler's barbarity, switches sides. It is one of those roles that defines success by one measure  ̶  will the tenor hit the famous high C's in the aria "Asil héréditaire." Yang did so with ease, but there was so much more to savor in his performance. It is a wonderful voice, remarkably clear and free, and effortlessly produced. He acts with a naturalness that is at one with the ease of his singing. There is a darkness to his tone, and a depth to his Arnold, that complemented Yu's Mathilde perfectly.
The other Swiss characters were just as compelling. Alexander Vinogradov as Walter Fürst, while not cutting a very dashing figure dressed as art conservator, made a vivid impression with his vibrant bass, which just commands attention. Kristinn Sigmundsson is an imposing man both vocally and physically. As Meltchal, he made his entrance pushing a walker, with an oxygen tank trailing behind him. (He was given more air when called upon to sing.) Although his character dies early in the opera, he reappeared as a ghoulish spirit with a grotesque head wound and zombie-like teeth, apparently to stiffen Arnold's reserve and buck up the spirit of the Swiss patriots.
Christina Gansch was a somewhat hyperactive but unflinchingly brave Jemmy. Rossini makes real vocal demands on Jemmy in the ensembles, and Gansch's vibrant soprano soared above the fray effortlessly. Katja Pieweck as Tell's wife, Hedwige, was also a commanding presence on stage. Her resolve and forthright singing were on a par with that of Leiferkus as her husband. This Tell family was the stuff of which heroes are made. And it was heroism that director Roger Vontobel most effectively captured in his staging of Guillaume Tell.
On the other hand, the Austrians were vile. Gessler was an arrogant, egotistical martinet, impersonated by Vladimir Baykov with creepy sliminess. It came as no surprise that this Gessler would demand that the vanquished Swiss salute his white underwear hoisted on a pole, instead of the cap in the legend. Jürgen Sacher was a light-voiced, simpering Rodolphe, just the kind of guy who would shoot a feeble old man in the back (as he did Meltchal), rather than challenge him to his face like a man. 
For inspiration, Vontobel looked to Ferdinand Hodler, a late19th/early 20th century Swiss artist famous for his portraits, landscapes and murals, including one of Tell that was once on the Swiss 50-franc note. Vontobel, however, eschewed  "Swiss-ness" and instead chose Hodler's depiction of the oath sworn in 1533 by the citizens of Hannover to uphold Protestantism, entitled "Einmütigkeit" (Unanimity). At the beginning of the opera, the mural is being restored by Tell and his team; it is later defaced by Gessler's men, and ultimately recreated by the cast in the concluding scene once the Swiss have prevailed. This was an excellent grounding for this production, but when Vontobel strayed from Hodler's stark imagery he was less sure footed, starting from the beginning.
Just as the overture reached its climactic finale, the chorus entered noisily on stage. You had to shake your head and wonder why. The party scene that commenced during the overture was sprawling and pointless: for much of the act, they did little but sway to the music and swill champagne. A beautiful and unexpected explosion of red and white confetti and streamers drew gasps of delight from the audience. When repeated a few minutes later, one wondered if Vontobel had already run out of ideas. The final scene of the opera, so stark and powerful with Tell and the others striking their defiant pose, was undercut by vanquished Austrians cluttering up the stage. They were dispatched with red paint, which was splattered about with abandon throughout the performance, including on Arnold's white shirt after he embraced the dead body of his father, and later on Mathilde, when she made a bizarre appearance as a zombie in a wedding dress. Neither the ghouls, nor the paint, made much sense to me.
Vontobel hit upon a creative, challenging concept for his Guillaume Tell, but he evidenced an unease with the powerful images that he created so effectively and the associations that they invoked. This is, however, where he hit the mark. He was never as convincing when he ventured astray from the core of the Tell myth. It is the weight of those connections that poses a challenge for a Swiss director in these hyper-nationalist times, a phenomena to which Switzerland is not immune. This was his first staged opera and a success by any measure. Apart from the unwarranted distractions and noise during the overture, he got one thing right. He never got in the way of the music. Many directors never grasp that point.
Rick Perdian