Spain Wagner, Das Liebesverbot: Teatro Real Orchestra and Chorus, Ivor Bolton/Francesc Prat (conductors), Teatro Real, Madrid, 3 & 4.3.2016. (JMI)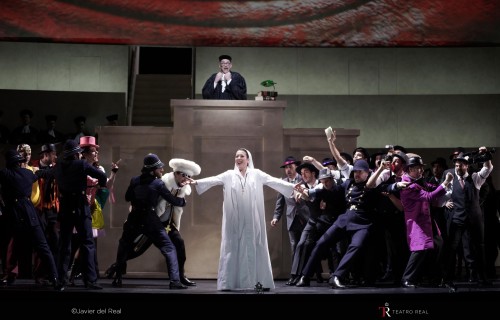 Wagner, Das Liebesverbot
Casts:
Isabella: Manuela Uhl/ Sonja Gornik
Friedrich: Christopher Maltman/Leigh Melrose
Luzio: Peter Lodahl/Peter Bronder
Claudio: Ilker Arcayürek/Mikheil Sheshaberidze
Brighella: Ante Jerkunica/Martin Winkler
Dorella: María Hinojosa
Marianna: María Miró
Antonio: David Alegret
Angelo: David Jerusalem
Pontio Pilato: Francisco Vas
Daniel: Isaac Galán
New production: Teatro Real, Royal Opera House and Teatro Colón, Buenos Aires
Direction: Kasper Holten
Sets and Costumes: Steffen Aarfing
Lighting: Bruno Poet
Choreography: Signe Fabricius
Das Liebesverbot was Richard Wagner's first performed opera although not the first one he composed; Die Feen was never staged in the composer's lifetime. The premiere took place in Magdeburg in 1836, and it was a resounding failure, to the point that it was withdrawn after the first performance. It has been revived on just a few occasions, the most successful of which was a performance conducted by Wolfgang Sawallisch in Munich in 1983 on the centenary of the composer's death. However, more than one theatre nowadays has shown interest in these operas by the young Wagner. Das Liebesverbot was done a few years ago in concert form at the Bayreuth Sports Palace, and is performed annually in Leipzig. In the summer of 2013 there was a concert version at the Peralada Festival.
A comic opera, Das Liebesverbot follows the conventions of French and Italian opera of its time, but then suddenly there are motifs that point to the Wagner of years to come. Without entering into comparisons with the great Wagnerian works, it's a pleasant opera, far from being a masterwork, but it surely does not deserve to have fallen into oblivion. For me the biggest problem lies, as in many other Wagner operas, in the libretto, which was written by the composer himself. The original opera has more than 4 hours of music (and not very original, by the way). In 1983 in Munich, Sawallisch and Ponnelle made the right decision and cut the opera back to just over two-and-a-half hours, which is the version staged at the Teatro Real.
The production by Kasper Holten is excellent: fun, imaginative, lively, and beautifully suited to a comic opera. The sets consist of a house with multiple rooms and stairs which, based upon lighting and the imagination, serves as the whorehouse El Corso, a convent, and even a prison. The colourful costumes respond perfectly to the demands of this opera, or rather operetta (and very near to a musical). To this must be added a superb job of lighting and excellent choreography.
Mr. Holten's direction is outstanding from beginning to end, narrating the story effectively and bringing the action up to modern times. The details are carefully tended, and a sense of humor is always present; Holten's use of mobile phones on many occasions is remarkable. I would single out the scene of the trial, or the one of the trio of Isabella, Luzio and Dorella on a conveyor belt, or the scene of Friedrich in his room: all of them were excellent. The final appearance of the King, who is none other than Angela Merkel, is a real coup de théâtre. The actors are well-directed, as are the extras and choristers. In short, it's a great stage production. 
Ivor Bolton was on the podium with the first cast, and his reading was well-suited to the work. As I mentioned, this opera has nothing to do with Wagner's mature oeuvre, where the conductor is fundamental. Mr. Bolton cancelled the following day, and the replacement was his assistant, Francesc Prat. His conducting was a pleasant surprise, and brighter than that of Mr. Bolton. The tempos were faster, especially in the first part of the opera, which contributed to the happy outcome.
The cast of this opera is large and not easy to cover: stars will seldom be willing to learn the part for just one performance. There is always the risk of cancellations, and Teatro Real solved that by offering a double cast. Given the circumstances, it seems almost luxurious to have two major singers in the main roles, Isabella and Friedrich, at least in the first cast.
Isabella was interpreted by German soprano Manuela Uhl, who is often present in major opera houses singing operas by Wagner and Richard Strauss. Her performance must be considered as brilliant in every aspect. The second Isabella was German soprano Sonja Gornik, who offered a voice that is well-suited to the character, and exhibited good stage skills too.
Christopher Maltman was Friedrich, the Governor of Palermo, and we were able to enjoy his stage and vocal performance during the first act, while he almost ran out of voice in Act II. Something unexpected happened, and at the intermission there was an announcement of indisposition. British baritone Leigh Melrose in the second cast was excellent on stage and demonstrated some extraordinary acting skills. He also seemed to be having a good time himself. Vocally, he did quite well, with an appealing voice, although he sometimes tends to open sounds.
The biggest problem of this opera lies in the tenors (Luzio and Claudio), who have much to sing. Wagner wrote passages for them that are almost inhuman. Luzio was played by Peter Lodahl, who was a tenorino with little interest. The terrifying high Cs in his big scene were solved in pure falsetto. As Claudio, Isabella's brother, we had Turkish tenor Ilker Arcayürek, who wasn't much better than his colleague. Peter Bronder was the second Luzio, and did not seem a good choice to me. He's an excellent character tenor, one of the best interpreters of Mime and Herod, but his vocal characteristics are not what's required for Luzio. His voice is wide and not of great quality, but he is an excellent actor. As for high Cs, he just ignored them. Georgian Mikheil Sheshabiridze was the second Claudio, better than his colleague in the first cast, but still rather modest.
Ante Jerkunica did nicely in the part of Brighella, the Chief of Police, with a sonorous voice. In the second cast, Martin Winkler almost stole the show with his Brighella.
The rest of the cast was quite good. Maria Hinojosa was a solid Dorella, in terms both of singing and acting. Soprano Maria Miró sang Marianna's aria with gusto, but was a little acid at the top. There were two more tenors, David Alegret (Antonio) and a very amusing Francisco Vas (Pontius Pilate). David Jerusalem was a sonorous Angelo with an attractive voice, and Isaac Galán impressed in the role of Daniel..
José M. Irurzun