United Kingdom A Tribute to John Cranko: Ivy House Music and Dance, JW3: London Jewish Cultural Centre, London, 13.03.2016, (J.O'D)
'A legend lost to this country,' was how dance writer Gerald Dowler described John Cranko at the end of this three-part tribute to the South-African born dancer and choreographer, held at the London Jewish Cultural Centre in Finchley Road.
The child of a Jewish family in the Transvaal, Cranko came to London in 1946 to train at the Sadler's Wells Ballet School. After dancing with the Sadler's Wells Ballet Theatre between 1947 and 1950, he went on to create a number of ballets for the company. At the age of twenty-three he was a resident choreographer for Sadler's Wells Theatre Ballet's 1950/51 season. He left England in 1961 to take up the post of Ballet Director at the Stuttgart Opera, and to found the Stuttgart Ballet. He worked on 'the Stuttgart miracle', as the critic Clive Barnes called it, until his death at the age of forty-five in 1973.
Dowler pointed out early on in this Sunday afternoon Discussion, Masterclass and Performance that Onegin (1965) is the only 'active' ballet by the choreographer in The Royal Ballet repertoire. Birmingham Royal Ballet performs two of his works: Pineapple Poll (1951), to the music of Gilbert and Sullivan, and The Lady and The Fool (1954). Cranko's version of The Taming of the Shrew (1969), to music by Scarlatti, will re-enter the BRB repertoire this June.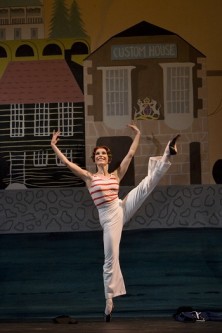 The tribute began with clips from recordings of Cranko's ballets danced by Marcia Haydée and Svetlana Beriosova. The female dancers look generally freer and more upright, less twisted and dragged about, than they do in the work of Frederick Ashton and Kenneth MacMillan. Dowler then gave an outline of the choreographer's career, and told how this was cut short on the plane bringing the Stuttgart Ballet back from its second visit to New York. Cranko died by choking on his vomit, after reacting to a pill that was prescribed to help him sleep during the flight.
In his introduction to the life and work of a man whose 'importance, artistry and influence have been largely forgotten', Gerald Dowler referred to Cranko's 'catholic tastes' and to the 'wide variety of looks and styles' to be found in his work. He praised the intensely musical choreographer's ability to tell a story and to create ballets that are 'vehicles for dancers to explore themselves'. He also noted, in Cranko's choreography: 'How much the faces are important. Something we have slightly lost.'
Despite the success of Pineapple Poll when staged as part of the Festival of Britain, and of his 1955 revue, Cranks (which transferred to Broadway), Dowler said that for Cranko: 'Life in London was difficult.' In April 1959, he was arrested, and fined, for 'opportuning men for immoral purpose'. After that year, he did not create work for The Royal Ballet. "I'd lost confidence," the choreographer said about himself. The move to Stuttgart came about through Svetlana Beriosova, whose father was the director of the Stuttgart Opera. Cranko said he went there: "To exist."
At the start of the Discussion, the choreographer and director, Sir Peter Wright, explained that in 1961 there was no director of ballet at Stuttgart, only a ballet master. 'The corps de ballet,' he said, 'was pretty atrocious.' Preferring to talk to dancers in the canteen instead of in an office, Cranko met with opposition from the opera company when he tried to make changes. He persuaded Wright, who had just been offered a job in television, to come to Stuttgart instead (with his wife and children), to act as ballet master: "You're a man of the theatre!" Wright was to work in Stuttgart for five years.
Dance critic and dance historian, Clement Crisp, began by reading a passage from John Percival's biography of Cranko, in which the choreographer is asked who he creates his ballets for. After answering "Myself", Cranko says: "I really do them for God." Crisp went on to list Cranko's 'tremendous sense of structure', 'fertile imagination', and 'innate sense of what was right for a dancer'. He also spoke of his generosity to Kenneth MacMillan. When MacMillan was unable to produce a ballet to the music of Mahler's Das Lied von der Erde at Covent Garden in 1965, Cranko said: "Come and do it here!"' William Forsythe was another choreographer who benefited from Cranko's support at Stuttgart.
According to Peter Wright, Cranko left England because he was frustrated at The Royal Ballet, where opportunities to choreograph were shared with Ashton and MacMillan: 'He wanted his own company.' When Dowler asked about Cranko's plan, Wright replied: 'He wanted to see dancers dance in the right way. More from their hearts. Not so much from their technique. It was a great struggle. It took many years.'
Wright did not 'really see a personal style' in the choreographer's work: 'The great thing about John was his sense of theatre.' Clement Crisp agreed: 'Cranko had wonderful technique. He knew what to do with bodies on the stage. It was not the psychological profundity of MacMillan. It was the most brilliant cookery. With MacMillan you went away thinking about it. Cranko's work was less probing, but beautifully made. I did admire him immensely. He was such a craftsman, and terribly assured.'
Peter Wright qualified this: 'Underneath he wasn't assured. He was almost drunk when choreographing the country scenes at the start of Onegin. In the end he said: "Pete! Finish it for me!" It was a struggle for him.'
'But what did come out,' Crisp said, 'was so damned good. He was an influential choreographer in many ways.'
Peter Wright also thought that Cranko and MacMillan were not 'great friends': 'Kenneth was always suspicious. John resented that.'
Gerald Dowler asked what Cranko was looking for in a dancer. 'Love,' Peter Wright said. After a pause, he added: 'The ability to suffer and express.' Clement Crisp put it another way: 'His antennae sensed what he could use and what they should know about themselves.' Wright then gave an example: 'He saw something in Marcia Haydée that no one else saw. She did not have a perfect classical line. Cranko made Marcia Haydée believe in herself. It was a gift he had to develop and get people to find themselves.' For Clement Crisp, Cranko's Initialen R.B.M.E (1972) is 'a testament to the love and understanding of four principal dancers (Richard Cragun, Birgit Keil, Marcia Haydée and Egon Madsen)'.
'He was a marvellous director of a ballet company,' Crisp said. 'He could provide work that made them look absolutely wonderful. In a sense, he was a father.' Peter Wright agreed, and at the same time disagreed: 'He wasn't anything like a father, really.' Crisp finished off his analogy regardless: 'And they were his children.'
In the Masterclass that followed, former Royal Ballet Principal, Brenda Last, coached the current Artist of The Royal Ballet, Isabella Gasparini, in three excerpts from Pineapple Poll. 'Bourrée as much as you can off balance,' Last, who danced Poll eighty-eight times, told her pupil. 'I know it's difficult.'
For the Performance, Gasparini put on a green-and-white frock that Brenda Last herself had worn in the role. 'Glitter!' said the older woman as the young Brazilian dancer set out to demonstrate what dance historian Giannandrea Poesio defines as 'a fluidly interwoven combination of refined silent acting and a splendid use of the ballet idiom. The former…arguably, the most innovative component of Cranko's style'.
John O'Dwyer