United States Puccini, Manon Lescaut: Soloists, Chorus and Orchestra of the Metropolitan Opera / Fabio Luisi (conductor). Broadcast live to the Empire Cinema, Basildon, Essex, from the Metropolitan Opera, New York, 5.2.16. (JPr)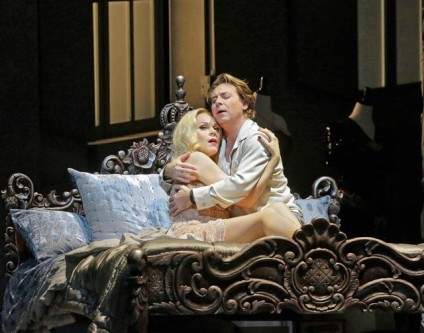 Puccini, Manon Lescaut
Cast included:
Manon Lescaut: Kristine Opolais
Des Grieux: Roberto Alagna
Lescaut: Massimo Cavalletti
Geronte: Brindley Sherratt
Production:
Production: Sir Richard Eyre
Set Designer: Rob Howell
Costume Designer: Fotini Dimou
Lighting Designer: Peter Mumford
Choreographer: Sara Erde
Live in HD Director: Gary Halvorson
Live in HD Host: Deborah Voigt
When I used to audition young singers with possibly – in hindsight – too little respect for talent my mantra used to be 'The world does not need another soprano'. But fast forward to 2016 and this is seeming as true as ever because tenors seem to be the endangered species. Almost every week you read about a star tenor pulling out of some production or other because of illness. Hopefully there is nothing too seriously wrong with Jonas Kaufmann who cancels rather often these days causing consternation amongst managements and his fans. At fairly short notice he pulled out of this production of Manon Lescaut that was probably only going to be put on because Herr Kaufmann wanted – initially at least – to sing in it. With only a little over two weeks to go to first night the Met's general manager Peter Gelb turned to Robert Alagna to save the day: he was in the house singing Pagliacci but had never sung the role of des Grieux. Ultimately, this was not the greatest of the Met Live in HD broadcasts I have seen. To be truthful – because the musical values were of the usual very high standard – it must have been much more enjoyable to listen to on radio rather than watch in Gary Halvorson's typical close-up direction for the screen.
Possibly because of Jonas Kaufmann's involvement here and elsewhere there seems to a revival of interest in Puccini's breakthrough work. It had a difficult gestation and it is still not entirely clear who is responsible for the text as five librettists were engaged in adapting a story based on Abbé Prévost's 1731 novel L'histoire du chevalier des Grieux et de Manon Lescaut – Ruggero Leoncavallo, Marco Praga, Giuseppe Giacosa, Domenico Oliva and Luigi Illica. The always difficult-to-please composer and his publisher, Giulio Ricordi, are also believed to have contributed to the libretto that probably was completed by Illica and Giacosa who went on to work with Puccini on his next three – and even more successful – works, La bohème, Tosca and Madama Butterfly. The heavily edited story – leaping forward in time as it does – has little dramatic coherence, yet regardless its 1893 première Manon Lescaut was a sensation.
Sir Richard Eyre's production was originally seen in Baden-Baden and in an interview he spoke of the three ideas behind this version of Manon Lescaut ­– firstly that with original eighteenth-century stagings 'the costumes always wear the singers'. He also wanted a morally ambiguous setting and hints of film noir. So Rob Howell has monumentally recreated German-occupied France of the 1940s and this smothers – even on the cinema screen – what should be an emotionally compelling tale that could be told simply and straightforwardly. Here it was more a case of the singers wearing the huge sets! Even worse nothing really was made of this time period apart from a few Nazis throwing their weight around.
For Act I we are outside a grand railway station in Amiens with some precipitous stairs down from the platforms at the back. There is a bustling café with smiling French citizens improbably milling with their German oppressors.  It is here that it is love-at-first-sight for the shy student des Grieux when he sees the naïve 18-year-old Manon who is headed for a convent. Her unprincipled brother, Lescaut, an army sergeant, is escorting her, but an old roué Geronte tells him that he wants Manon for himself and her brother agrees to this. De Grieux and Manon initially thwart their plans by running away, but we later find out that despite the passion Manon has for des Grieux she cannot abide being penniless and enjoys the highlife too much. In Act II she is living a life of luxury as Geronte's rather easily bored mistress in a Paris apartment, palatial undoubtedly, but again too huge and with more steep steps. Manon is reunited with des Grieux who is obsessed with her. The cuckolded Geronte has the Germans arrest Manon, who is caught trying to leave with des Grieux … and all her jewellery.
For the final two acts Richard Eyre's production loses the plot almost literally as the convicted Manon should be shown being put on a ship heading for New Orleans. Now we see an ocean liner in the Le Havre dock under which a jail can be seen. The ship doesn't look very real and reminds me of something even more risible like this which can be seen in an Alfred Hitchcock film, Marnie. There is no indication where the prostitutes bound for exile are going now. They are shown wearing dirty grey frocks and I suspect Richard Eyre lacked the courage to send them to a concentration camp. So where do des Grieux and Manon end up in Act IV? We should be outside New Orleans and despite Manon singing how 'The wind gusts over the plain' it takes a typically lengthy Met scene change to show us Manon and des Grieux exhausted and dying of thirst clambering awkwardly amongst the ruins of Amiens and Paris we saw in Acts I and II.
Unfortunately, I never believed any of it and certainly neither did Roberto Alagna or Kristine Opolais as Manon appear to either. I don't think it was their fault that initially there didn't seem much chemistry between them. The always striking looking Ms Opolais is a known quantity as Manon but I never believed in her this time as a gauche teenager, though she seemed more at ease costumed (by Fotini Dimou) as Marilyn Monroe in Act II and vamping outrageously. Roberto Alagna still cuts a heroic figure on stage and always sings 'wearing his heart on his sleeve' but he is no one's idea of a young student. So both singers were at their best when the characters had their more impassioned moments such as the Act II 'love duet' and the opera's tragic denouement. Ms Opolais's heartfelt, deeply emotional aria 'Sola, perduta, abbandonata' ('Alone, lost and forsaken') nearly – but not quite – brought a tear to my eye. Kristine Opolais is playing someone even younger in the Met's forthcoming Madama Butterfly and she will again be partnered by Roberto Alagna, but both I am sure will be more convincing in that than there were here.
That this Manon Lescaut was dramatically a damp squib had nothing to do either with Fabio Luisi's fervent conducting. The playing from the Met's impeccable sounding orchestra was lush, melodramatic and multifaceted. Principal conductor Maestro Luisi will be a great loss to the Met when he leaves soon to become music director of Opera di Firenze and the Maggio Musicale Fiorentino. Admittedly on this occasion there were audible moments when the ensemble between stage and pit was a bit slack. This was especially during the cluttered Acts I and III but that may – for once – have been a fault of the broadcast sound rather than anything which happened in the theatre.
Completing a competent principal cast was the appealing Zach Borichevsky as the student Edmondo who made much of the little Puccini gives him to do in Act I. His only reason to be there is to tell des Grieux what Geronte and Manon's brother are planning and he was much more suited to this role than Rodolfo recently for English National Opera. Massimo Cavalletti had a pleasant voice as Lescaut and it was stolid performance without me wondering was there anyone else who could have made a bigger impression as Manon's pimp of a brother. British bass Brindley Sherratt sang well as Geronte and I suspect his resemblance to Peter Gelb was intentional. He suggested in his interview with the always unflappable Live in HD Host Deborah Voigt how he did indeed make him less of a buffo character and 'a real threat and someone deeply sinister' whilst taking great care when singing either up high on a hotel balcony or walking down those steep stairs!
Jim Pritchard 
For information about The Met: Live in HD for the remainder of this season and for 2016-17 visit http://www.metopera.org/Season/In-Cinemas/.