United States Ravel, Debussy, Stravinsky, Schoenberg: Hila Baggio (soprano), Shirit Lee Weis (stage direction), Maya Meidar Moran (costume and design), Israeli Chamber Project, Gilder Lehrman Hall at The Morgan Library & Museum, New York City. 22.3.2016. (BH)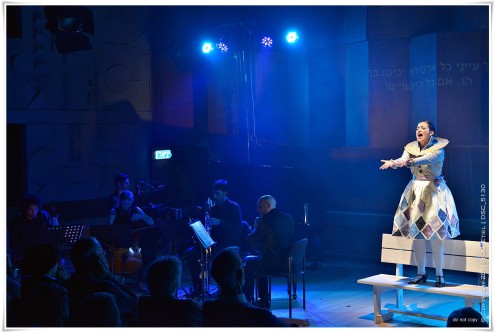 Ravel (arr. Sivan Magen): Tzigane (1924)
Debussy (arr. Carlos Salzedo): Children's Corner (1908)
Stravinsky (arr. Yuval Shapiro): Scenes from Petrushka (1911)
Schoenberg: Pierrot Lunaire, Op. 21 (1912)
Israeli Chamber Project – Guy Eshed (flute), Tibi Cziger (clarinet), Daniel Bard (violin and viola), Itamar Zorman (violin), Michal Korman (cello), Sivan Magen (harp), and Assaff Weisman (piano)
Just before the lights dimmed for Schoenberg's Pierrot Lunaire, clarinetist Tibi Cziger asked the audience, "Raise your hand if you are afraid of what's going to happen." (Laughter and more than a few hands came up.) The fact remains that Schoenberg's masterpiece—after over 100 years—is a deeply creepy piece. Using 21 poems by Albert Giraud, the texts are filled with blood, rotting flesh, insects—and of course, moonlight.
In this version by the Israeli Chamber Project, presented at the Morgan Library and Museum, director Shirit Lee Weis used just two props, a white wooden park bench and a black stepladder. But that was more than enough for the superb Israeli soprano Hila Baggio, who made adroit use of both in a harrowing traversal of the song cycle. Whether perched at the top of the ladder, with beseeching hands outstretched in "Madonna" (No. 6), sitting on the bench with legs frumpily spread to conjure up "Eine blasse Wäscherin" ("An Ethereal Washerwoman," No. 4), or miming the casual tap of a cigarette into a skull of tobacco in No. 16, ("Gemeinheit"/"Atrocity"), she used every acting nuance available. And as costumed by Maya Meidar Moran—in lavender leggings, a harlequin skirt, black-and-white pierrot shirt, and a circular collar (doubling as a hat)—she was the essence of a sprightly, enigmatic gamin.
But all of this would have been for naught, without Baggio's alluring work in Schoenberg's sprechstimme, and her faultless ability to cruise through the composer's often high-flying lines as effortlessly as if she were having a friendly chat—albeit a weird one—in one's living room. (English translations by Andrew Porter were helpfully projected above the stage.)
Meanwhile, the ensemble—placed to the left onstage, in shadows—expertly navigated the 21 crystalline instrumental sequences. In the striking No. 7 for flute alone ("Der kranke Mond"/"The Sick Moon"), flutist Guy Eshed casually sat next to Baggio on the park bench, playing so close to her that at times their lips almost met. It was intimate, uncomfortable—and perfect.
As a preface to Pierrot (1912), programming excerpts from Stravinsky's Petrushka (1911) was an intelligent choice; late in their careers, the two composers actually lived in the same Los Angeles neighborhood. Of all the arrangements I've heard, this one evoked the original with startling veracity. (Even the piano version—brilliant as it is—usually makes me long for the full orchestral version.) Yes, the peppery familiar melodies were there, but crucially, composer Yuval Shapiro astutely replicated Stravinsky's churning internal textures; the six musicians sounded like an ensemble three times that size. Eshed, Cziger, and Magen were joined by the group's beguiling cellist Michal Korman, Daniel Bard showing seamless versatility on violin and viola, and the group's terrific pianist, Assaff Weisman, giving the scenes a pointed rhythmic spine.
Five scenes from Debussy's Children's Corner—originally for solo piano—were adapted by Carlos Salzedo (1885-1961, French harpist and composer) for flute, cello, and harp. Though I found the arrangements slightly on the cute side, the playing from the trio—Eshed, Korman, and Magen—was exceptionally clear and focused.
The evening opened with Ravel's Tzigane, with violinist Itamar Zorman and Magen, who also did the sparkling arrangement. From the opening bars, Zorman's presence and refinement grabbed one by the collar, helped by the Gilder Lehrman Hall's beautifully clear acoustic. The violinist cunningly altered the range of his tone—now wan and sickly, now rustic and robust—and was impressive in some tricky left-hand pizzicatos. Magen matched him in precision, and the closing accelerando was thrilling.
Bruce Hodges