United Kingdom Rossini, The Barber of Seville; Mozart, The Marriage of Figaro; Langer, Figaro Gets a Divorce: Soloists, Chorus and Orchestra of Welsh National Opera/ James Southall (conductor), Wales Millennium Centre, Cardiff, 23, 24 & 27.2.2016. (GPu)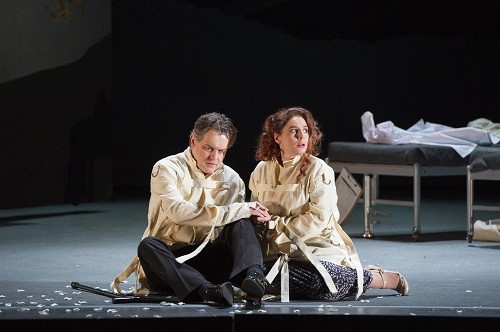 [Cast lists and other details appear at the end of this review] 
Unlike plagiarism, the practice by which characters created by one artist are appropriated and creatively re-used by a later artist has cultural approval (think of all the post-Shakespeare Hamlets or the recent TV series Dickensian). Indeed the frequency with which particular works are used in this way might be taken as a measure of their cultural centrality. The Figaro plays of Beaumarchais – Le Barbier de Séville, Le Mariage de Figaro and (less well known) La Mère Coupable –  have frequently been had such treatment, both in spoken drama and in opera.
WNO's Figaro Forever is made up three operatic adaptations of Beaumarchais, two of them familiar and one new. There have been many such adaptations/appropriations. Even before Rossini's opera of 1816, there had been three operatic versions of Le Barbier de Séville, by František Benda (1776), Paisiello (1782) and Nicolas Isouard (1796). Mozart's (1786) was, so far as I know, the first operatic version of Le Mariage de Figaro; a few later composers have been foolhardy enough to follow in Mozart's footsteps, such as Dittersdorf in 1789, Marcos Portugal (1799) and Luigi Ricci (1838). The last, and weakest, of Beaumarchais' three plays, La Mère Coupable appears not to have been transformed into an opera until Milhaud's version of 1966.
Rossini's Barber is one of the great comic operas. But Sam Brown's production unfortunately took that fact as an invitation to load the work with an abundance of comic additions, too many of which  had no organic connection with either text or music and often distracted from, or obscured, those dimensions of the work which are not matters of slapstick. A few of the comic additions worked (i.e. produced laughter) such as the electronic guide dog which accompanied the blind Basilio (no politically correct inhibitions here!). But some just left one puzzled. Why, for example, was the Count provided with the equipment of a one man band in the initial serenading scene?
Musically the performance was adequate, but scarcely more than that. Nicholas Lester was a physically impressive Figaro, vocally certain and fluent if not especially individual. Soprano Claire Booth, as Rosina, coped well with what is really a mezzo role. Her coloratura was particularly impressive, and in a production that largely dealt in caricatures rather than characters, she created a plausible young woman, feistily eager to make her decisions about her own life. Andrew Shore was a splendid Bartholo, being the best physical comedian in the cast and best able to cope with the rapid patter required of him. Richard Wiegold was mildly amusing as Basilio, though his 'blindness' seemed an overliteralizing of something the original was content to leave at the level of metaphor. Nico Darmanin's Count was rather disappointing, too light of voice and thinly characterized.
While the orchestral playing was of good standard, they couldn't quite sustain that thoroughly Italianate quality they so often produced when playing Rossini conducted by Carlo Rizzi. Conductor James Southall might profitable have varied tempi and dynamic levels a little more.
The 'characters' of Rossini's Barber are essentially well-established comic types rather than individuals. Figaro is the clever servant of Ancient Roman comedy, mediated through Molière's Scapin. The Count and Rosina are the pair of young lovers who have outwitted the older generation which stands in the way of their wishes in comedy after comedy since Plautus and Terence. Da Ponte and Mozart inherited similar materials but discovered in them depths of moral, emotional and psychological complexity left unplumbed by Rossini and Sterbini. Above all the people of the Marriage are individuals, not types. Watching Brown's Barber one finds oneself thinking, with Puckian condescension "Lord! What Fools these mortals be", while to watch and listen to this fine production of the Marriage was to recognize the humanity one shared with those who peopled it.
Tobias Richter's production was beautifully staged, all his 'cleverness' and skill at the service of the work, never at odds with either text or music. This, along with the mature quality of the singing (and acting) on offer, as well as the orchestral playing under the direction of Lothar Koenigs, made for a memorable Marriage. Anna Devin stood out as a vivacious Susana who sang both precisely and expressively and had the stage presence of a genuine actress. The Countess of Elizabeth Watts was movingly sung and characterized with real weight and depth. Perhaps it was because of Watts' previous experience in the role of Susanna that the relationship between mistress and maid gripped me as it never has before. David Stout Figaro was well-sung and lively, both witty and vulnerable. Mark Stone's Count was a subtle piece of work, bringing out both the excessive self-confidence and the inherent weakness of the man. Naomi O'Connell was a fetching Cherubino and Susan Bickley a magnificent Marcellina, most of all in her proto-feminist aria. All in all, this was an outstanding Marriage, beautiful, funny and moving.
In preparing his libretto (witty, wise and compassionate) for Figaro Gets A Divorce David Pountney drew on both La Mère Coupable and the 1936 play Figaro Läßt sich scheiden by Ődőn von Horvárth. The Serafin and Angelika of Pountney's libretto correspond to the Léon and Florestine of Beaumarchais' play, and the confusion over the parentage of Léon / Serafin, so vital to the action, comes from there too. I am not familiar with Horváth's play, but I assume the setting in a 1930s Europe racked by war and revolutions derives from it. I suspect that the insidiously malign Major of the libretto owes things both to Horváth's play and to Beaumarchais' 'military' villain Bégearss.
With excellent performances by, in particular, Marie Arnet as Susanna, Elizabeth Watts as an older, wiser and stronger Countess and Mark Stone as a count Almaviva finally coming to some recognition of his own failings (and of his continuing love of the Countess), all supported well by the rest of the Ccast, the whole was a very definite success.
This was much the best of the 'themed' seasons devised by David Pountney during his time as Artistic Director of WNO.
Rossini, The Barber of Seville  (Production Premiere) Soloists, Chorus and Orchestra of Welsh National Opera/ James Southall (conductor), Wales Millennium Centre, Cardiff, 23.2.2016
Cast:
Figaro: Nicholas Lester
Count Almaviva: Nico Damanin
Rosina: Claire Booth
Doctor Bartolo: Andrew Shore
Basilio: Richard Wiegold
Fiorello: Howard Kirk
Berta: Rosie Hay
Ambrogio: George Newton-Fitzgerald
Policeman: Martin Lloyd
Notary: Alastair Moore
Production:
Director: Sam Brown
Set Designer: Ralph Koltai
Costume Designer: Sue Blane
Lighting Designer: Linus Fellborn
Assistant Set Designer: Robin Don
Chorus Master: Alexander Martin
Mozart, The Marriage of Figaro (Production Premiere) Soloists, Chorus and Orchestra of Welsh National Opera/ Lothar Koenigs (conductor), Wales Millennium Centre, Cardiff, 24.2.2016
Cast:
Figaro: David Stout
Susanna: Anna Devin
Count Almaviva: Mark Stone
Countess Almaviva: Elizabeth Watts
Cherubino: Naomi O'Connell
Doctor Bartolo: Richard Wiegold
Marcellina: Susan Bickley
Don Basilio and Don Curzio: Alan Oke
Antonio: Julian Boyce
Barbarina: Rhian Lois
Bridesmaids: Anitra Blaxhall, Carolyn Jackson
Production:
Director: Tobias Richter
Set Designer: Ralph Koltai
Costume Designer: Sue Blane
Lighting Designer: Linus Fellborn
Choreographer: Denni Sayers
Assistant Set Designer: Robin Don
Chorus Master: Alexander Martin
Langer, Figaro Gets A Divorce (World Premiere) Soloists and Orchestra of Welsh National Opera / Justin Brown (conductor), Wales Millennium Centre, Cardiff, 27.2.2016
Cast:
Figaro: David Stout
Susanna: Marie Arnet
Count Almaviva: Mark Stone
Countess Almaviva: Elizabeth Watts
The Major: Alan Oke
Serafin: Naomi O'Connell
Angelika: Rhian Lois
The Cherub: Andrew Watts
Additional Performers: Amanda Baldwin, Helen Jermany 
Production:
Director: David Pountney
Set Designer: Ralph Koltai
Costume Designer: Sue Blane
Lighting Designer: Linus Fellborn
Assistant Set Designer: Robin Don 
Glyn Pursglove