France Mozart, Idomeneo: Soloists, Chœurs de l'Opéra national du Rhin, Orchestre symphonique de Mulhouse, Sergio Alapont (conductor), Opéra national du Rhin, Strasbourg. 20.03.2016 (RP)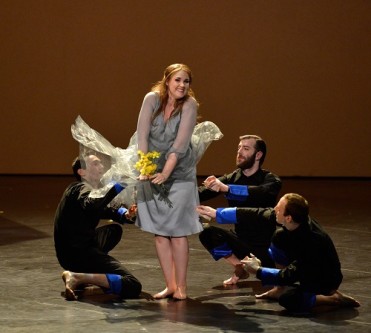 Cast:
Idomeneo: Maximilian Schmitt
Idamante: Juan Francisco Gatell
Ilia: Judith Van Wanroij
Elettra: Agneta Eichenholz
Arbace: Diego Godoy
High Priest of Neptune: Emmanuel Franco
Neptune: Nathanaël Tavernier
Production:
Director: Christophe Gayral
Set Designer: Barbara de Limburg
Costume Designer: Jean-Jacques Delmotte
Lighting Designer: Philippe Berthomé
Chorus Master: Sandrine Abello
Choreographer: Karine Girard
 Idomeneo, re di Creta ossia Ilia e Idamante was Mozart's first truly successful opera. He had just turned 25 when it premiered in Munich in January 1781, where it ran for three performances. After a subsequent concert performance in Vienna in 1786, it would languish in obscurity until the mid-20th century, but since then has gained its place in the repertoire. It is an opera seria, a form which was already losing favor with the public when Mozart received the commission from the Elector of Bavaria. Mozart infused French elements into the opera, turning to Gluck for inspiration in the choruses, marches, and ballets, although the recitatives are Italianate. Opéra national du Rhin opted to mount the Viennese version, where the role of Idamante is sung by a tenor, as opposed to a castrato in the original (nowadays sung by either a woman or countertenor). Additional cuts were made to bring the opera in under three hours running time; most notably, the role of Arbace was reduced to a few short recitatives.
The plot centers on the return of Idomeneo, King of Crete, from the Trojan Wars.In exchange for salvation from a watery death, he promises Neptune, the god of the sea, that he will sacrifice the first person he encounters upon his return. As in most Greek myths, the gods quickly turn the tables on the mere mortal: the first person he encounters is his son, Idamante. Idomeneo spends the rest of the opera avoiding his son and trying to renege on the deal, hoping that he can die in his son's stead. Add to this a love triangle: Elettra, daughter of Agamemnon (who ended up in Crete after her brother Orestes killed their mother Clytemnestra), has set her sights on Idamante. Her rival, Ilia, is a Trojan princess, whom Idomeneo has taken prisoner and sent to Crete. A sea monster appears, an indication that the gods are upset, and the high priests and populace demand that the sacrifice take place. Love and honor prevail, however, as both Idamante and Ilia are willing to die for each other; Neptune is appeased by such devotion, the happy couple are spared, and Idamante gains the crown from his father.
In the program, director Christophe Gayral states that his favorite scene comes in Act III, when Ilia and Idamante express their love for each other. This is where Mozart's genius of spinning emotion out of music and text is in full display. Choreographer Karine Girard and Gayral were inspired to create the simplest but most effective scene of the entire opera. It also helped that soprano Judith Van Wanroij and tenor Juan Francisco Gatell were visually, dramatically, and vocally perfect fits for their respective roles. The act begins with "Zeffiretti lusinghieri," where Ilia asks the winds to carry her love to Idamante. Van Wanroij's lovely, limpid singing was enhanced visually by three male dancers, whose movements were perfectly in sync with the music and who discretely used small fans to make Ilia's diaphanous dress blow in the breeze. It was charming in its simplicity. The magic was sustained when Idamante entered, until their reverie was intruded upon by the other two protagonists.
Maximilian Schmitt sang his first aria, "Vedrommi intorno," with beautiful tone and seamless legato, which portended of good things to come, but that was not to be. His voice has an unattractive nasal quality in the upper range, and he struggled to get through the fiendishly difficult "Fuor del mar" which comes at the end of Act II. Even with an intermission to recoup, Schmitt was vocally and dramatically adrift for the rest of the performance. At this early stage of his career the role is just too demanding for him. Elettra was a driven, chic clothes horse, which Agneta Eichenholz embodied perfectly. The role was a vocal fit for her, but her high notes were at times strained. Elettra's final aria, "D'Oreste, d'Ajace ho in seno i tormenti," is one of opera's great emotional crash-burns, calling for brilliant coloratura and dramatic fireworks. Eichenholz had the passion, but the voice did not ignite.
Some of the blame for their troubles rests with the conductor, Sergio Alapont. Ever attentive to balance, he elicited beautiful sounds from the orchestra, marked by clarity and sensitive phrasing. With Van Wanroij and Gatell he was in his element, but dramatic tension and forward propulsion were lacking when it mattered most. He got there in the dramatic choruses that punctuate the opera but not in those crucial arias, and that can undermine any singer. It was the same with the fortepiano accompaniment of the recitatives. They were perfectly lovely but uncharacteristically subdued, never propelling the words and action forward, and that sense of pulse was sorely missed.
The set has to travel, as there are performances in Mulhouse and Colmar as well as Strasbourg, so simplicity is essential. It consisted of two large black walls that were moved about to create various spaces, with lightening effectively employed to create spatial effects. The storm tossed ship in Act I was the chorus huddling under blue sails. Candles created atmosphere in other scenes. A towering Neptune, a replica of Artemision Bronze at the National Archaeological Museum of Athens, was the only direct reference to Ancient Greece. From a sand box of sorts Elettra unearthed a doll, which she savagely stabbed after her dreams of going to Argos with Idamante were dashed. She ultimately descends into the pit with her arms flailing wildly after her final aria.
Gayral set the opera in modern times, or so the costumes would indicate. The male leads and chorus were in dark blue and black. Elettra's dresses and accessories were in muted, rich colors. Ilia wore a simple, flowing dress. It came as somewhat of a jolt, that in the happily ever after, Ilia, Idamante, and the citizens of Crete were suddenly transported to the beach from the dark and gloom. The stage was brightly lit, with people picnicking and frolicking in the sun, while acrobats were spinning and twirling away. Center stage, Ilia and Idamante were lobbing a tennis ball back and forth. It was only fitting that all eyes were on them as the curtain came down.
Rick Perdian