United States Various composers, Dwight Rhoden (choreography): Complexions Contemporary Ballet, Dorothy Chandler Pavilion, Los Angeles, 17.4.2016. (JRo)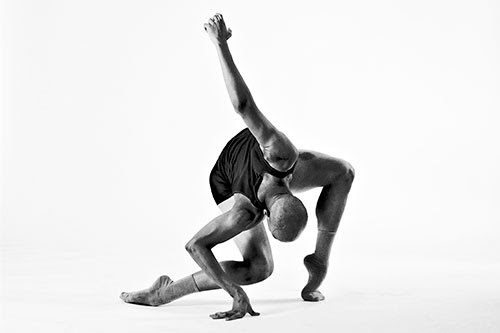 Dancers: Doug Baum, Greg Blackmon, Andrew Brader, Jillian Davis, Addison Ector, Larissa Gerszke, Whitney Hester, Young Sil Kim, Shanna Irwin, Kelly Marsh IV, Ashley Mayeux, Kelly Sneddon, Nehemiah Spencer, Timothy Stickney, Terk Lewis Waters
Production:
BalletUnto…
Choreography: Dwight Rhoden
Music: Johann Sebastian Bach
Costume Design: Christine Darch
Lighting and Set Design: Michael Korsch
Gone
Choreography: Dwight Rhoden
Music: Odetta
Costume Design: DR Squared
Lighting Design: Michael Korsch 
Cryin' to Cry Out/excerpt
Music: Jimmy Scott
Costume Design: DR Squared
Lighting Design: Michael Korsch 
Choke
Choreography: Dwight Rhoden
Music: Vivaldi's The Four Seasons: "Summer"
Costume Design: DR Squared
Lighting Design: Michael Korsch 
Testament/excerpt
Choreography: Dwight Rhoden
Music: "Amazing Grace"/traditional
Costume Design: Jae Man Joo
Lighting Design: Michael Korsch
Imprint/Maya
Choreography: Dwight Rhoden
Music: David Rozenblatt with words by Maya Angelou
Costume Design: Christine Darch
Lighting Design: Michael Korsch 
Innervisions
Choreography: Dwight Rhoden
Music: Steve Wonder
Costume Design: Kelly Brown
Lighting Design: Michael Korsch
In a varied program of dances by Dwight Rhoden, set to music ranging from Bach and Vivaldi to Odetta and Stevie Wonder, Complexions Contemporary Ballet brought zest, excitement, and a troupe of charismatic dancers to the Dorothy Chandler Pavilion stage.
Co-directed by Rhoden and Desmond Richardson, both former principals with Alvin Ailey American Dance Theatre, Complexions presented six short dances (two were excerpts) sandwiched between two longer works. Combining classical ballet with modern dance inflected with jazz and hip-hop, Rhoden makes the most of his well-trained dancers.
The first offering, Ballet Unto… for seven couples, was performed in front of a black backdrop with dancers in minimal but effective costumes, in colors ranging from burnt orange to burgundy. The neoclassically inspired ballet opened on Terk Lewis Waters, a breathtaking performer of many gifts, including a pliant body of imposing stature. Paired with Bach's keyboard music, the dancers, whether on point or in ballet shoes, attacked steps with classical precision, doing justice to the clarity of Bach's vision. Handsome lighting illuminated their torsos and limbs, which seemed to cut through the atmosphere to create masses of solid, sculptural form.
If Ballet Unto… suffered from being overly long, the next six pieces were short and sweet. Gone, to music by Odetta, offered a powerful emotional experience, as three dancers—Kelly Marsh IV, Nehemiah Spencer, and Timothy Stickney—embodied the human struggle to find dignity amidst suffering. Cryin' To Cry Out featured the voice of countertenor jazz singer Jimmy Scott. Mr. Waters, performing with Young Sil Kim, had the uncanny ability to make deep emotional states of being visible in dance.
Vivaldi's "Summer" from The Four Seasons was the soundtrack for Choke, featuring the effervescent duo of Doug Baum and Addison Ector. Dressed in bright green, the puckish pair cavorted with diabolical energy. Testament, set to Amazing Grace, featured the exquisitely lithe and lyrical Ashley Mayeux partnered by a forceful Andrew Brader, in a pas de deux that posed questions of faith and spirituality, as the two dancers seemed to grasp for understanding, alternating between sudden sharp movements and legato phrasing. The last of the six pieces, Imprint/Maya, featured the words of Maya Angelou set to music by David Rozenblatt. Desmond Richardson, a magnetic dancer, gave a stirring performance of Angelou's text.
In a celebration of Stevie Wonder's music, the program concluded with Innervisions, a mostly joyful, unbridled frolic. With shades of disco infused with sly wit, Rhoden constructed a dance out of seemingly free form movements. One of his strengths as a choreographer is his ability to position dancers in what appear to be random arrangements, but which, in reality, are highly structured patterns. Though somewhat weakened by obvious popular references and the need for editing and cutting, the infectious nature of the piece captured the hearts of the audience.
With dancers like the kinetic Stickney, who combine technical rigor with high energy and individuality, Complexions Contemporary Ballet shines as an engaging company with heart and spirit.
Jane Rosenberg