Casella, La Donna Serpente: Orchestra and Chorus Teatro Regio, Gianandrea Noseda (conductor), Turin's Teatro Regio, 21.4.2016 (JMI)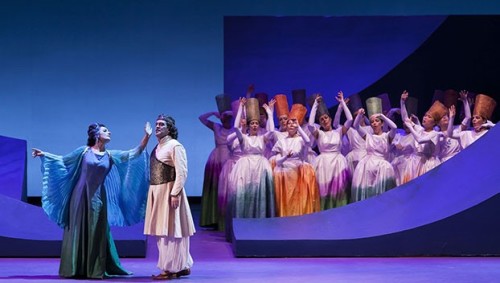 Co-production: Turin Teatro Regio and Festival della Valle d'Itria
Direction: Arturo Cirillo
Sets: Dario Gessati
Costumes: Gianluca Falaschi
Lighting: Giuseppe Calabrò
Choreography: Riccardo Olivier
Cast:
Miranda: Carmela Remigio
Altidor: Piero Pretti
Armilla: Erika Grimaldi
Farzana: Francesca Sassu
Canzade: Anna Maria Chiuri
Alditrùf: Francesco Marsiglia
Albrigòr: Marco Filippo Romano
Pantùl: Roberto de Candia
Tartagil: Fabrizio Paesano
Tògrul: Fabrizio Beggi
Demogorgòn: Sebastian Catana
Geònca: Emilio Marcucci
Alfredo Casella (1883-1947) was an important composer, pianist and musicologist born in Turin. His hometown now pays tribute to him with the performance of what was almost his only opera, since La Fabola d'Orfeo is a chamber opera. His musical work is very impressive, especially when we consider that having paid little attention to opera and being very critical about it in his younger years, it was only as of 1928 that he began to pay attention to this genre.
La Donna Serpente is a tale taken from the play by Carlo Gozzi, which had already attracted the interest of other composers, and especially of Richard Wagner, whose first opera, Die Feen, is also based on La Donna Serpente. The opera was premiered in Rome in March 1932 under the baton of the composer himself. It was well received, reaching La Scala 10 years later. Subsequently, it has been practically forgotten and its last stage performance took place in Palermo in 1982, before the Festival of Martina Franca decided to present it in July 2014, precisely in the same production that we now see in Turin.
The work seems to me outstanding in musical terms, worthy to be known to all opera lovers, containing beautiful orchestral pages, which could well be part of symphony concerts. The orchestration is very rich and it is well written for the voices, although it is quite demanding for them. It has the disadvantage of needing a large cast, and I hope that soon it can be shown in other prestigious opera houses.
The stage production is by Italian director Arturo Cirillo and was presented in Martina Franca a few years ago. The production narrates a simple tale, although its content is rather cruel, and this great simplicity works well. The stage offers an empty space with a few moving elements, like skate tracks, and their movements serve the action. The costumes are colourful and even fun, with a well-suited lighting. The choreography is remarkable, giving life to the stage, especially during the orchestral interludes. The stage direction is good, although the movement of the performers is not all that brilliant.
The big success of this performance is thanks to Gianandrea Noseda, the current music director of Teatro Regio. His conducting was downright impressive. In other hands, this opera could have been boring, but Noseda found all the musical richness of the score in a reading truly brilliant and energetic. Today it pays off to come to Turin to see Gianandrea Noseda conducting, as he is one of the greatest conductors around. He has achieved a spectacular level with the Orchestra of Teatro Regio, much better than I can remember from them some eight years ago. I reckon he may not stay in Turin for long, and it will be good to take advantage of his presence while it lasts. I also enjoyed the performance from the choir.
The protagonist who gives name to the opera is Miranda, a fairy, daughter of King Demogorgon, who falls in love with a human, the King of Teflis, Altidor, and she becomes a serpent when being cursed by her lover, who had to suffer very cruel trials – but all ends happily. Carmela Remigio was her interpreter and she was convincing. Her voice is attractive and she is a good singer, but I might have liked some more power from her.
King Altidor was played by tenor Piero Pretti, who solved the vocal difficulties of the character, which are numerous. He offered an attractive lyric tenor voice, quite easy at the top, but I have the feeling that the character requires more vocal weight and more consistency down below.
Soprano Erika Grimaldi was Armilla, Altidor sister, and she did well, although perhaps a little short of power. The comic quartet was well covered by tenor Francesco Marsiglia (Alditruf), baritone Marco Filippo Romano (Albrigor), Roberto De Candia (Pantul) and Fabrizio Paesano (Tartagil).  Fabrizio Beggi was a sonorous Togrul.
Sebastian Catana was a correct King Demorgorgón and Anna Maria Chiuri was also good on the part of the warrior Canzade. Soprano Francesca Sassu was a good Farzana.
José M. Irurzun