United Kingdom Wagner, Tannhäuser: (1875 version): Soloists; Chorus and Orchestra of the Royal Opera House, Covent Garden/Hartmut Haenchen (conductor), Royal Opera House, Covent Garden, 26.4.2016. (CC)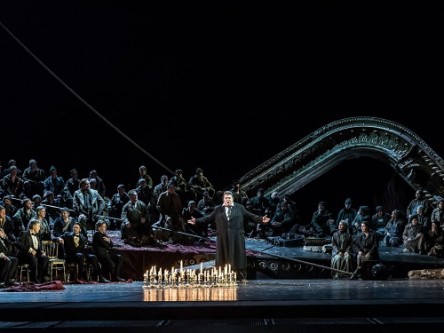 Wagner, Tannhäuser
Cast:
Venus: Sophie Koch
Tannhäuser: Peter Seiffert
Elisabeth: Emma Bell
Hermann: Stephen Milling
Wolfram von Eschenbach:  Christian Gerhaher
Shepherd Boy: Raphael Jansens
Walther von der Vogelweide: Ed Lyon
Heinrich der Schreiber: Samuel Sakker
Biterolf: Michael Kraus
Production:
Tim Albery: Director
Jasmin Vardimon: Choreographer (Venusberg bacchanale)
Michael Levine: Set Design
Jon Morrell: Costume Designer
David Finn: Lighting Designer
Maxine Braham: Movement Director
And so to the first revival of Tim Albery's 2010 production of Tannhäuser, a production with twists that engage if not massively illuminate and with a cast that includes some stand-out stars – and some who are not.
First up, though, the score. For the first time in London this is the Vienna version (see the informative comment from the conductor below): so that we get the act II reworkings as well as having Tannhäuser sing without chorus after Elisabeth's dramatic intervention. We have the extensive Venusberg ballet, occasionally raunchy (the whole thing is clearly intended to be), presented by six couples. Those dancers at the opening would not be out of place in a Soho basement, perhaps, even if the Covent Garden standard is, one assumes, notably slicker. The orchestra itself was on fine form, both in the Overture (superbly balanced horns and bassoon in the opening) and during the ballet. It was also clear that his was to be no langorous Wagner evening: and, indeed, the night concluded a good twenty minutes before the estimated finish time in the programme. The result was not rushed exactly, but there were some choral corners where orchestra and chorus parted company;  perhaps these will be erased as the run continues. Yet the chorus itself was generally excellent, and in the more powerful moments was certainly a force to be reckoned with. Off-stage orchestral effects (of which there are many) were well managed throughout.
The production itself is rather patchwork: we are also shown the conceit of a mini-Covent Garden within the main stage, complete with famous red curtain and ER crest. Perhaps the Venusberg is another reality held within ours, just a step away, an astral plane where anything goes? That second, shadow-side Covent Garden is revealed in various states of disrepair as the opera moves forward. The lighting remains on the dim side, and that's the overall impression one goes away with; Thuringian men are a mob charged with machine guns. All this is very clever and all are trying too hard to make a point, the net result of which is a production that surely will not stand the test of repeated viewings. The planting of a young tree to represent the Pope's staff sprouting green leaves is an example of rather obvious substitution that dissatisfies.
Sophie Koch was an astonishing Venus, making her Royal Opera role debut triumphantly. Rich and refulgent of tone, her voice was fully open; this, coupled with her sheer stage presence made her hypnotic. Perhaps Peter Seiffert was not quite her equal, and the opening scenes revealed a trait that was disconcertingly present throughout the evening: a sort of zooming in and out of focus for his voice and, indeed, his rapport with the role itself. Initially, he sounded disconnected and strained; then for a while all would be fine, as if everything was congruent once more, before strain once more crept in. He is an experienced Tannhäuser, for sure (San Francisco, Berlin State, Deutsche Oper and Zurich are amongst the opera houses that have featured him in this role), but this was not his night; the beam was not consistently on full, shall we say. Far more consistent was the clear star of the evening, Christian Gerhaher in the role of Wolfram. He brought a Lieder singer's art to Wagner's long lines, triumphantly: here was a strong interpretation moulded into human shape by infinite gradations of tone and flexibilities of phrasing. Lyrical and beautiful, his "O du, mein lieber Anendstern" brought the hushed intimacy of a fine liederabend at the Wigmore Hall to the far more spacious Covent Garden – yet the sound projected over the vast space perfectly. The role furnished Gerhaher's Covent Garden debut in 2010.
Emma Bell's Elisabeth, another singer making a role debut, was magnificent. Set amongst ruins, "Dich teure Halle" needed all the magic she could inject, and her gleaming voice brought it through. Here was an intensely human Elisabeth, and we the audience felt her hopes and fears with her in the song contest.
Not all the cast was consistently good: Ed Lyon's Walther von der Vogelweide was decidedly weak. Yet other small roles were well taken, including Michael Kraus's Biterolf and Stephen Milling's confident Hermann. Yet it is difficult to ignore the fact that the imperfect masterpiece that is Tannhäuser still makes its blazing mark. If Haenchen's tempi alternated between injecting intensity and just staying the right side of feeling rushed, he remained within boundaries; and Gerhaher's Wolfram made the evening worthwhile, regardless of other concerns.
Colin Clarke