Germany Rachmaninov, Tchaikovsky: Kirill Gerstein (piano), Berlin Philharmonic Orchestra, Semyon Bychkov (conductor), Philharmonie, Berlin, 14.4.2016. (SRT)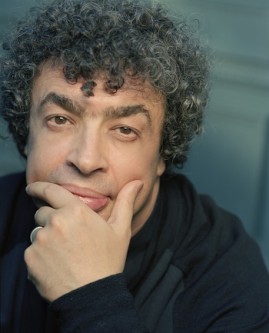 Rachmaninov: Piano Concerto No. 2
Tchaikovsky: Symphony No. 3 "Polish"
I was lucky enough to find myself in Berlin on the night that Kirill Gerstein made his debut with the Berlin Philharmonic – too auspicious an occasion to miss! Gerstein is hot property at the moment.  I really liked his debut concerto disc, and he was mightily impressive at the opening concert of the 2014 Edinburgh International Festival, so a debut with the Berlin Phil comes as high-profile proof of his ascendant star.
Gerstein started life as a jazz pianist and, if you try hard enough, you can detect some of those influences in the lightness of touch that he brings to some of Rachmaninov's more tripping passages. However, he also brings huge doses of drama to the composer's bigger paragraphs, not just in, for example, the chords that open the first movement, which glitter and grow with astounding colour, but also in the coda that ends it, which felt a bit like a demonic dance.   Several times you could tell that he hadn't quite found his groove with the orchestra on this first of three nights – sometimes he tried to push forward when Bychkov wanted to hold back, and vice versa – but maybe they had fine-tuned this by the time it was recorded for the Digital Concert Hall.
Being the concerto soloist with a band like this must feel a bit like being invited to drive a Rolls Royce, and in fact it was the sheer detail of the orchestral sound that really struck me most about the performance. Not only was there gorgeous tone to the horn and wind solos, but there were countless little touches that illuminated the music afresh; things which often pass for very little, like the little string turn just before the soloist launches the second theme of the first movement, and I'd never really noticed before just how beautifully the violas accompany the soloist in the slow movement.  Overall, however, the sound is so exquisitely refined that you couldn't imagine yourself anywhere other than in central Europe.  For example, they brought a very forward, assertive string sound that is microscopically precise, but which has none of the rawness that Russian orchestras tend to bring to Rachmaninov.  That approach brings gains and losses, of course, but it's definitely unique.
Tchaikovsky's Third Symphony brought more Russianness, but a very aristocratic version of it.  The strings this time had a veiled, almost gauzy quality to them which made them feel delightfully mysterious in the slow movement, and gossamer-delicate in the filigree Scherzo.  The winds also had a characteristically eastern tone to them, especially the throaty clarinets who could give out a very Russian-sounding low gurgle when they needed to.  The brass had a pleasing touch of a rasp to them in the first two movements, though by the time of their great climax in the final bars they sounded more like a Bruckner chorale.
That spoke also about Bychkov's direction. He thinks in big paragraphs and in grand sweeps that go places.  He brought an element of the dance to all the movements, not just the finale.  This climaxed in the final Polonaise, of course, which the orchestra threw themselves into with vigour, though it sounded very much like a Russian nobleman doing his best impression of a peasant, like a family from Tolstoy visiting their dacha.  Still, as an orchestral experience it's pretty hard to beat, and I can't imagine many other orchestras carrying off the impersonation with nearly as much style.
Simon Thompson