Spain Verdi: Simon Boccanegra, Liceu Orchestra and Chorus, Massimo Zanetti (conductor), Barcelona's Liceu 22 & 23.4.2016 (JMI)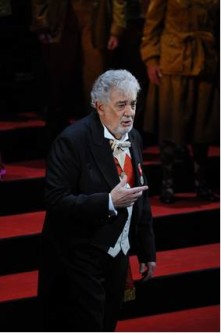 Production: Barcelona's Liceu in coproduction with Gran Théâtre de Geneve
Direction: José Luis Gómez (original), Susana Gómez (revival)
Sets: Carl Fillion
Costumes: Alejandro Andújar
Lighting: Albert Faura
Cast:
Simon Boccanegra: Giovanni Meoni/Plácido Domingo
Amelia Grimaldi: Barbara Frittoli/Davinia Rodríguez
Gabriele Adorno: Fabio Sartori/Ramón Vargas
Jacopo Fiesco: Vitalij Kowaljow/Ferruccio FurlanettoPaolo Albiani: Ángel Ódena/Elia Fabbian
Pietro: Damián del Castillo
Captain: Francisco Vas
Amelia's Maid: Raquel Lucena/Elisabeth Maldonado
Barcelona's Liceu has programmed three different casts for Simon Boccanegra. Leo Nucci kicked off on the first dates as Genova's Doge, while Plácido Domingo was covering the last ones. In the middle we had a few performances with Giovanni Meoni as the protagonist. There is no question that the public showed its preference for Domingo, who celebrated the 50th anniversary of his debut in this house, and the Liceu was fully sold out.
There is nothing to add to what I wrote a few days ago about Jose Luis Gomez' direction and of Massimo Zanetti's conducting.
https://seenandheard-international.com/2016/04/leo-nucci-shines-in-the-liceus-simon-boccanegra/#more-62417.
As mentioned, it was a very special commemoration for Plácido Domingo. How many singers have been able to celebrate an anniversary like this?  We are clearly facing a unique case in the history of opera. Domingo has broken all the records and his is an unrepeatable figure. Seeing Plácido Domingo on stage now, one comes to the conclusion that he is a true miracle of nature. It is a miracle that he can still keep his freshness at 75, even though he has lost the high notes. It is also a miracle that at his age he can still perform on stage with such agility.
Plácido is not a baritone. He is still a tenor, but above all he is a great artist, as he has always been. Vocally, he may have lost some volume, but he has all the notes of the Boccanegra score and gives the right accent to each of them. His ability to move in his singing remains intact, as was again proved in the last act with Fiesco, where both Plácido Domingo and Ferruccio Furlanetto (142 years old between the two of them) taught a lesson in expression and emotion.
The day before, Simon Boccanegra was portrayed by Italian baritone Giovanni Meoni, well suited in vocal terms, but mostly monotonous and boring in his interpretation.
Ferruccio Furlanetto was Jacopo Fiesco and once again his was real lesson in how to sing this role. His voice is not beautiful, but he handles it like very few basses, giving to each word the right accent. He is a great artist and together with Plácido Domingo he offered the best singing of the performances.
Davinia Rodriguez did not convince me in the part of Amelia Grimaldi. Her voice is rather reduced in size and artificial in the middle. She is short down below and her high notes have that touch of acidity of light sopranos or rather soubrettes. She cuts an attractive figure, but that's not enough for me.
Both Vitalij Kowaljow and Barbara Frittoli repeated their interpretations of Fiesco and Amelia of the premiere.
Ramón Vargas was a disappointing Gabriele Adorno. His top register has always been thinner than the rest of his voice, but now he is very tight. The day before, Fabio Sartori was an excellent Gabriele Adorno in vocal terms, although rather pale as interpreter.
A good performance was given by Elia Fabbian as Paolo Albiani, better than Angel Ódena, proving that decibels are not needed in this evil character.
José M. Irurzun