United Kingdom Szymanowski, Rachmaninov & Brahms (orchestrated by Schoenberg): Niu Niu (piano), Royal Liverpool Philharmonic Orchestra/Jacek Kaspszyk (conductor), Guild Hall, City of Preston, 27.4.2016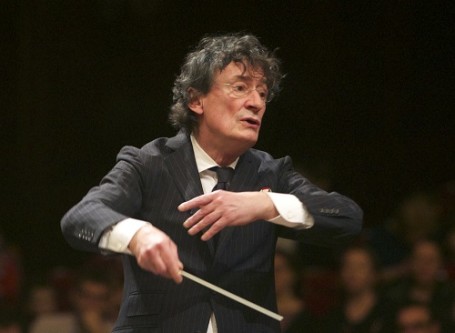 Szymanowski: Concert Overture Op. 12
Rachmaninov: Rhapsody on a Theme of Paganini, Op. 43
Brahms, orchestrated by Schoenberg: Piano Quartet in G minor
It was back in October that the Preston audience saw the RLPO's chief conductor Vasily Petrenko who has conducted only one of the five concerts in the Series. Thankfully the Liverpool Phil has a splendid record of choosing its guest conductors and soloists too. Once again in Preston the orchestra came up trumps with Polish conductor Jacek Kaspszyk, musical and artistic director of the Warsaw Philharmonic, yet a name I don't hear too much in the UK. The soloist was Chinese teenage star pianist Zhang Shengliang affectionately known as Niu Niu.
Opening the concert was Szymanowski's Concert Overture, not a work I have come across in concert previously. The composer's first symphonic composition, it demonstrates its debt to the late-Romantic Austro/German school strongly reminiscent of Wagner and Richard Strauss. A colourful and festive work with a jubilant ending Kaspszyk had a noticeable problem in keeping the orchestra tightly together.
Stage preparations bringing the piano to the front of the stage meant that the orchestra thankfully had time to regroup. Next Rachmaninov's Rhapsody on a Theme of Paganini a mature work, a product of the composer's time on his Swiss estate. The epitome of composure Niu Niu was in his element with the Paganini Rhapsody, tenderly atmospheric in the near impressionistic harmonies of variations 11 and 17 and gloriously poetic in the celebrated Andante cantabile (variation 18). Niu Niu certainly plays brilliantly yet communicates little in the way of personality. Consequently the thunderous applause that often ensues in gratitude to the soloist at Preston concerts rightly felt too lukewarm to merit the usual encore.
From all the many magnificent symphonies in the repertoire it might seem strange that an orchestrated Piano Quartet was chosen for the second part of the concert. But Schoenberg's wonderful orchestration of Brahms's Piano Quartet in G minor is a work of real substance that in recent years is increasingly reappearing on concert hall programmes. Kaspszyk seemed competent with the complexities of Schoenberg's scoring bringing out an abundance of energy and considerable drama. As well as fiery excitement a sense of autumnal contemplation that imbues many of Brahms's late works was present too. Responding with magnificent playing the Liverpool Phil demonstrated impressive ensemble with crisp rhythms and consistently purposeful momentum.
As I am used to a Deutsche Grammophon recording of the Piano Quartet played by Argerich, Kremer and Maisky the tempi of the closing movement Rondo all Zingarese: Presto seemed slightly tame by comparison, yet, there was plenty of vitality and it still had the ability to thrill. Especially pleasing was the glorious high strings that are developing into a match for the finest orchestras and the bank of five horns sounded resplendent with principal Timothy Jackson providing a striking solo in the Intermezzo. Schoenberg provides plenty of opportunities for solo display in particular oboe Jonathan Small deserved special praise and new principal clarinettist Benjamin Mellefont was rightly acknowledged by Kaspszyk when taking the applause.
Michael Cookson