Spain, Teatro Real Orchestra and Chorus, James Conlon (conductor), Teatro Real, Madrid, 26.4.2016 (JMI)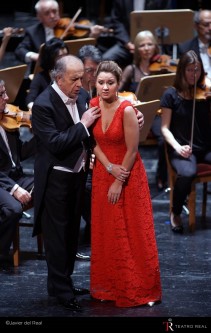 Concert Version
Cast:
Luisa Miller: Lana Kos
Rodolfo: Vincenzo Costanzo
Miller: Leo Nucci
Count Walter: Dmitri Beloselskiy
Wurm: John Relyea
Frederica: María José Montiel
Laura: Marina Rodríguez Cusí
Contadino: Cesar de Frutos
I've always had my doubts about considering Luisa Miller as part of Verdi's "years in the galley." If the entire Verdian production between Nabucco and Rigoletto belongs to that period, there is no doubt that Luisa Miller is part of it since the opera was staged in Naples two years before the Venice premiere of Rigoletto. However, from a strictly musical point of view, Luisa Miller is much closer to the so-called Popular Trilogy and, for me, it is the best of his operas before Rigoletto. But it's not a very popular work, and that surely has much to do with its vocal demands.
This Teatro Real concert version of Luisa Miller has been a popular success, based on an excellent reading of the music, while the cast offered both light and shade.
James Conlon, the current music director of the Los Angeles Opera, was conducting for the second time at Teatro Real, following his success with I Vespri Siciliani two years ago. He succeeded again this time with a vibrant reading, full of energy and Verdian sensibility. There's no doubt that he is one of the best conductors of Verdi today. From the overture forward, things worked perfectly in musical terms, and he drew a magnificent performance from the orchestra.
The role of the protagonist who gives the opera its title was sung by Croatian soprano Lana Kos. The character of Luisa Miller is one of Verdi's most difficult: it moves from a light lyric soprano in the first act with a need for vocal agility, to an almost spinto soprano in the next two acts. Lana Kos's voice has a certain appeal, and it was well suited to the first part of the opera, but she came up somewhat short in the second part where her voice became rather tight. Her chief problem lies in a lack of vocal color which makes her singing excessively monotonous.
One of the attractions of this Luisa Miller was the announced presence of Francesco Meli in the part of Rodolfo. Unfortunately, he cancelled and thus created a serious problem for the Teatro Real. His replacement was the young Italian tenor Vincenzo Costanzo. This was the first time that I heard him, and I must say he is one of those singers who make me suffer: I see them as insecure on stage and pushing too hard, giving the impression that their voices will break at any moment. I did not enjoy Costanzo's performance, which combined force and open sounds with a tight and unattractive top. If he continues this way, I don't think his future is particularly bright.
Leo Nucci in the part of Miller again gave us a lesson in style. Everything has been said about this great baritone, and I can only continue to insist on the miracle of his vocal condition. The loudest ovations of the evening were for him.
Ukrainian bass Dmitri Beloselskiy was Count Walter, and once again he showed his attractive and huge voice. I would very much like to listen to him in the Russian repertoire, because he is not fully convincing in the Italian one. He's an impressive singer at first glance, but he is somewhat superficial.
John Relyea was Wurm, the evildoer of the opera, and he performed nicely, although his voice is not to my liking. He sounded as if he had something in his mouth.
Finally, Maria Jose Montiel was Duchess Federica, and she was appealing. She is not a true contralto, but she solved the problems and sang with good taste and expressiveness.
José M. Irurzun