United Kingdom Donizetti, Lucia di Lammermoor: Soloists, chorus and Royal Opera House Orchestra/ Daniel Oren (conductor). Royal Opera House, Covent Garden, London. 7.4.2016. (JPr)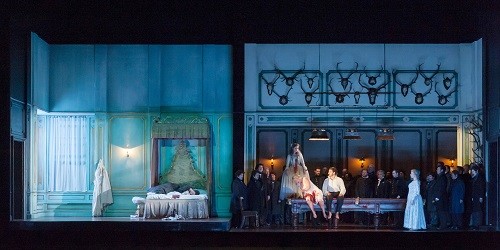 Donizetti, Lucia di Lammermoor
Production:
Libretto: Salvadore Cammarano
Director: Katie Mitchell
Designer: Vicki Mortimer
Lighting designer: Jon Clark
Associate director: Joseph Alford
Fight directors: Rachel Bown-Williams and Ruth Cooper-Brown
Cast included:
Lucia: Diana Damrau
Edgardo: Charles Castronovo
Enrico: Ludovic Tézier
Arturo: Taylor Stayton
Raimondo: Kwangchul Youn
Normanno: Peter Hoare
Alisa: Rachael Lloyd
2003 was the last time Lucia di Lammermoor was seen at Covent Garden in a staging by Christof Loy that had only a single run of performances. Will Katie Mitchell's new production fare any better? At first glance it seemed unlikely but there is a rumour that it will be revived later next year. What is not in doubt is that it will look good – if rather bloody – when broadcast to cinemas on 25 April. I am beginning to wonder how far this is known in advance and whether some productions are being designed these days with this in mind. Katie Mitchell's production is very cinematic employing a split screen/stage showing on stage what usually happens off. These are the pivotal moments in Lucia's story, such as, the intrigues of her secret affair with Edgardo, the murder of her husband Arturo when they are consummating their marriage, and her suicide. The men in the story are often bursting into her bedroom or bathroom or cramped into the other half of the stage. Katie Mitchell's handling of the chorus seems familiar from any recent Richard Jones production as they just come on stage, huddle together, then leave.
This staging would have worked a lot better had it been for the beleaguered English National Opera and sung in English. The audience's eyes never knew where to look – stage right, stage left or at the surtitles. I missed things being exchanged between characters and there is too much dressing and undressing to fill the time, as well as, supernumeraries roaming about to take things off stage. There are huge pauses between the scene changes, a long interval, the inclusion of the Wolf's Crag scene – and the possible opening of other familiar cuts – which make it a long evening. To be truthful, it was increasingly engrossing because I like that sort of thing but anyone expecting the cut-out sets and tartan which framed Joan Sutherland and Carlo Bergonzi for the last Lucia I saw at Covent Garden in 1985 will be sorely disappointed. Boos mixed with cheers at the final curtain, although thankfully there had been none of the furore which greeted last year's Guillaume Tell.
The opera is based on Sir Walter Scott's novel The Bride of Lammermoor which is set – depending on the edition – in either the seventeenth or early-eighteenth centuries but Katie Mitchell and designer, Vicki Mortimer, update the action (and there was a lot of it) to the time when Donizetti composed Lucia (1835). It enables Mitchell to put on stage her treatise about gender politics and 'The Emergence of Feminism' – the title of Mary Evans's programme essay. Women were trying to fight forced marriage and having to 'put up and shut up' and the theme of a woman having the right to make independent choices permeated throughout this 'take' on Lucia. Mitchell's recent blood-soaked staging of Sarah Kane's Cleansed at the National Theatre caused some controversy and the Covent Garden audience was pre-warned about 'scenes of sex and violence' – which, given the opera's plot, was not really that much of a surprise. In the end, the opera turned out to be tamer than some PG films in an age when these can have copious sex and graphic bloody violence yet it only takes one swear word to get a 15 rating!
Act I which was split between the graveyard at Lammermoor Castle and Lucia's dressing room was a bit of a confused mess and culminated in the love duet for Lucia and Edgardo (Ah! Verranno a te sull'aure) being accompanied by some of the worst simulated sex to be seen on a stage. Edgardo strips to the waist but Lucia straddles him fully clothed with both writhing in time with their music. Significantly we soon learn that three months have passed so cue the opening to Act II with Lucia suffering morning sickness and rushing to put her head down the toilet bowl. Her confidant and almost constant, close, companion Alisa is complicit in what happens with Lucia throughout. Lucia is a stroppy little madam and is refusing to marry Arturo until forced to do so by her abusive brother Enrico. He has forged a letter from Edgardo stating he has abandoned her and is in love with someone else. Lucia's descent to madness and murder begins. It is quickly exacerbated when Edgardo bursts into the wedding celebrations – nearly all-male or women dressed as men  – and curses her.
Act III begins with the Wolf's Crag scene when Enrico challenges Edgardo to a duel. This was saved from the scissors because Lucia and Alisa needed time to murder Arturo in what I suspect was intentionally hilarious mayhem including some bondage, sex, suffocation and multiple stabbings. If this wasn't enough Lucia suffers a very bloody miscarriage which sends her further over the edge. The ghost of Lucia's dead mother and a girl murdered by one of Edgardo's ancestors have been almost ever-present throughout and are especially important in the 'mad scene' which partly takes place on a billiards table. As Edgardo begins his big scene in the cemetery by denouncing Lucia (Tombe degli avi miei), on the other side of the stage Lucia is slitting her wrists and expiring in her bath. At the end the remorseful Edgardo rushes to her side for Tu che a Dio spiegasti l'ali and stabs himself with the knife she had used.
From the eerie and spine-tingling accompaniment of a glass harmonica for Lucia's 'mad scene' through to the tragic ending it was gripping stuff despite the leaden conducting of Daniel Oren. He indulged his singers much too much, especially Diana Damrau who took Donizetti's coloratura runs at her own pace despite her 'mad scene' being totally mesmerising. Oren also seemed to occasionally have trouble keeping stage and pit perfectly in unison and this should never happen at Covent Garden if everything is rehearsed properly. When the musical highlight was the glass harmonica then something must have been wrong despite the solid work of the cast, Royal Opera Chorus and Orchestra.
Vocally it was a throwback to the type of evenings there regularly used to be at Covent Garden with bel canto sung in true can belto fashion. I repeat, when I last heard Lucia there 31 years ago it was with Sutherland and Bergonzi but Diana Damrau and Charles Castronovo are more Europa Cup than the Champions League they were, though probably as good as any in their roles these days. Damrau is fine vocally and dramatically but her voice is a bit colourless and the coloratura lacks the required brilliance and sparkle with her extreme high notes being hard won. She has found her niche and is singing Lucia and similar roles throughout the world but what affect this is having on her voice only time will tell. She might be suited better to the lighter Wagner roles of Elsa, Sieglinde and Eva but there she would have more competition. Castronovo's Edgardo was cleanly sung and he was as heroic, ardent and powerful as any tenor I have recently heard at Covent Garden. He seized his moment in the final scene despite being upstaged by the sound of water running into a bath beginning to overflow with Lucia's blood!
The best and most idiomatic performance was from Ludovic Tézier's Enrico. His stentorian baritone was definitely old-school and my mind idled back to the likes of Tito Gobbi and Piero Cappuccilli but possibly unlike them he has the requisite flexibility for bel canto roles. Kwangchul Youn who I know well from his Bayreuth performances sang a warm and very sonorous Raimondo. In the even smaller roles Taylor Stayton did the best he could with what Donizetti allows him as Arturo, Lucia's wedding night victim, and Rachael Lloyd was a compassionate and enthusiastically complicit Alisa.
Jim Pritchard
To view the full list of productions for the remainder of this season and for 2016/17 visit http://www.roh.org.uk/.