Switzerland Puccini, Respighi, Mussorgsky, Rachmaninoff:  Krassimira Stoyanova (soprano), Ludmil Angelov (piano), Zürich Opernhaus, Zurich, 30.3.2016. (RP)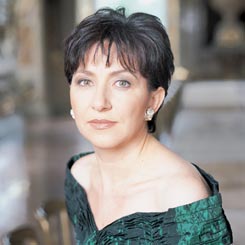 Puccini: "Sole e amore," "E l'uccellino," "Ad una morta," "Morire?," "Salve Regina," "Casa mia, casa mia," "Terra e mare," "Storiella d'amore"
Resphigi: "Tanto bella," "L'ultima ebbrezza," "Lagrime," "Nebbie," "Nevicata," "Pioggia"
Mussorgsky: Songs and Dances of Death
Rachmaninoff: "In My Garden at Night," Op. 38, No. 1; "I Wait for Thee," Op. 14, No. 1; "Spring Waters", Op. 14, No. 11
Perhaps it was because I had just returned from Warsaw, but Krassimira Stoyanova's recital at the Zurich Opera House stirred my Slavic soul (my father's family came from Poland) with her program of Italian and Russian songs. The Bulgarian soprano is heard in the world's leading opera houses singing Verdi, Strauss and Dvořák, but that was no guarantee that she would prove as potent in the more intimate setting of the recital hall. There was no need to fret. In her chosen repertoire, Stoyanova's command of the style and uncommonly rich and complex vocal timbre were outstanding.
The soprano obviously could not predict the weather, but it was a perfect March evening, and few operas intertwine young love and springtime more than Giacomo Puccini's La bohème. The spell was cast with "Sole e amore" (Sun and Love), which Puccini later reworked into the opera's closing Act III duet between Mimi and Rodolfo. Whatever was to follow, Stoyanova charmed from the start. Of the remaining Puccini songs, "Morire?" (Death) was notable for its dramatic ending for the voice sans accompaniment. The shortest and most endearing, "Casa mia, casa mia" (My House, my House), was marred by the ring of a mobile phone which lasted almost as long as the song itself, although she seemed unfazed by the nuisance. Stoyanova has recorded all of Puccini's songs, and her affection for them was obvious.
 Ottorino Respighi may be Italian and Puccini's near contemporary, but he studied with Nicolai Rimsky-Korsakov. His songs have hints of the rich colors and harmonies of Russian music and are much more complex than those of Puccini. "Lagrime" (Tears) was memorable for Stoyanova's sense of line and her dramatic intensity, as she sang of a final farewell to a departed loved one with a kiss. More dramatic still was "Nebbie" (Clouds), which tells of a woman freezing and alone as she waits for her lover in a dark valley. Stoyanova's intense, half-spoken utterances made one shiver, and they were followed by soaring phrases that captured the forsaken woman's fear and despair. Just as the recital began with a whiff of spring, the first half concluded with a gentle mist. "Pioggia" (Rain) was all lightness and sparkle, enhanced by Angelov's fleet playing of the shimmering accompaniment, with hands crossing nimbly over the keyboard.
 In Modest Mussorgsky's Songs and Dances of Death, Stoyanova was simply magnificent. Each of the four songs are realistic depictions of death, which we would like to think are consigned to the past but are just as real today – that of a child, a young woman's life cut short, a fatal drunken misadventure and the aftermath of a terrible battle – where the figure of death takes on various guises to facilitate or comment on their respective fates. Stoyanova delineated the characters with precision and searing intensity, moving seamlessly from her cavernous chest voice to ringing climaxes. The final line of the fourth song, "The Field Marshall," was practically hurled at the audience. This was wonderful singing.
She closed her recital with three Rachmaninoff songs, which eased the audience from death to mere despair. The first, "In My Garden at Night," tells of a young girl weeping bitter tears throughout the night. With "I Wait for Thee," Stoyanova returned to full dramatic mode, but this time sensual and voluptuous. By ending with "Spring Waters," she brought us full circle, ushering in April in glorious voice. Angelov played Rachmaninoff's tricky accompaniments with equal finesse and style.
As with many recitalists, the encores displayed Stoyanova's full communicative powers, as she was not encumbered by occasional glances at a music stand. Mussorgsky's earliest extant song, the poignant "Tell me, O Star, Where Art Thou?," was the first of two. Wrapping herself in the curve of the piano, she sang the recitative-like melodic line with a quiet intensity to Angelov's pristine accompaniment. Her final offering was a gift to the Bulgarians in the audience, "I na yave I na san" (Real and Dream) by Georgi Zlatev-Cherkin (1905-1977), a Bulgarian composer and vocal pedagogue who was the teacher of the legendary soprano Ljuba Welitsch. The all-too-short song had a soaring vocal line set to an accompaniment of rolling arpeggios, culminating on a soft, sustained high note. It was a delight for all, but especially for those Bulgarians in the audience who jumped to their feet as the final note sounded. They weren't alone.
Rick Perdian