United States Memory Rings: Phantom Limb Company, Freud Playhouse, Los Angeles, 8.4.2016. (JRo)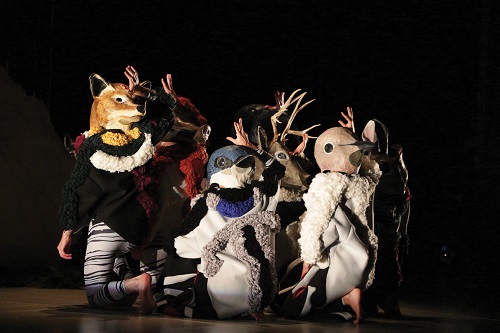 Cast:
Toby Billowitz, Emeri Fetzer, Takemi Kitamura, Lisa K. Lock, Rowan Magee, Daniel Selon, Paul Singh, Carlton Cyrus Wood
Production:
Direction and Design: Jessica Grindstaff
Original Music and Puppet Design: Erik Sanko
Choreography: Ryan Heffington
Costume Design: Henrik Vibskov
Lighting Design: Brian H. Scott
Sound Design: Darron L. West
Video Design: Keith Skretch
In the nine years since its founding by installation artist Jessica Grindstaff and composer and puppet maker Erik Sanko, the New York-based Phantom Limb Company has created six productions; collaborated with The Kronos Quartet, Berkeley Repertory Theatre, and Republique Theatre in Copenhagen; and received numerous grants and awards. It's an impressive resume for a fledgling company and boded well for an evening of dance, music, art, puppetry, and mythic storytelling.
For Memory Rings, the second installment in a planned trilogy, Grindstaff and Sanko's purpose is to shine a light on humankind's relationship to the natural world by evoking the flood story, Gilgamesh, along with re-creations of fairy tales, portrayals of friendly beasts, and the human obsession with technology. If this sounds like a lot to tackle, it is.
Though there were some beautiful effects and poignant moments, Memory Rings felt unformed, more like a work in progress than a unified whole with a solid conception. Drifting from one tableau to the next, without the elegant transitions needed to anchor the disparate elements, left the audience confused, trying to piece together for themselves the narrative intentions essential to any programmatic work of art.
Opening the evening, performers in oversized animal heads constructed a giant abstraction of a tree in the center of the stage. Birds, a deer, a wolf, a fox, and a rabbit, along with puppeteers hidden within a camouflage of pine needles, danced and cavorted around the tree. It seemed to denote a celebration of the natural world, but the choreography was unformed and simplistic.
That scene was followed by a marionette, clad in white and portraying Gilgamesh, who was manipulated by moving pine saplings and illuminated by headlamps on the foreheads of the puppeteers. It was a poetic moment. In fact, disguising the puppeteers as pine trees was inspired: they created an intimacy and a mini-universe around the small-scale marionettes. Later in the piece, marionettes reappear, and though they proved the most compelling elements of the production, their inclusion was often baffling as we watched the unfolding stories of Little Red Riding Hood and Snow White.
More interesting ̶ and one of the most successful scenes of the dance-drama  ̶ was the atmospheric illusion of bodies floating down a river. Dancers, on their backs and lying very still, slowly inched themselves across the stage using their heels and the bending and straightening of the legs. Combined with soft and dappled lighting, they evoked logs or human limbs and dead bodies.
In another tableau, four actors, after removing their animal heads, became humans who interacted with modern technology such as smart phones, radios, and tablets, and seemed to be victims of the storms and flooding that followed. They mimed, gesticulated, and danced around and on a banquet table, which most likely represented hearth and home. But a table, as used in Kurt Jooss' powerful condemnation of war, the ballet Green Table, needs to have gravitas if it is to be used as a centerpiece for action. Here, it often seemed haphazard – a place to put the dancers until their scenes coalesced.
Changes of scale, from life-size to miniature, rough transitions of scenes, and the repeated donning and removal of the animal heads served only to disengage rather than draw one in to the intimacy of the action. Added to that were busy video projections: the razing of trees, coursing water, flying flocks of birds, and waving wheat, which competed with the events on stage. The more poetic moments – a stark moon and dark sky, for example – served the production better.
The music, creating a soundscape for the action, was composed of birdsong, cascading water, echoes of a glass harmonica, human speech, wood blocks, and strings, and it was punctuated at times with electronic static and sawing sounds. The felling of ancient redwoods was a recurring, if obvious, theme in the piece.
There is no doubt about the commitment of these artists to create an entertainment that also enlightens, but to succeed in engaging an audience Memory Rings needs a sharper focus and a firmer storytelling arc to move the spirit and reveal essential truths about man's relationship to the natural world.
Jane Rosenberg