United Kingdom Adolphe Adam, Giselle: Soloists, Corps de ballet and Royal Opera House Orchestra / Barry Wordsworth (conductor). Broadcast to the Empire Cinema, Basildon, Essex. 6.4.2016. (JPr)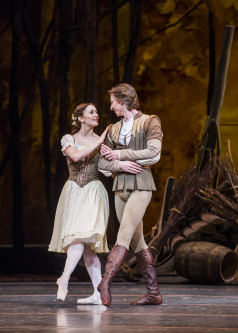 Production:
Choreography: Marius Petipa (after Jean Coralli and Jules Perrot)
Scenario: Théophile Gautier after Heinrich Heine
Production and additional choreography: Peter Wright
Music: Adolphe Adam (revised by Joseph Horovitz)
Designs: John Macfarlane
Original lighting: Jennifer Tipton (re-created by David Finn)
Staging: Christopher Carr
Directed for the screen by Ross MacGibbon
Cast:
Giselle: Marianela Nuñez
Albrecht: Vadim Muntagirov
Hilarion: Bennet Gartside
Myrtha, Queen of the Wilis: Itziar Mendizabal
Moyna: Olivia Cowley
Zulme: Beatriz Stix-Brunell
Recently I came across this contribution on The Spectator website from Ismene Brown. Only read it if you have the time but she writes about the lack of an audience for The Royal Ballet's cinema transmissions at the showings she attends and about 'the sparseness of attendance that I've heard is common elsewhere'. Goodness knows where she goes because I see these presentations regularly in Basildon, Essex, in an area nicknamed 'Bas Vegas'. Believe me this part of the world is a relative cultural desert – or dessert is more appropriate given the number of restaurants there are there! However popular ballets such as Giselle regularly overflow into two large size auditoria with each having 150-200 people watching rather than Ismene Brown's 15-20! My comment is not about the numbers but always about the age of those watching and the majority around me were older than I am … and I have started my seventh decade! Where are the younger children who we all know go to ballet classes? Perhaps the Royal Opera House should consider having more of these showings at the weekend.
I last reviewed The Royal Ballet's Giselle in the cinema in 2014 and now just basically repeat the background to this famous two-act ballet. It was premièred in 1841 in Paris, first staged in England the following year and shortly thereafter was presented by almost every ballet company in the world having been recognised as an exceptional ballet. With only a few additions from Sir Peter Wright – in his much-admired production that dates from the 1985 – the original choreography of Jean Coralli, Jules Perrot and Marius Petipa remains largely intact to this day and it is set to music by Adolphe Adam (revised for this production by Joseph Horovitz). In comparison to some of the other story ballets, Giselle has greater psychological depths and explores the myriad themes of social class, love, betrayal, despair, forgiveness and redemption. Act I is an idyllic vision of peasant life, it is harvest time in medieval Rhineland village; the peasant girl, Giselle, has won the heart of the noble-born Albrecht, who disguises himself as a peasant (Loys) and lives among the villagers. Act II is inspired by a passage in Heinrich Heine's On Germany, about Wilis or 'young brides-to-be who die before their wedding day. The poor creatures cannot rest peacefully in their graves' and so lure men into the forest only to dance them to death. In the end Giselle who had killed herself with Albrecht's sword forgives him because he genuinely remorseful and saves him from the wrath of the Wilis.
Giselle continues to resonate with audiences today because of its unique combination of poignant story, glorious music and its rare and masterful choreography and as Vadim Muntagirov (Albrecht) said in a backstage film 'it is the perfect ballet to see with your boyfriend or girlfriend because it shows that you should always appreciate who you love and always treat them nicely… and live like it is the last day of your life!' Marianela Nuñez (Giselle) also spoke of how 'we need more stories like this where love actually wins.'
Giselle demands – like most of the nineteenth-century classics – dancers who can genuinely act, as performing the steps is just not enough. This is where The Royal Ballet is at its weakest at the moment with what looks like a roster of fine technicians but with little of what I might – somewhat crudely – describe as 'star power'. Their new season announcement appears to acknowledge this and they are only presenting Sleeping Beauty, the perennial The Nutcracker, amongst some Ashton, MacMillan and more modern works. With Natalia Osipova suffering injuries then the paring of Nuñez and Muntagirov is probably the best they can currently present. Kevin O'Hare, director of The Royal Ballet, described them as 'sensational' and that indeed they were. Despite the conventions of mime their acting was wonderfully naturalistic. Peter Wright's idea was that 'the expression all the way through from both of them really tells the story more than actual gestures' and this is exactly what Nuñez, Muntagirov and others achieved … and rarely has mime ever seemed such a natural way of communicating a story.
Marianela Nuñez poignantly merged formidable technique and dramatic interpretation in a radiant portrait of a fragile – somewhat naïve – young girl with delicate feminine grace but also a streak of fatalism. This Giselle expected happiness and it made it all the more pitiable when she discovered she had been deceived. Vadim Muntagirov who I have accused in the past of lacking the 'Wow' factor now is fulfilling his potential. He looks like a Russian guest artist rather than someone trained at The Royal Ballet's Upper School and his sheer technical brilliance, flair and panache appears to have been let of the leash. Significantly there was also true dramatic feeling in all he did and because he is therefore able to express a full range of emotions, this made his Albrecht one of the finest I have seen since his compatriot Rudolf Nureyev. Together with Nuñez they triumphed in the Act II pas de deux, with dancing that was both evocative and tender. Hers was a performance of haunting – and totally captivating – otherworldliness. If I must be truthful Act I worked better for me that Act II which all seemed rather more like Albrecht's dream – or more probably his nightmare – as in La Bayadère's The Kingdom of the Shades. It is possible Ross MacGibbon's occasionally very close-up camera direction might have had something to do with that.
Once again it was an exceptional ensemble performance with everyone knowing why they were on stage and totally 'switched on' and in character, whether it was as a peasant in the furthest background or as a Wili. The dancing was never less than totally assured with only Itziar Mendizabal's Myrtha's showing some strain and revealing how difficult her steps were. However, to her credit was the way her character's evil intent as Queen of the Wilis was evident throughout Act II from her intense gaze. This Myrtha was outshone by Olivia Cowley and Beatriz Stix-Brunell as her ethereal attendants. Earlier in Act I Yuhui Choe and Alexander Campbell attractively led the pas de six. Bennet Gartside, Elizabeth McGorian, and Christina Arestis also caught the eye in the basically mime roles of Hilarion, Berthe, Giselle's mother, and Bathilde, Albrecht's fiancé. They were all supported by some excellent sounding playing from the Orchestra of the Royal Opera House under the deeply experienced Barry Wordsworth who never for one moment indulged the dancers and seemed to enjoy setting them occasional tempo challenges which they overcame virtuosically.
Jim Pritchard