United States Puccini, Madama Butterfly: Soloists, Chorus and Orchestra of the Metropolitan Opera / Karel Mark Chichon (conductor). Broadcast live to the Empire Cinema, Basildon, Essex, from the Metropolitan Opera, New York, 2.4.2016. (JPr)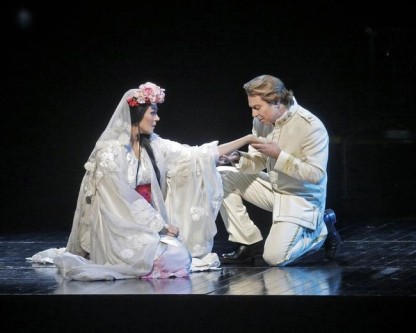 Puccini, Madama Butterfly
Cast:
Cio-Cio-San: Kristīne Opolais
Suzuki: Maria Zifchak
Pinkerton: Roberto Alagna
Sharpless: Dwayne Croft
Goro: Tony Stevenson
Bonze: Stefan Szkafarowsky
Yamadori: Yunpeng Wang
Kate Pinkerton: Edyta Kulczak
Commissioner: David Crawford
Production:
Production: Anthony Minghella
Director and Choreographer: Carolyn Choa
Set Designer: Michael Levine
Costume Designer: Han Feng
Lighting Designer: Peter Mumford
Puppetry: Blind Summit Theatre
Live in HD Director: Gary Halvorson
Live in HD Host: Deborah Voigt
This production of Madama Butterfly is the only opera directed by the late Anthony Minghella and is familiar from the English National Opera where it was first staged in 2005. (It will be revived there again in May with yet another American soprano – Rena Harms – in the title role.) What it gains by being put on at the Met is that it is sung in the original Italian which allows for more beauty and the spinning out of legato lines more gracefully than does singing Puccini in English ever does. Not that this mattered to those sitting behind me at a very well attended screening in Essex, I overheard them suggesting they would have preferred it in English because they could not understand the story – despite subtitles and the printed synopsis provided!
There are some stunning images right from the start; in silence a geisha with her fans – possibly representing Butterfly herself as a bride – slowly appears and moves down the shining slanting stage with her trailing crimson sashes. Veiled figures costumed all in black as though already in mourning, bind her waist ready for the wedding. This ritual over, the music begins. In the theatre Michael Levin's wonderful box-like set has a mirror which rises to provide extended depth and interesting perspectives to the stage pictures, most of which are totally lost in Gary Halvorson's transmission. Apart from one or two specific moments, particularly during in the Act I love duet Viene la sera, everything is mainly in close-up. In this regard much of the beautiful imagery – a very apposite blood-coloured rising sun, the chorus of geishas, some of the puppetry, the dancing lanterns, the falling cherry blossom, a flock of origami birds etc. – which Minghella wanted is lost but then much is also gained because of the naturalistic approach to the interaction between the characters this elegant filmmaker wanted. The vastness of the opera house makes the more intimate moments difficult to see, whilst here in the cinema they find the best possible medium in which to be presented. Overall, it is still possible to be carried away by this production's blending of Japanese bunraku (puppet theatre) and traditional Western theatre. Minghella's production matches Puccini's 'East meets West' approach and imbues everything with an all-pervading – and quite intoxicating – exotic quality.
Butterfly's entry as her wedding party arrives rising over the horizon and moving somewhat gingerly downstage with their reflections in the mirror and on the floor, is still a stunning riot of sumptuous colour in Han Feng's marvellous costumes. From then on this broadcast focuses on the drama to good effect. There is a pivotal moment when Act II opens where we see how happy Butterfly is as she serves tea to Pinkerton. This contentment is short-lived of course and one of the ever-present sliding screens on stage spirits her husband away not to return for three years. Some furniture goes too – probably sold to help pay the bills – and all she is left with is the chair that Pinkerton sat in and, of course, later we learn Butterfly has had a son 'Sorrow'. In the blink of an eye we realise how fleeting Butterfly's true happiness was and how a tragic ending for her is inevitable. On a large screen the puppet 'child' –  much too small to make any impact in a large theatre – really comes to 'life'. Its three puppeteers from the Blind Summit Theatre can be easily ignored and I was so convinced by Sorrow's reactions that I almost believed I saw different expressions pass across the face of the little Japanese doll dressed in its sailor suit. Another powerful image concludes the opera as we see Butterfly in long shot with the crimson sashes that were wound around the 'bride' at the beginning of the opera now extending from her body like the spreading of her blood.
The Met was blessed with a splendid cast including two who sang in this production when it first reached New York in 2006 and have performed in it many times since – Maria Zifchak's Suzuki and Dwayne Croft's Sharpless. This sort of company loyalty is now completely absent from opera in London yet both were wonderful: Zifchak repeats her deeply caring servant who clearly never believed for a second that Pinkerton would return but would never want to upset her deluded mistress. She struck exactly the right balance of servility and sang very warmly. Dwayne Croft was again suitably grizzled, gruff, stolid and sympathetic as Sharpless and there is not much anyone else can to do with this role. He reminded me very much of the wonderful Norman Bailey who was a fine Sharpless I saw about a quarter of a century ago! Croft revealed in his backstage interview with the always affable Deborah Voigt how when working with Minghella he said he was as interested as much in the characters' entrances in this opera as their exits. There was no weak link in the principal cast and Tony Stevenson (Goro), Stefan Szkafarowsky (Bonze), Edyta Kulczak (Kate Pinkerton) and Yunpeng Wang (Yamadori) did well in their significant – but relatively minor – roles.
Pinkerton's two arias were sung in the committed heart-on-his-sleeve fashion that is typical of Roberto Alagna at his very best – which he nearly was here – and he remains one of the finest tenor voices of this generation. Pinkerton has no interest in Japanese traditions and beliefs and just wants the wedding ceremony over as quickly as possible. He enthusiastically expressed how an American aboard needs to drop 'his anchor' but also showed genuine remorse in Act III. Talking about Pinkerton, Alagna revealed he sympathised somewhat with his character and put it down to his youth also adding how Puccini wrote 'beautiful music for a bad guy.'
The big problem with this revival of Madama Butterfly was Kristīne Opolais. This Latvian soprano is a singer I have much admired as Butterfly in the past (review). To save anyone reading what I wrote about her singing I commented how she 'impresses throughout with the power and colour of her voice and the way it never fails to bloom and surmount the crest of Puccini's orchestral climaxes. Her Un bel di was deeply affecting as was her subsequent portrayal of a self-deluded abandoned bride.' This still applied, but the major issues on this occasions were that she never realistically portrayed a 15-year-old nor even someone Japanese! When Opolais was asked how she kept her emotions in check during Act II she said it was because it is a 'non-stop singing act (with) no time to cry.' Kristīne Opolais would be a fine as Mimi, Tosca or potentially Turandot or any number of Verdi heroines but – despite her obvious stage presence and the fact that her character is a geisha – she totally lacked any sense of childlike innocence as Cio-Cio-San. Although Alagna said about singing with Opolais 'I think we have a nice chemistry' there seemed – as in their recent Manon Lescaut (review) – very little real chemistry between them, and Opolais seemed to have more connection with the puppet 'Sorrow'!
From what I could hear through the amplification at the Basildon Empire – however good it may be – Karl Mark Chichon (British despite the name) led the impeccable and virtuosic Met orchestra through a reading of the score which brought out all the passionate lyrical sweep, tension and drama in Puccini's score.
Jim Pritchard
For more about the Met's Live in HD transmission this year and next visit http://www.metopera.org/Season/In-Cinemas/.