Poland Strauss: Salome,  Soloists, Orchestra of the Teatr Wielki, Stefan Soltesz (conductor), Polish National Opera, Moniuszko Auditorium, Teatr Wielki, Warsaw 29.03.2016 (RP)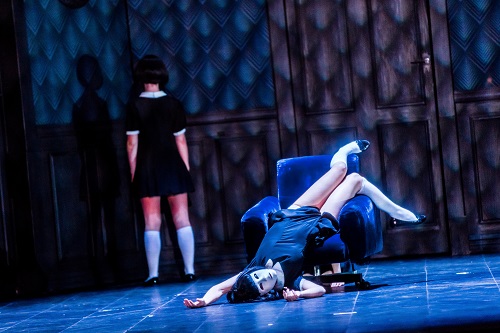 Co-Production: Teatr Wielki and National Theatre, Prague
Director: Mariusz Treliński
Set Designer: Boris Kudlička
Costume Designer: Marek Adamski
Lighting Designer: Philippe Berthomé
Choreographer: Tomasz Wygoda
Dramaturgist: Piotr Gruszczyński
Video Projections: Bartek Macias
Cast:
Herod: Jacek Laszczkowski
Herodias: Veronika Hajnová
Salome: Alex Penda
Jochanaan: Jacek Strauch
Narraboth: Pavlo Tolstoy
Herodias's Page: Magdalena Idzik
There was no palace in Ancient Judea for the Polish National Opera's riveting production of Richard Strauss' Salome. In its stead was a sleek, modern apartment, practically suffocated by the dense tropical jungle that could be seen through the window. The first scene took place in a chic, modern living room with white leather furniture and a glass coffee table. Jochanaan's voice did not emerge from a pit, but rather from off stage: his visual incarnation was a tall, sinewy dancer in black body paint, wearing little but black leather straps and an arm guard. Salome's bedroom was also black, except for a deep magenta rug; more a chamber of horrors than a little girl's room. Herod makes his advances towards Salome in the kitchen where red cabinets line the walls. A watermelon was on the counter, and Salome stabs at it with a knife, lasciviously putting the pieces of the ripe, dripping fruit in her mouth. Herod later takes a few stabs at it too.
Herod is a coke-snorting, uncouth brute, attired first in a blue velvet smoking jacket and later in a robe of royal purple. One is not quite sure whether his interest in Salome is drug fueled or ego driven. Herodias is whippet-thin with a pile of platinum blond hair, elegant but brittle in a tailored yellow pants suit with stiletto heels. Her neuroses are manifested by an eating disorder; she binges and purges, oblivious to her daughter's torments. Salome is in black, with short, sleek, bobbed hair, evoking the sirens of the silent screen era. The rest of the characters are servants, except for the Jews that debate the nature of God. They are realistically depicted as Hasidim, complete with Samet, or beaver hats.
There is no erotic Dance of the Seven Veils. Instead, doll-like figures in menacing Betty Boop-like white masks, dressed in short black dresses with white Peter Pan collars, and wearing white knee socks and shiny, patent leather shoes, relive the horrors of Salome's childhood, both real and imagined. A giant black spider creeps across the stage. Frightening, pulsating images appear in the mirror. The overwhelming oppression and fear are palatable. Adding to the sense of dislocation is the grainy lighting that freeze frames Salome as she relives the horrors of the past, endures her current painful existence, or fantasizes over the mysterious, disembodied voice. It too was evocative of silent films, where heroines are filmed in the same manner.
Knives are put to more uses than just slicing fruit. Narraboth, repulsed by Salome's lust for the disembodied voice, slits his throat with one; the corporeal Jochanaan later uses it to sever his own head. As Salome sits alone in the living room, bathed in moonlight and cradling a white bust of Jochanaan, ghastly apparitions of Herod, Herodias, Jochanaan, and Narraboth appear behind her with their throats slit and dripping in blood. Has Salome vanquished her demons by dispatching them all, or is it just a fantasy? There are no answers.
The musical elements were as potent as the visual ones. Strauss envisioned Salome as "a 16-year-old princess with the voice of an Isolde." Alex Penda has a more lyrical voice than many who have taken on the role, but it has a forward thrust and gleam that cuts through the orchestra with ease. There were soft passages in her scene with Narraboth that could only be described as lyrical and lovely. Was she was the "chaste virgin" that Strauss envisioned? That depends solely on whether the abuse and trauma were real or imagined.
The voice of Jochanaan, powerfully sung by Jacek Strauch, reverberated throughout house, freed as it was from a subterranean cistern as is the norm. It took on the dimension of another character in the opera, one that not only beguiles Salome, chastises her mother, and frightens Herod, but also enveloped the audience in the drama. Veronika Hajnová was a bold vocal presence as Herodias, mercilessly goading Herod into acquiescing to Salome's demand for the head of Jochanaan. Pavlo Tolstoy sang with firm, burnished tone, effectively capturing Narroboth's slide into despair in reaction to the depravity by which he is surrounded.
The huge orchestra that Salome requires spilled out of the pit and onto the sides of the stage, perhaps even further afield, as the sound of the castanets came from the back of the house. (It might have been an auditory illusion.) The audience was enveloped in Strauss' chromatic, swirling score, but never overwhelmed by it. Stefan Soltesz elicited a nuanced performance from the orchestra, memorable for its transparency, as well as the unleashed fortissimos that punctate the score. The Dance of the Seven Veils was a swirl of chromaticism, its sensuality in stark contrast to the torments experienced by the doll-like figures on stage.
Mariusz Treliński's updating of the tale is one of those rare instances where new insights and associations are triggered. He and his team created a taut, uncluttered production, with no extraneous elements interjected to distract or muddle the plot line, and the protagonists' characters and motivations were clearly delineated. Strauss' opera appalled critics, audiences, and censors alike a century ago, when it first premiered, with its toxic mix of religion, sex, and death. Salome can still shock (even without full frontal nudity – the current default mode for many directors), as the Polish National Opera's production made uncomfortably and uncompromisingly clear. It was as fine a performance, as one can experience in any opera house, anywhere.
Rick Perdian