Sweden Debussy, Pelléas et Mélisande: Soloists, Chorus and Orchestra of the Royal Swedish Opera, Franck Ollu (conductor). Royal Swedish Opera, Stockholm. 10.4.2016 (GF)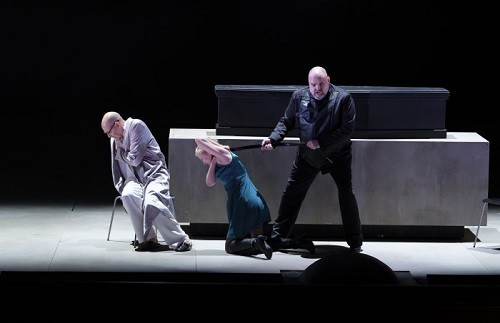 Production:
Director: Keith Warner
Sets and costumes: Ashley Martin-Davis
Lighting design: Mark Jonathan
Cast:
Mélisande – Kerstin Avemo
Pelléas – Joel Annmo
Golaud – Fredrik Zetterström
Arkel – Anders Lorentzson
Geneviève – Katarina Leoson
Yniold – Emilia Utter
A doctor/A shepherd – Jens Persson
Debussy's only opera has been an infrequent guest at the Royal Opera in Stockholm. It was first seen there on 18 January 1926, almost 24 years after the Paris premiere, and the Sunday afternoon performance I saw was the 31st ever in 90 years. In Paris it reached its 100th performance in January 1913 and it fairly quickly spread to Brussels, Frankfurt, New York, Milan and Covent Garden within a few years. But after WW1 interest faded and it was not until 1942 and the legendary production with Jacques Jansen and Irène Joachim that it was firmly established again. Today it is part of the standard repertoire but opinions are still divided. The backbiters assert that it is monotonous and long-winded, very little happens, there are no memorable melodies, just an eternal parlando that makes you drowsy. The opposite camp lay stress upon the magical orchestral writing, the eternal harmonic changes and the enchanting atmosphere where the mystique of nature is all-embracing. I can understand the backbiters but endorse the enthusiasts and agree with them that there is no lack of drama but that it takes place on an internal stage. This is well depicted in this production, where the lovers are sometimes fenced in in a small room, where darkness hides unseen dangers and where the characters' action is mirrored in large looking-glasses – a kind of double-exposure. Pelléas and Mélisande stand out as vulnerable without safety net. The atmosphere is creepy, threatening, Hitchcock-like.
What I miss is the mysterious nature, the outdoor feeling that permeates large portions of Maurice Maeterlinck's drama. In the Finnish National Opera production four years ago (review) nature was omnipresent and the stage was filled with 50 000 litres of water, in and around which the whole drama unfolded. In Stockholm a steel construction with ladders, staircases and a footbridge high above the stage. Of course a technocrat society is just as terrifying surroundings for a symbolist drama and most city dwellers can probably more easily identify with this milieu than a haunted lake in the forest, but I doubt that this was what Maeterlinck and Debussy had in mind. This is just a personal reflection and it shouldn't diminish the impact of the performance – but it did. For me. A more practical aspect is that from my position in the rear part of the stalls, the singing from the footbridge tended to lose focus and was sometimes swamped by the orchestra. A friend seated on the third balcony had no problems with this, since he was more on the same level as the singers.
Let me also add that there were many moments of magic in this production, in spite of my comments above, not least through evocative lighting, and the total impression is positive but in the last resort too prosaic. Visually, that is. The Royal Orchestra delivered first class playing under the French conductor Franck Ollu, who was a new and agreeable acquaintance. He is to conduct Pelléas in Perm, Russia, in a concert performance as well this season. What little choral singing there is in this opera was pre-recorded.
The cast was excellent. Kerstin Avemo's Mélisande was just as vulnerable and emotional as one expects her to be. She has a marvellous ability to identify with exposed characters – I still remember vividly her Lucia di Lammermoor at Confidencen – and this is another consummate personification. Joel Annmo was a frail and nervy Pelléas, sporting a line lyrical tenor which will be an asset in the future. As his big brother Golaud, Fredrik Zetterström was formidable and visually frightening. This is in fact the most central role in the opera and psychological study with few counterparts in the opera literature. For old Arkel's role Anders Lorentzson returned to the stage where he spent nine years of his early career, before moving to Gothenburg. His was a deeply moving portrait of the old king with a bass voice still in mint shape. Katarina Leoson's Geneviève and Emilia Utter's Yniold completed the picture of a well-integrated team where Jens Persson's Doctor also made his mark.
The last ounce of magic may be missing but unless you are a notorious backbiter you should be able to derive a lot of pleasure with this production, which is playing until the 23 April.
Göran Forsling