Germany Donizetti, Lucia di Lammermoor: Bayerisches Staatsorchester, Chorus, Oksana Lyniv (conductor), Nationaltheater, Munich, 25.5.2016. (JMI)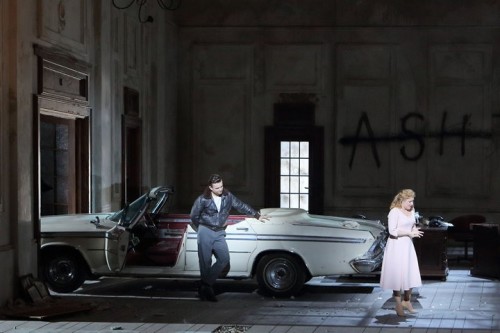 Donizetti, Lucia di Lammermoor
Production:
Direction: Barbara Wysocka
Sets: Barbara Hanicka
Costumes: Julia Kornacka
Lighting: Rainer Casper
Cast:
Lucia: Nina Minasyan
Edgardo: Piero Pretti
Enrico: Luca Salsi
Raimondo: Goran Jurić
Arturo: Philippe Talbot
Alisa: Rachael Wilson
Normanno: Dean Power
Unfortunately, this performance of Lucia di Lammermoor was just as disappointing as the one I saw last July. The main difference is that the protagonist then was Diana Damrau, who was excellent, whereas now we had an unknown soprano who was little suited to the demands of the character. However, none of this prevented the performance from being very well received.
My opinion of the Barbara Wysocka staging has not changed from that expressed in the earlier review: https://seenandheard-international.com/2015/07/diana-damrau-shines-in-an-otherwise-uneven-lucia-di-lammermoor/
Like last year, the musical direction was under the baton of Oksana Lyniv, assistant to Kirill Petrenko, and her work was once again unconvincing. The impression she left is the same as before: it was an overly dramatic yet flat version that made the orchestra sound very noisy. The orchestra followed her baton with discipline, and I should single out Sascha Reckert on the glass harmonica. The chorus offered a correct performance.
It was announced that Lucia in this revival would be sung by Brenda Rae, who cancelled and was replaced by Armenian soprano Nina Minasyan. Simply reading her brief curriculum makes one realize that she is a light soprano, which made me fear that her soprano was not what the role require: this character is not exactly what we could call a bird. This type of soprano sang Lucia before the appearance of Maria Callas in the 1950s, but it is now perfectly clear that a soprano with an important middle range is required. Nina Minasyan is indeed a light soprano with a small centre; her sound opens remarkably going up, although her top notes are almost shouted and not too pleasant. Her biggest problem is that the low notes simply do not exist. I don't believe anyone in the theatre could hear "il fantasma, il fantasma" in the mad scene. I certainly could not. She must know that her top range could present problems, and I was struck by the way she sang the end of the first part of the mad scene. I had never experienced anything like it in my many Lucias. Indeed, her sort of voice can work in Norina, Amina, Musetta, Despina and others, but Lucia is a different animal. However, it didn't matter to the audience who gave her a personal triumph.
Pavol Breslik had been announced to play Edgardo, but he also cancelled and was replaced by Piero Pretti. This singer has an attractive voice which is well-suited to the part, and he was the best in the entire cast. His voice is more important than Breslik's, which is always appreciated, and even more in a substitute. As on other occasions, I did find him a little impersonal and monotonous.
Luca Salsi was the evil Enrico. We are facing a true Verdian baritone, as he has shown on many occasions. However, Donizetti is not Verdi, and I found his singing short of elegance, abusing decibels and open sounds.
Bass baritone Goran Jurić was a correct Raimondo, but his voice projection is not very good.
In the secondary characters, Philippe Talbot left a good impression in the role of Arturo. Rachael Wilson was a fine Alisa, while Dean Power was inaudible as Normanno.
José M. Irurzun