Argentina Lehár, The Merry Widow: Soloists, Chorus and Orchestra of Juventus Lyrica, André Dos Santos (conductor), Teatro Avenida, Buenos Aires, 6.5.2016. (JSJ)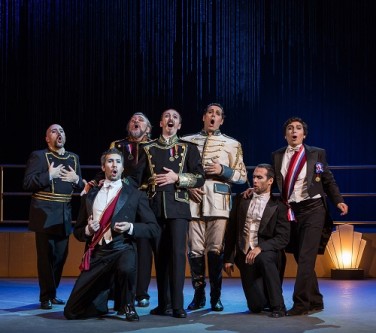 Production:
Director/sets: Ana D'Anna
Costumes: María Jaunarena
Lighting: Gonzalo Córdova
Chorus: Hernán Sánchez Arteaga
Choreography: Igor Gopkalo
Cast:
Hanna Glawari: María Goso / Ivana Ledesma
Count Danilo: Ernesto Bauer / Alejandro Spies
Valencienne: Ivana Ledesma / Romina Jofre
Ambassador Mirko Zeta: Carlos Kaspar / Gabriel Carasso
Camille: Duilio Smiriglia / Patricio Oliveira
Njegus: Norberto Lara
Kromow: Ezequiel González / Fernando Navarro
Brioche: Fernando Navarro / Ezequiel González
Bognowitsch: Mariano Gladic / Gabriel Carasso
Cascada: Gabriel Carasso / Mariano Gladic
The Merry Widow is undoubtedly the best known of Lehár's works – indeed, the only one that is performed with any degree of regularity. That it is, is no surprise, with its sparkling Viennese music, which though strictly an operetta rather than opera is no less challenging either to sing or to produce.
Juventus Lyrica put on a "fun" production in 2009 and has now returned with a new production to open its 2016 season.
The merry – and wealthy – widow is Hanna Glawari who here every man present can't take their eyes off and is constantly trying to attract her attention. But it is Count Danilo, with whom she was previously a lover – and who Ambassador Zeta would like her to marry – for whom her favour is reserved. Camille's attempted dalliance with Valencienne, the Ambassador's wife, and the doings of the ambassadorial staff, build out what is ultimately an entertaining, if not profound, story.
Ana D'Anna always injects her productions with energy and this was no exception. The basic backdrop was different, more abstract, than her 2009 production. That production was 'traditional' as of the late 19th and early 20th centuries, when the work and the play on which it was based were written, but this felt more modern, perhaps between the wars.
The dress of daughter María Jaunarena – not too dissimilar from the previous production – was appropriate, as was Gonzalo Córdova's lighting.
The musical side was in the hands of the young Brazilian André Dos Santos who brought a lively approach.
Hanna was well played by the young María Goso, who both looked and sounded the part. Ernesto Bauer, one of the more experienced local baritones, was an expressive Count Danilo and Ivana Ledesma as Valencienne and Duilio Smiriglia as Camille played their roles appropriately. Carlos Kaspar, more an actor than singer, brought an old world approach to Ambassador Zeta and there were good interventions from the other members of the cast, most the next generation of young singers.
Hernán Sánchez Arteaga's chorus sung with enthusiasm and with dance an essential part of the work, Igor Gopkalo's choreography and the small group of dancers added the necessary colour.
Jonathan Spencer Jones