Germany Tchaikovsky, The Sleeping Beauty: Semperoper Ballet, Staatskapelle Dresden/Paul Connelly (conductor), Semperoper, Dresden, 12.5.2016. (MC)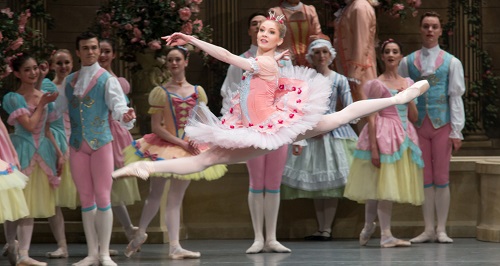 Cast:
Princess Aurora – Anna Merkulova
Prince Florimund – Istvan Simon
Fairy Carabosse – Ana Presta
The Lilac Fairy – Alice Mariani
King Heinrich of Saxony, Father of Princess Aurora – Ralf Arndt
Queen Katherina of Saxony,  Mother of Princess Aurora – Lilia Babina
The Three Good Fairies:
Fairy of Vitality – Courtney Richardson
Fairy of Beauty – Chiara Scarone
Fairy of Generosity – Jenny Laudadio
Princess Florine, sister of Prince Florimund – Elena Karpuhina
Production:
Direction – Aaron S. Watkin and Francine Watson Coleman
Choreography – Aaron S. Watkins after Marius Petipa
Plot and narrative – Francine Watson Coleman
Stage and video projection: Arne Walther
Costumes – Erik Vasthed
Lighting – Jan Seeger
This was my first ballet at the renowned Semperoper, Dresden and it was good to see Tchaikovsky's The Sleeping Beauty, one of the most enduringly popular ever written. Semperoper ballet director Aaron S. Watkin produced this lavish three hour spectacle of prologue and three acts with Francine Watson Coleman using choreography after the renowned ballet master Marius Petipa from the golden age of Russian ballet. In this classical masterpiece Petipa has provided a wealth of choreographic highlights that combine marvellously with Tchaikovsky's dramatically romantic music.
At the core of the plot is the arrival of the Good Fairies at the Royal Palace for Princess Aurora's christening, bringing greetings and magnificent gifts of beauty, vitality and generosity. During the celebrations the wicked fairy Carabosse, furious at being excluded from the celebrations, utters an awful curse that the Princess will die on her sixteenth birthday by pricking her finger on a spindle. The Lilac Fairy alters the impact of the curse so that the Princess will instead fall into a hundred year sleep to be awoken by the kiss of a Prince.
Making a terrific visual impact were the breathtaking sets, including video projections. in particular the scene outside the palace of a glorious garden beneath a walled terrace complete with water fountain. The forest clearing at night was quite enchanting and the palace interior looked suitably lavish. Only the barest number of props were used on the vast stage allowing the eye to focus solely on the fast moving action.
                                                         Photo credit: Semperoper.
It would be hard to imagine more vividly colourful costumes with such fine detail by designer Erik Vasthed which were very much in the traditional style. A palette of mainly pastel colours with the exception of Carabosse who wore striking black and red together with her attendants. Judiciously prepared by Watkin the cohesive unison of movement and expression of the troupe was admirable throughout.
Ana Presta danced the role of wicked Carabosse with an abundance of prickly attitude and was convincingly threatening throughout. Dancing with understated grace and elegance Alice Mariani excelled as The Lilac Fairy. Anna Merkulova shone as Princess Aurora the Sleeping Beauty, exuding a natural confidence with a decidedly strong stage presence. Merkulova provided a subtle yet compelling performance especially in the famous 'Rose Adagio'. Charmingly handsome and athletic looking the confident Istvan Simon gave a dazzling display in the role of Prince Florimund completing some expertly controlled leaps.
Assisted by the theatre's impressive acoustic the assured Paul Connelly conducted the Staatskapelle Dresden who gave a stunning performance of this magnificent score. Particular effective were the wind playing and the vibrant brass which rang out strikingly.
In The Sleeping Beauty Aaron S. Watkin's enchanting production provided many treasurable moments and maintaine an elevated standard of performance.
Michael Cookson