United States LaChiusa & Purcell: MasterVoices, Doug Varone and Dancers, Orchestra of St. Luke's, Ted Sperling (conductor), New York City Center, 4.28.2016 (RP)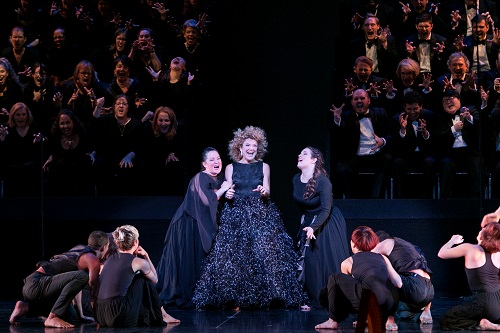 LaChiusa: The Daughters of Necessity: A Prologue
Purcell: Dido and Aeneas
Cast:
Dido: Kelli O'Hara
Morta and Sorceress/Spirit: Victoria Clark
Aeneas: Elliot Madore
Decima and Belinda/First Witch: Anna Christy
Nona and Second Woman/Second Witch: Sarah Mesko
Production:
Director and Choreographer: Doug Varone
Scenic Consultant: David Korins
Women's gowns: Christian Siriano
If you want to sell out the house, bring on the stars, which is what MasterVoices did for its production of Henry Purcell's Dido and Aeneas. There were people outside the theater desperate for a ticket. Elegantly coiffed and dressed women alit from chauffeur-driven limousines to brave the scrum on the few feet of sidewalk outside the theater. Ushers were herding the crowd with their inimitable NYC style. The stars, Kelli O'Hara as the doomed Carthaginian princess and Victoria Clark as her nemesis, are among the Great White Way's shiniest. They did not disappoint.
If the stars lent a sense of occasion to the performance, it was Doug Varone's direction, choreography and dance troupe that spun it into a cohesive whole. With a table and chairs as their only props, the dancers mesmerized with the fluidity of their movements. O'Hara and Clark moved with equal style and grace as the dancers encircled, embraced and lifted them into the air. Christian Siriano's gowns were gorgeous, crafted to permit freedom of movement, flowing elegantly as the ladies glided about the stage. The visual elements, sparse as they were, were at one with Purcell's courtly, elegant music.
O'Hara and Clark both had classical vocal training, and O'Hara performed the role of Valencienne in The Merry Widow at New York City's Metropolitan Opera earlier this season. Undoubtedly, the Moorish Revival New York City Center is more congenial turf for O'Hara than the much larger Met, so it begs the question if amplification was necessary. O'Hara's Dido was regal and restrained. Hers is not the plushest of voices, but she has a marvelous sense of text and line, displayed to fine effect in Dido's Lament.
Clark as the witch was simply delicious in a black gown of shimmering feathers as she plotted Dido's demise. Soprano Anna Christy's soprano has a wonderful effervescence to it. Lovely sounds just seem to bubble up out of her mouth effortlessly. Christy is also one of those rare opera singers who moves across a stage with the élan of a dancer. Sarah Mesko and Elliot Madore displayed fine, fresh voices in their respective roles. Madore, however, needed a bit more than a black tuxedo to transform him into the heroic Trojan prince.
I could have done without the chorus' distracting and pointless hand gestures and movements. You can rehearse until the cows come home, and someone will still miss a cue; it is the nature of the beast with amateur choruses. Too large in number by far (authenticity was not the goal here), MasterVoices sang with fleetness and precision. The fine Orchestra of St. Luke's, made up of a mix of modern and period instruments, plays this repertoire regularly, and provided what Baroque flavor there was to be had.
The opera's original prologue is lost, and Michael John LaChiusa, no stranger on Broadway as a composer, lyricist and librettist, was commissioned to create one. Musically, it was a mix of the Baroque and not-too-daring contemporary; textually it was weighed down with rather pedestrian jokes. The mere mention of New Jersey and Donald Trump, nonetheless, prompted much laughter. The concept of the three fates capriciously playing with the lives of mortals was more on point, with Clark, Christy and Mesko dressed as khaki clad, Rosie-the-Riveter types. Clark brusquely snipped the thread of life and a chorus member dropped to the floor. Once was funny, twice amusing, but thrice and you wanted to take the scissors away from her.
This was not Purcell for the purists. When Broadway meets opera, there is always the scent of blood in the air. Nothing dissipates it like success, and its sweet scent prevailed as the curtain fell. And, as society columnists used to write, a good time was had by all.
Rick Perdian