United States Schubert, Mozart, R. Strauss, Debussy, Turina, Lehar, Messager, Gimenez, Ricky Ian Gordon, Forrest and Wright, Foster: Nadine Sierra (soprano), Bryan Wagorn (piano), Westwood Presbyterian Church, Cincinnati, Ohio. 1.5.2016. (RDA)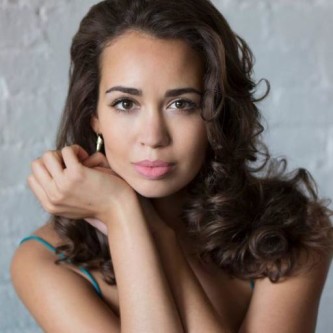 In just a few years, Nadine Sierra's warp-speed career has established her as one of the most in-demand lyric-coloratura sopranos in the opera business, with debuts at La Scala and the Metropolitan Opera already on her resume.
In the intimacy of Cincinnati's Westwood Presbyterian Church, Ms. Sierra sang a wide-ranging program with the superb pianist Bryan Wagorn, opening with a pairing of Schubert's "Lied der Florio" and "Lied der Delphine." After these came Mozart's "Ruhe Zanft mein holdes Leben," from the singspiel Zaide, all three of which gave singer and pianist the opportunity to spin a seamless legato line.
Composed in Strauss' mid-twenties and set to poetry by Felix Dahn, Mädchenblumen is an early career work by a composer still then in search of his own distinctive voice. Four songs make up the cycle—"Kornblumen," "Mohnblumen," "Ephe," and "Wasserose," and Ms. Sierrra sang them well, though not fully committed to memory. Mr. Wagorn was again the ideal musical partner.
Debussy's Quatre chansons de jeunesse—"Pantomime," "Clair de lune," "Pierrot," and "Apparition," set to poetry by Paul Verlaine—range from the rapturous to the playful. The two artists brought assured vocalism, inspired music-making, and interpretive insights.
Lope de Vega wrote hundreds of sonnets, several of which he inserted into his plays, La Discreta Enamorada, La Estrella de Seviila, and Fuente Ovejuna. From these come the texts of "Cuando tan hermosa os miro," "Si con mis deseos," and "Al val de Fuente Ovejuna." All three contain unabashedly sensual poetry that provided Joaquin Turina the inspiration to compose luscious music, which offers both singer and pianist a terrific opportunity to communicate poetry through song.
With radiant tone, Ms. Sierra and Mr. Wagorn turned Turina's three-song cycle into the centerpiece of the afternoon, while extracting the meaning of every line of the poetry and every nuance of the music.
From Schubert, Mozart, Strauss, Debussy and Turina, Ms. Sierra moved on to a handful of mostly well-known songs and arias, and proved utterly comfortable in Messager's Paris, Lehar's Vienna, Gimenez's Madrid, and the cosmopolitan 21st-century world of Ricky Ian Gordon, and Forrest and Wright's Broadway.
A capacity audience was on hand for Matinee Musicale's closing event of its 103rd season. (Next time, program notes and translations would be appreciated—there were none to be had.) The song recital is becoming more and more of a rarity these days, but this fulfilling afternoon gave hope that with artists such as Ms. Sierra and Mr. Wagorn, the future bodes well for lovers of vocal music.
Rafael de Acha