United Kingdom English National Ballet's Emerging Dancer 2016 Final: Nominated dancers, soloists, English National Ballet Philharmonic / Gavin Sutherland (conductor). London Palladium, London, 17.5.2016. (JPr)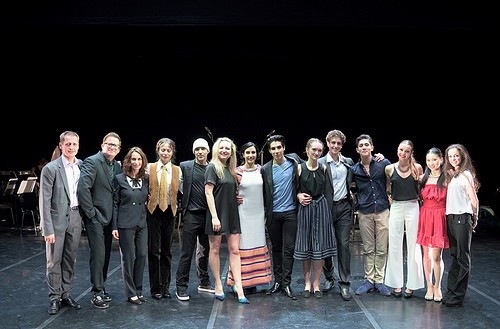 Nominees:
Isabelle Brouwers
Cesar Corrales
Jeanette Kakareka
Rina Kanehara
Daniele Silingardi
Erik Woolhouse
Judges:
Sir Matthew Bourne, Viviana Durante, Thomas Edur CBE, Russell Maliphant, Oxana Panchenko, Morgann Runacre-Temple & Tamara Rojo
Soloists: Laurretta Summerscales and Max Westwell, Jinhao Zhang and Shiori Kase
This annual competition is now in its seventh year and allows English National Ballet to recognise and nurture its talent in order to encourage excellence in the company. The nominated dancers perform a pas de deux and a contemporary solo in front of a panel of eminent judges and at the end of the evening the Emerging Dancer Award winner is announced together with the recipient of the People's Choice Award, which is voted for by members of the public during each season. Something new this year was a Corps de Ballet award and the whole evening was live streamed.
Previous winners of the Emerging Dancer Award include Yonah Acosta (2012), who is now Principal of English National Ballet, Shiori Kase (2011), and Junor Souza (2014), who have since been promoted to First Soloist, Alison McWhinney (2014) who was promoted to Soloist last year, and Jinhao Zhang (2015), recently seen performing in the lead roles of Ali and Lankendem in Le Corsaire at the London Coliseum in January. Laurretta Summerscales won the People's Choice Award in 2015 for the second time and is now a Principal and like Jinhao Zhang performed at the London Palladium before the results were announced.
I could give this reflection on this enjoyable event a big build-up to the revelation of who won but to-be-truthful the result was never really in doubt once the list of nominees had been announced. I said to my companion coming with me to this always enjoyable evening that unless Cesar Corrales fell on his backside whilst performing he would win … he didn't of course and he did win both the People's Choice and the Emerging Dancer Awards. Currently a Junior Soloist this young, charismatic dancer is one of the finest prospects I have seen in recent years. His promotion must come sooner rather than later if ENB are not to lose him to another company.
Isabelle Brouwers and Erik Woolhouse began the competition with The Talisman pas de deux. Going first is never easy for anything and nerves got to these undoubtedly talented dancers. Jeanette Kakareka and Daniele Silingardi took on the very familiar Black Swan pas de deux. Kakareka sparkled and ebulliently overcame all the technical difficulties of her steps and had Corrales not been competing she would have been a contender for the Award. Silingardi seemed inhibited, perhaps again through nerves or simply tiredness at the end of a long season. Rina Kanehara and Cesar Corrales – to use some modern parlance – 'smashed' the pure hokum that is the Diana and Acteon pas de deux. Her dancing was dynamic yet somewhat perversely had an appealing delicate quality. Corrales's spins and leaps had a bravura that brought gasps from those around me and it is a very rare quality amongst male ballet dancers in 2016 which needs to be nurtured but rewarded. I suspect the audience knew now – if it didn't before – who the winner was likely to be. (During his later video pen portrait Corrales went on so much about wanting to 'inspire' people that it reminded me about those Miss World contestants always banging on about wanting world peace!)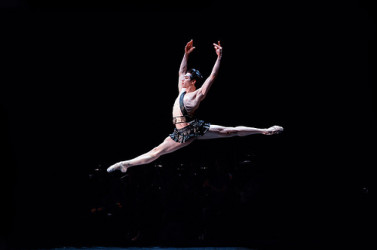 As for the contemporary solos, Woolhouse performed Eros Redux by Annabelle Lopez Ochoa and seemed more at ease with the fluid movement needed for this than in the classical choreography earlier in the evening. Isabelle Brouwers performed Pelican a new work by Charlotte Edmonds. Both her unitard and Edmonds's choreography did not do justice to Brouwers though she is undoubtedly a dancer to look out for in the future. Daniele Silingardi took on Neumeier's Spring and Fall to Dvořák's Serenade for Strings (which made a nice change from some of the other electronic scores we heard) and Silingardi's performance had a romantic and pastoral quality this piece demands. Jeanette Kakareka impressed again in Annabelle Lopez Ochoa's Requiem for a Rose. This is clearly a very demanding solo and Kakareka moved sensuously and showed remarkable flexibility. Cesar Corrales was next with Congrabajo para Hombre by Julio Lopez with music by Astor Piazzolla. His connection with the audience throughout this engrossing work was palpable and the sultriness of a macho Argentine Tango was never far away: Corrales was captivating once again. Rina Kanehara concluded this quixotic selection of contemporary pieces with Les Ballets de Monte-Carlo's Black Swan by Jean-Christophe Maillot. It was an intriguing brief 'take' on something so iconic and although danced well did not leave much of an impression and seemed a strange choice.
After a brief interval Laurretta Summerscales and Max Westwell danced Nureyev's balcony pas de deux. She was great, girlish and totally consumed by burgeoning love. However, the muscular Westwell needed to create a more Byronic character and be able to express his passion for Juliet more evidently. Until near the end there was very little chemistry between the two dancers and that perhaps mirrored the disparity of their status in the company. Jinhao Zhang performed Le Corsaire's pas d'esclave with Shiori Kase. The partnering was immaculate and the dancing clean and tidy as is to be expected from these two fine artists, however, the performance was not as engrossing as it should have been.
Throughout most of the music was live and the always reliable English National Ballet Philharmonic was placed to the rear of the stage and often partially obscured by a scrim. Under Gavin Sutherland the enhanced sound coming through the loudspeakers was a little tinnier than ENB regulars are used to hearing from the orchestra at the London Coliseum.
Tamara Rojo, the inspirational artistic director of ENB, came on stage with her fellow judges to announce the winner. Jennie Harrington won the new Corps de Ballet Award, presented to an exceptional Artist of the Company who has gone above and beyond the call of duty over the last season. Her efforts seem to have been rewarded not only for her work onstage but also for being part of the ENB's well-established Education and Outreach programme.
Cesar Corrales was announced as the winner of the audience's People's Choice Award and then as the 2016 Emerging Dancer – these were the results those in the know probably expected!
Speaking after the competition Rojo said: 'Cesar is a very charismatic artist. He has an incredibly polished classical technique, and the ability to move in many different ways. Having performed on stage since he was a young boy he understands audiences and how to perform for them. I'm not surprised that British audiences have fallen in love with him. Emerging Dancer is one of my favourite evenings in the season. I am so pleased that we have this opportunity to celebrate the young dancers of English National Ballet – both onstage, and live-streamed online. Having this platform allows us to continue our commitment to nurture the stars of the future, and develop them artistically. I am incredibly proud of all the finalists who performed.'
Jim Pritchard
For more about English National Ballet visit http://www.ballet.org.uk/.