Canada Schubert, Mozart, Brahms: Angela Cheng (piano), Joan Blackman and Jennie Press (violins), Nicolo Eugelmi (viola), Brian Yoon (cello), Christ Church Cathedral, Vancouver, 27.5.2016 (GN)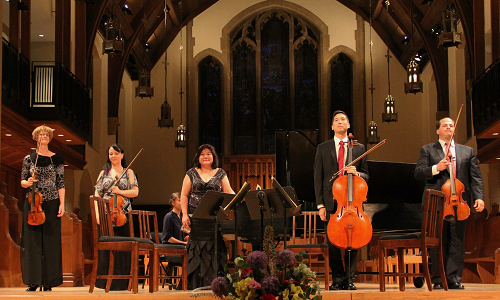 Schubert: Quartetsatz in C minor, D. 703
Mozart: Piano Concerto No. 12 in A major, K. 414/385p (arr. for piano and string quartet)
Brahms: Piano Quintet in F minor, Op. 34
In virtually all cities a vast underworld of chamber music exists beneath the major organizations that sponsor internationally-celebrated ensembles. This is how it should be, and has been for centuries: accomplished musicians have always wanted to get together informally for the pleasure of 'making music'. Often such associations are intermittent and transient, pleasurable as they are; other times, things get more adventurous, and a small concert season is set up involving a variety of musicians. But the unfortunate reality is that such enterprise seldom endures. It is therefore a cause for great celebration that this gala concert marked the 30th anniversary of Vancouver's Vetta Chamber Music, an organization that grew from sheer inspiration, volunteer effort and the love of music, and has survived over the years, even with smaller audiences and little outside funding. Distinguished Canadian pianist Angela Cheng joined the Vetta ensemble for a rewarding evening of Schubert, Mozart and Brahms. Cheng has been an active force in Canada for many years and recently played in London with violinist Pinchas Zukerman to great acclaim (review).
Vetta Chamber Music sprang from the dreams of violinist Victor Costanzi and cellist Eugene Osadchy in 1985, and they pushed it forward with a contagious passion and exuberance. But they were eventually wooed away to pursue careers in the U.S., leaving the organization to find new inspiration. It was violinist Joan Blackman, now-retired Associate Concertmaster of the Vancouver Symphony, who answered the call most recently, in 2007. She successfully reversed declining audiences while enlisting other first-class artists from the symphony, the School of Music at UBC and elsewhere. The organization was also able to get some public funding.
This was the second celebration of the season. The first, last October, featured the return of Costanzi and Osadchy  ̶  they had not forgotten! The current concert took place in the beautiful and spacious Christ Church Cathedral (Vetta normally plays in West Point Grey United Church), and featured an interesting mix of distinguished players. Blackman, who takes the first violin in all Vetta performances, was joined by violinist Jennie Press, third chair in the Vancouver Symphony; violist Nicolo Eugelmi, an international recording artist who has played for both the Fine Arts Quartet and the Talich Quartet; and, on very short notice, young Brian Yoon, currently Principal Cello of the Victoria Symphony.
It is not the overriding objective of Vetta performances to achieve ultra-polished, perfected results; after all, the musicians involved vary and some have not worked together frequently. Good as most technical realizations actually are, the goal is simply to convey the enjoyment of making music together. And that they certainly did at this grand event, providing a delightful enthusiasm and commitment over the entire concert. Following a tightly-knit account of Schubert's Quartetsatz, the string quartet transcription of the Mozart Piano Concerto, K. 414 was absolutely special. Angela Cheng showed a remarkable ability to find strength, variety and wit in the piano part, coupling this with her fine runs and always-commanding virtuosity. This was Mozart playing of a rare order: thoughtful, imaginative and fully at the service of the music. It captured the wonderful caprice and determination in the writing and gave the music a lovely shape. I was reminded somewhat of Richard Goode. The string players gave a most spirited contribution, the individual timbres showing real character, though perhaps there were times where they might have set a slightly more relaxed pace and softer accompanying dynamics. I should note that volume levels may not have been easiest thing for the players to discern: the church's reverberation induced some tricky acoustical emphases.
Cheng's tonal strength and virtuosity moved to richer expression in the Brahms Piano Quintet, which she anchored authoritatively. And what power she can find: this was an alert, eager performance, with considerable passion and thrust along the way. The opening Allegro showed a nice range of feelings and sense of struggle, though at times the ensemble's playing was light on lyrical repose. The Andante also established a fine tempo, and progressed fluently. I might have wished it could retreat into a softer, more meditative world, but it was certainly enjoyable. The robust Scherzo had a purposive rhythmic drive, and the dynamic contrasts were carefully judged. The finale built strongly and ended exactly as it should, in a blaze of glory. Combined with Angela Cheng's fire and strength, the ensemble's integration and discipline were absolutely stunning as we approached the close.
This concert was a wonderful celebration of the sheer commitment and energy of Vetta Chamber Music over three decades. And it offered a sterling message to all small music organizations that struggle to survive on a yearly (or even a monthly) basis; namely, it can be done!
Geoffrey Newman
Previously published in a slightly different form on http://www.vanclassicalmusic.com