Canada Bartók, Mozart, Shostakovich: Dale Barltrop (violin and leader), Vancouver Symphony Orchestra, Orpheum Theatre, Vancouver, 21.5.2016. (GN)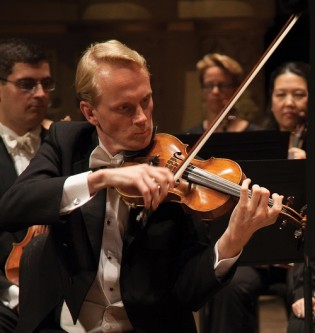 Bartók: Romanian Folk Dances, Sz. 68
Mozart: Violin Concerto No. 3 in G major, K. 216
Shostakovich: String Quartet No. 3 in F major, Op. 73a (orch. by Rudolf Barshai)
This concert was intended to be as much a lovely 'hello' to violinist Nicola Benedetti as it was a sad 'goodbye' to the VSO's personable and talented concertmaster, Dale Barltop, who leaves to assume the same position with the Melbourne Symphony and to join the Australian String Quartet. True Scotsmen  ̶ dressed in kilts  ̶  awaited the charismatic Benedetti's appearance but it was not to be: the effects of a virus that she had fought through in the previous night's appearance were sufficiently debilitating by the afternoon of this concert, and she had to withdraw. A tricky situation indeed! Dale Barltrop has never had much inclination towards conducting (interview), yet this special event was designed to have him lead a chamber-size version of the VSO from the first chair. Perhaps this was pressure enough, but what was to be done about Benedetti's absence in Mozart's Violin Concerto No. 5? With only hours remaining before concert time, Barltrop was asked if he would deputize there too, and he kindly consented to play Mozart's No. 3 instead. So, a remarkably full plate for Barltrop – but he came through magnificently. I doubt that there could be a more cherishable parting memory for him.
The performance of the Mozart concerto was vastly more than might have been expected. It was beautifully scaled, with plenty of intimacy and innocent joy, and Barltrop's intonation was impeccable. I had never seen the violinist perform a classical concerto before ̶ he had concentrated on rarities such as the Schumann, Britten, and Bartok's First in recent years  ̶ but the Mozart fit him to a tee. The opening Allegro had a lovely clean refinement and sense of searching innocence, the Adagio had a natural involvement with very tender shadings, and the finale sprang forth with exactly the right mix of enthusiasm and lyrical repose. Memories of Arthur Grumiaux or Iona Brown fleetingly came to mind in the tonal purity and natural fluency he achieved. The orchestra of about 30 players pulled strongly together with their leader, offering clear structural lines and well-sprung rhythms, evincing a remarkable display of teamwork overall. I would have found this quite stunning even if it had been a regularly-scheduled appearance. A brief discussion with Barltrop after the concert revealed the piece had been rehearsed in one hour, but he stressed that "it was a very intense hour."
The other highlight of the night was the 'chamber symphony' version of Shostakovich's String Quartet No. 3. We've been particularly lucky with this work recently: the Takacs Quartet gave a splendid rendering only a month or so ago. Barltrop first fell in love with the orchestral version when he performed it with the St. Paul Chamber Orchestra a number of years back. It's one of Rudolf Barshai's richest efforts, with a delightful role for the winds (including a cor anglais) and a pristine balance of voices throughout. Mention of Barshai also brings some nostalgia for locals, since he was the music director of the VSO for a brief span in the late 1980s.
I was impressed by the architecture and sensitivity of this interpretation. The pacing was impeccable, the winds and strings both adept and flexible, and all the shades of brooding and contemplation in Shostakovich's darker world were brought out. The jaunty opening motive had ease and flexibility, with a fine sheen on the strings, and a tight discipline was put in place when the going got rougher later on. The winds were particularly expressive. The Moderato had nicely managed dynamics, achieving a quiet inexorability in its tread, and featuring a particularly distilled flute soliloquy from Christie Reside. The following Allegro was appropriately savage, with impressive rhythmic discipline and bite. The work then moves to even darker regions, mixing defiance and yearning with intense contemplation. Whether one refers to the wonderfully poignant passage for cello and bassoon, the deeply-felt rendering of opening motive of the finale, the articulation of the more brazen pizzicatos and march-like episodes, or the fits of terror, everything was in place. The descent to the end, over the very quiet 'ground', was just as it should be. I am tempted to think that this interpretation should be recorded. Strong performances of Shostakovich's chamber symphonies are not thick on the ground, and this was a most sensitive reading, uniquely aware of all the little vulnerabilities in the writing and beautifully executed.
The concert warmed up with a refreshing reading of Bartók's Romanian Folk Dances. Starting fairly deliberately, this gained considerable gusto as we moved to the two closing dances, unearthing many idiomatic Hungarian shadings along the way. It was the first time I had ever noted an explicit link to Kodaly's Hary Janos. Of course, both composers worked together in their quest to find Hungarian folk roots: whatever it was, I certainly noticed a tie.
The most intriguing feature throughout the concert was how Barltrop led the orchestra. He made considerable use of eye contact, sometimes nodding to others on entries, but I recall only once where he set tempo or rhythm by actual conducting gestures. When asked about this after, he replied simply: "If a chamber orchestra is rehearsed properly, it should function just like a string quartet."
All in all, this concert was a delightfully challenging adventure and one that could not conceivably have turned out better. Bon voyage, Dale Barltrop!
Geoffrey Newman
Previously published in a slightly different form on www.vanclassicalmusic.com.