United Kingdom Purcell, Rahim, El Dabh, Okba, Glatz, Handel, Roustom, Sidiq, Hankash, Rahbani Brothers, Al Atrash, Rahbani: Marcus Broome (leader and solo violin), Louai Alhenawi (nay), Jak Berry (flute), Julia Munn (clarinet), Merit Ariane Stephanos (voice), Dartington Chamber Orchestra, Oliver Butterworth (conductor), Great Hall, Dartington. 22.5.2016 (PRB)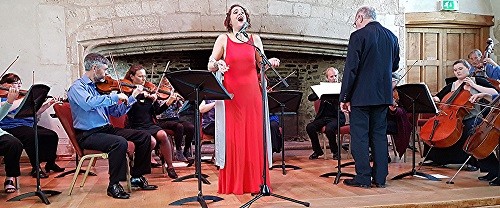 Purcell (1659-1695): Chacony in G minor arr. Benjamin Britten
Gamal Abdel Rahim (1924-1988): Little Suite for Strings
Halim El Dabh (b.1921): Aria for Strings
Amr Okba (b.1972): Utopia for Solo Clarinet
Helen Glatz (1908-1996): Elegy for Violin and Strings
Handel (1685-1759): Lascia ch'io pianga from 'Rinaldo'
Kareem Roustom (b.1971): Dabke
Mohammed Sidiq (b.1962): Dialogue for Nay and Flute
Arab Popular Songs:
Najib Hankash: Aatiene il Naya wa Ghanni (Give me the flute and sing) arr. Kyle MacLeod
Rahbani Brothers: Il Bint el Shalabeyya (The girl with the almond eyes) arr. Rob Howat
Farid Al Atrash: Ya Zahratan fi Khayali (Oh flower of my imagination) arr. Rob Howat
Elias Rahbani: Kan el Zaman/Hanna el Sikran (Once upon a time/Drunken John) arr. Kyle MacLeod
What a wonderful feast of largely Arab music Dartington Chamber Orchestra served up to a large audience, all part of the Open Arms week of events held in support of asylum-seekers and refugees in South Devon, in the far south west of England.
The afternoon concert opened with a polished performance of Purcell's Chacony in G minor, under the highly-assured leadership of Marcus Broome and conducted by Oliver Butterworth. This was followed by the Little Suite for Strings by Egyptian composer Gamal Abdel Rahim, where the players moved seamlessly from the ornamentation and rhythmic tautness of the former, to the freer, syncopated style of Rahim's Suite. In each of the five varied movements: Imitation – Syncopation – Lament – Joking – Darbuka Dance – Butterworth skilfully teased out all the refinements and stylistic nuances of each one, despite a seemingly minimal effort or visible involvement with the performance.
The Aria for Strings by Rahim's compatriot Halim El Dabh – in essence a traditional lament but with a distinct Arabic feel to it – proved a highly poignant piece of writing, which the orchestra delivered with a real sense of shared emotion, and where the warmth of the string tone produced played such an important part.
Egyptian-Austrian composer Amr Okba's Utopia for Solo Clarinet combined an ethnic feel with a more contemporary writing style, where the clarinet was responsible both for the melodic line, as well as generating a rhythmic pulse, often with repeated pairs of notes in the low register – something that Julia Munn was very comfortable with, in a performance which successfully conveyed the composer's intentions.
English composer Helen Glatz (née Hunter) lived and worked at Dartington from 1950 until her death in 1996. The excellent and informative programme booklet informs us that Glatz studied Composition with Vaughan Williams and Gordon Jacobs at the Royal College of Music, and was subsequently awarded a travelling scholarship which took her, via Italy and Austria, to Hungary, where she went to study with Kodály. Here she also met her husband Wolf Glatz, but then became marooned in the country throughout World War II, later returning to England with her son Christopher as a penniless refugee. Her husband followed on a year later, after some intensive negotiation, but who sadly passed away shortly after his arrival here. Glatz was offered a teaching post at the then Dartington Hall by Imogen Holst, and, following Holst's departure to Aldeburgh in the early 1950s, to become Benjamin Britten's assistant, Glatz assumed the role of resident composer and musician. She later taught Composition and Percussion at Dartington College of Arts, as well as immersing herself in the annual International Summer School. Her very moving Elegy for Violin and Strings had the ideal protagonist in the highly-sympathetic playing of leader Marcus Broome – himself initially a student at Dartington, where he studied with violinist and teacher Butterworth, who was today's conductor, before continuing his studies in London. Broome's rich tone and heartfelt expression – possibly tinged with a little genuine nostalgia, too – really brought the work to life, with Butterworth and fellow-players crafting a most sympathetic support for the solo line, particularly in terms of balance and phrasing.
Inspired by her German/Egyptian heritage, singer Merit Ariane Stephanos draws on Arabic and Western influences in her music, with a passion to explore a dialogue between both cultures. This became apparent in her rendition of Handel Lascia ch'io pianga from his opera 'Rinaldo' – his first Italian language opera written specifically for the London stage. While there were the customary embellishments at the return of the opening strain, there was almost a quasi-Arabic improvisatory lilt to the ornamentation – subtle and never overstated – yet adding a compelling difference to a well-known Handel aria, and emphasized by a slight variation from the perceived operatic sense of voice production.
If the first half had been highly entertaining, then what followed was a real revelation. Louai Alhenawi gave a one-man demonstration of the myriad of different effects possible from the Nay – the Arab end-blown flute – in Syrian composer Kareem Roustom's Dabke – a folkloric line-dance typically performed at joyous occasions. Alhenawi's expertise was as clear to see as to hear, where, by a combination of overblowing, partial hole-covering, changes of embouchure, positioning and blowing angle, he despatched the microtonal inflections which are common and crucial to the style, with a natural élan, and to which our Western ears so very quickly adjusted.
Alhenawi was joined by Jak Berry in Iraqi/Jordanian composer Mohammed Sidiq's Dialog for Nay and Flute, a most captivating piece written in 2002 which very successfully combined the two distinct sound-worlds of these distant neighbours in a glorious three-movement confection – interestingly, slow – fast – slow – with some mouth-watering harmonies and suspensions along the way, courtesy of the undulating string accompaniment supporting them from below..
In a programme of so many varied delights, it is invidious to single anything out for special mention. But I think I would be speaking for the majority in citing the Four Arab Popular Songs, which closed the afternoon, as the concert's undoubted highlight. These had been arranged by Kyle MacLeod and Rob Howat respectively, and a great deal of credit must initially go to them for such skilful and totally idiomatic string settings – with Alhenawi's accompaniment on the nay in the first and third songs, and darbuka (a traditional goblet-shaped drum) in the second and fourth – adding that extra authentic spice to the dish.
Stephanos was quite superb in the delivery of each song, and while it would have been unnecessarily churlish to be reading through the English translation simultaneously, this was simply not necessary in any case. Stephanos has that great gift of being able to impart the gist of each song without the listener needing even one word of Arabic to follow its lyrics. There were gestures and restrained body and eye movements throughout, and which proved all the more tantalising through the extremely understated fashion in which she seemed able to make a difficult communication task so simple and so very direct.
Philip R Buttall