United Kingdom Tchaikovsky, Swan Lake: Scottish Ballet, Edinburgh Festival Theatre, Edinburgh, 25.5.2016. (SRT)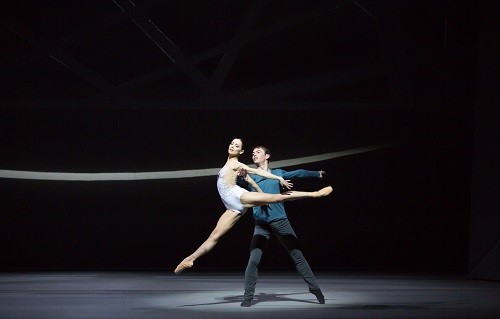 Principal Dancers:
Odette/Odile – Sophie Martin
Siegfried – Christopher Harrison
Benno – Andrew Peasgood
Production:
David Dawson (choreographer)
Yumiko Takeshima (costume designs)
John Otto (set designs)
Richard Honner (conductor)
Orchestra and Artists of Scottish Ballet
Diaghilev once said that every ballet should be called Swan Lake, because then people would go and see it.  Well might he say so because, even though lots of productions over the years have strayed a long way from Petipa's tutus and pointes, it still packs in the crowds.  However, I don't think I've seen as stripped back a production as Scottish Ballet's new show from David Dawson.  Gone are the lake, castle and forest, and there is nary a tutu in sight.  Instead, John Otto's monochrome grey set designs create an abstract blank space, which is actually rather effective at evoking the lakeside by night, but not at all engaging for the scenes at the castle, which look as though they're taking place in a new build whose decoration has yet to arrive.
There's nothing wrong with re-conceptualising Swan Lake, of course, but without the identifiable narrative hooks, it's inevitably more difficult to tell the story, especially when Dawson's replacement plot (a slightly tedious and rather generic story of a young man coming to terms with his feelings as an outsider) is nowhere near strong enough to support the weight of the music.  That's particularly damaging during the very final scene, where Tchaikovsky's soaring music, played with exhilarating brilliance by Scottish Ballet's orchestra, accompanies rather a lot of not very much on stage.  Bathos is difficult to avoid.
Dawson's crowd scenes are often frustrating, too. He doesn't ask for unanimity, which means that the dancers nearly always do various things in the big waltzes, which is fine but ends up looking messy, especially in the first act, which takes much too long to get going, not helped by the drab setting.  Furthermore, the reimagined story means that Christopher Harrison's moody Siegfried is upstaged by his more virile, jockish best friend, danced with appealing energy by Andrew Peasgood.
However, things definitely improve with the arrival of the swans. Dawson's choreography has the humans moving with straight lines and sharp angles, while the swans ripple with fluid sensuality, creating a much greater sense of connection and, for me at least, engagement.  Sophie Martin crowns the piece.  Her Odette is vulnerable and fragile, giving herself with passionate abandon to Siegfried, and their duets are riveting to watch.  Odile, on the other hand, is brittle and hard-edged, lording it over the hero with a flavour of vindictiveness at the end of the third act.  Interestingly, the duet for Siegfried and Odile is one of the few places in the ballet where the dances mirror one another, turning on its head the conventional suggestions of classical balllet and suggesting that, while these two may look well matched, they're actually not suitable at all.
Martin alone isn't enough to make me want to come back to this, though. Swan Lake doesn't need tutus, but it does need coherence.  Dawson's show needs a shot of scenic energy to match the energy that the dancers bring.
Simon Thompson