Germany Beethoven, Schubert, 'Kammerabend': Dresdner Oktett, Semperoper, Dresden, 17.5.16. (MC)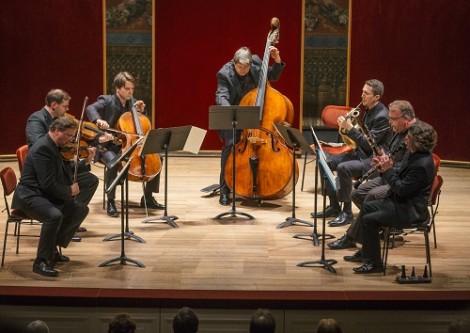 Beethoven – Septet in E flat major, Op. 20 (1800)
Schubert – Octet in F major, D 803 (1824)
Dresdner Oktett: Matthias Wollong (first violin), Jörg Faßmann (second violin), Sebastian Herberg, (viola), Norbert Anger (cello), Andreas Wylezol (bass), Wolfram Große (clarinet), Robert Langbein (horn), Joachim Hans (bassoon)
Performed by members of the Sächsische Staatskapelle Dresden the reputation of this series of chamber recitals at the Semperoper is sufficient for Dresden audiences to buy tickets long before the programme is known. I was told of the great popularity of these chamber music evenings and sure enough the Semperoper was virtually full.
The first half of the programme consisted of Beethoven's Septet that was completed in 1800 bearing a dedication to Empress Maria Theresa. For its time the scoring was innovative owing to its employment of the winds including the prominent role for the clarinet. A substantial work lasting around forty minutes the six movement score opens with a serious sounding chorale. It wasn't long after the Dresdner Oktett had commenced that I became aware of the remarkable way the composer blends, contrasts and balances the disparate sounds of his string, woodwind and brass. Highlights included the playing of the Adagio cantabile especially the mellow violin playing from Matthias Wollong and the overall degree of tenderness achieved with an undertow of melancholy. Noteworthy too was the freshness and ebullience given to the upbeat Scherzo and Norbert Anger's charming cello solo.
After the interval we heard Schubert's Octet, a work taking just over an hour to perform. It's common to see the 'Octet' paired with the Beethoven 'Septet' as its instrumentation differs only by the addition of a second violin. Schubert wrote the endearing F major score in response to a request by clarinettist Ferdinand Troyer and is a work contemporaneous with his 'Rosamunde' and 'Death and the Maiden' string quartets. Augmented by second violinist Jörg Faßmann in the reliable hands of the Dresdner Oktett especially striking was the melodically memorable Allegro vivace – Trio a Scherzo full of incident with typical unremitting Schubertian rhythms. Approaching the Scherzo in terms of style and meter the satisfyingly lyrical Menuetto felt as fresh and invigorating as the verdant Alpine scenery the composer knew so well.
Throughout this chamber recital the lightness of touch and sensitivity, immaculate intonation and overall unity of the playing was particularly impressive given the demanding nature of the two works. Music making of unadulterated joy from the Dresdner Oktett made this a Kammerabend to treasure.
Michael Cookson